From flirty fashion movies to cult classics and edgy thrillers, we've assembled a list of movie characters that give us jewelry envy. We'll span the decades with the timeless styles of the 50s and 60s and swing by a few delightfully bad throwbacks from the 90s and early aughts. Finally, we'll wrap it up with modern TV characters and recent blockbuster films.
Take a look at the memorable movie characters who rocked the silver screen's biggest rocks like Marilyn Monroe, Kate Winslet and Gemma Chan. When it comes to leading ladies, we love them in flashy diamonds and pearls, tough armor inspired accessories, or an understated gold piece or two.
Here's a quick look at our list of movie characters with the best jewelry:
Cleopatra (Elizabeth Taylor) 1963
The Millionairess (Sophia Loren) 1960
Rear Window (Grace Kelly) 1954
Gentlemen Prefer Blondes (Marilyn Monroe) 1953
Eye of the Devil (Sharon Tate) 1967
Gone With the Wind (Vivien Leigh) 1939
Breakfast at Tiffany's (Audrey Hepburn) 1961
Titanic (Kate Winslet) 1997
Pretty Woman (Julia Roberts) 1990
Queen of the Damned (Aaliyah) 2002
The Bodyguard (Whitney Houston) 1992
Romy & Michelle's High School Reunion (Lisa Kudrow/Mira Sorvino) 1997
Moulin Rouge (Nicole Kidman) 2001
Marie Antoinette (Kirsten Dunst) 2006
Crazy Rich Asians (Gemma Chan) 2018
Coco Before Chanel (Audrey Tautou) 2009
Black Panther (Lupita Nyong'o) 2018
The Hunger Games Series (Elizabeth Banks) 2012 – 2015
Ocean's Eight (Anne Hathaway) 2018
The Great Gatsby (Carey Mulligan) 2013
Anna Karenina (Keira Knightly) 2012
Wonder Woman (Gal Gadot) 2017
Black Swan (Natalie Portman) 2010
Aladdin (Naomi Scott) 2019
Westworld (Thandie Newton) 2016 –
Game of Thrones (Lena Headey) 2011 – 2019
The Crown (Claire Foy) 2016 –
Marco Polo (Zhu Zhu) 2014 – 2016
Mad Men (Christina Hendricks) 2007- 2015
The Tudors (Natalie Dormer) 2007
Old Hollywood Movie Characters
Cleopatra (Elizabeth Taylor) 1963
One of the most opulent movie characters of all time, Elizabeth Taylor's take on Cleopatra was forceful, feline, and fabulously gilded. Plagued by production delays and the "scandalous" affair between Taylor and costar Richard Burton, Cleopatra was rumored to be the most expensive film made to date. Over-budget by a mere $42 million (up from the original $2 million budget), both Taylor and Burton were later sued by 20th Century Fox. Apropos, it seems, for a couple as tumultuous as Mark Antony and Cleopatra themselves. Infighting aside, Taylor's legendary eye makeup and epic jewelry make for one gorgeous, golden film.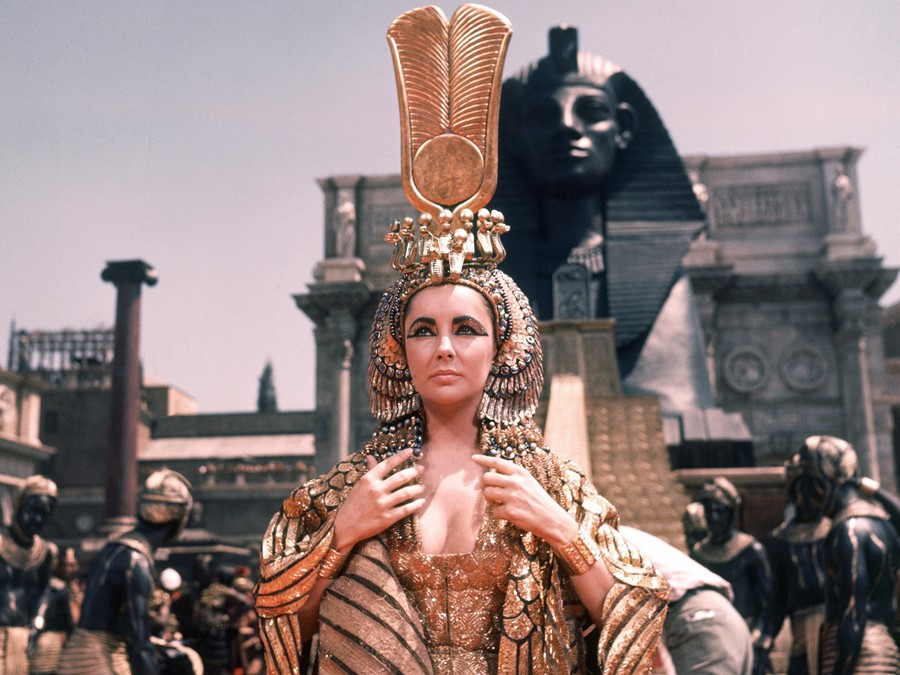 The Millionairess (Sophia Loren) 1960
A romantic take on the trading places story, The Millionairess stars Sophia Loren as Epifania, the richest woman in the world. A humble doctor played by Peter Sellers is tasked with stacking up to her pretentious standards, and she's forced to take a vacation from her life of leisure. The two meet in Dr. Kabir's office, where her famous line, "Examine me thoroughly," falls on uninterested ears. Her sultry arsenal: black lingerie, three elegant strands of pearls, and a flamboyant coral hat. Though few know, the off kilter movie characters are based on a play by George Bernard Shaw. Despite the fact that the film was largely panned, Loren's classic beauty and mid-century wardrobe make it a fun watch for fans of fashion movies.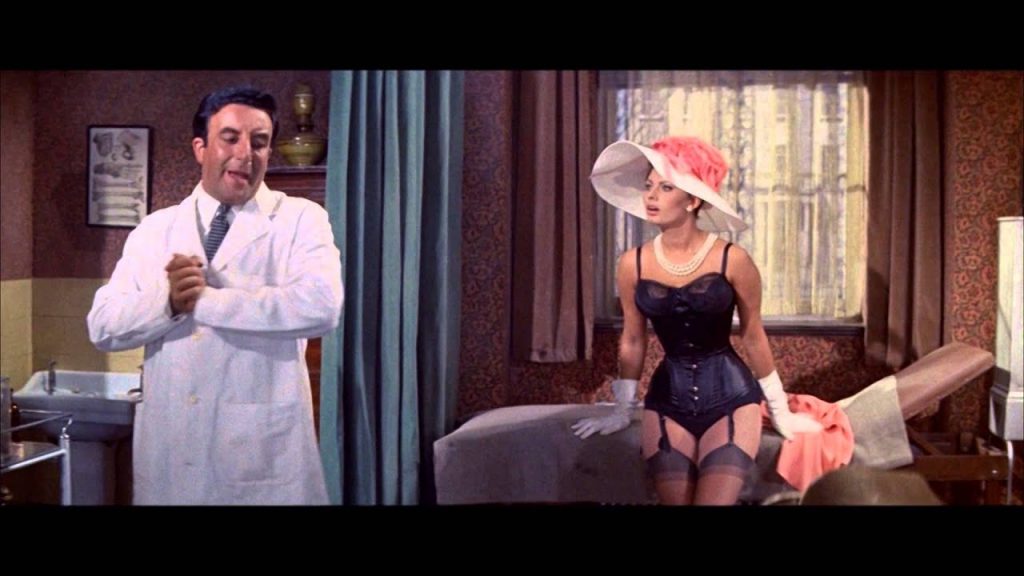 Pearl Spotlight:
Few accessories are as timeless as a pearl necklace set. From inheriting your grandma's heirlooms to modern bling, pearls are here to stay. Admittedly, we love the way Hollywood movie characters of the 50s and 60s rocked these versatile classics. At Pearl Source, we're passionate about helping today's style icons find theirs.
Rear Window (Grace Kelly) 1954
Undoubtedly, Alfred Hitchcock has directed some of the best thriller movies of all time, but Rear Window is more of a slow burn. Set almost exclusively in the apartment of a wheelchair bound voyeur played by Jimmy Stewart, Grace Kelly's comings and goings illuminate the otherwise chiaroscuro film. While not nearly as gory as Hitchcock's other works, the tension between Kelly and Stewart is palpable. Plus, it propels the rather slow-paced film forward. Kelly's elegant, yet relatable fashion – topped with a sophisticated pearl necklace set – continues to inspire. Not that the silver screen beauty couldn't pull it off, but Grace Kelly wasn't the type that needed a gilded Egyptian headdress to captivate the world.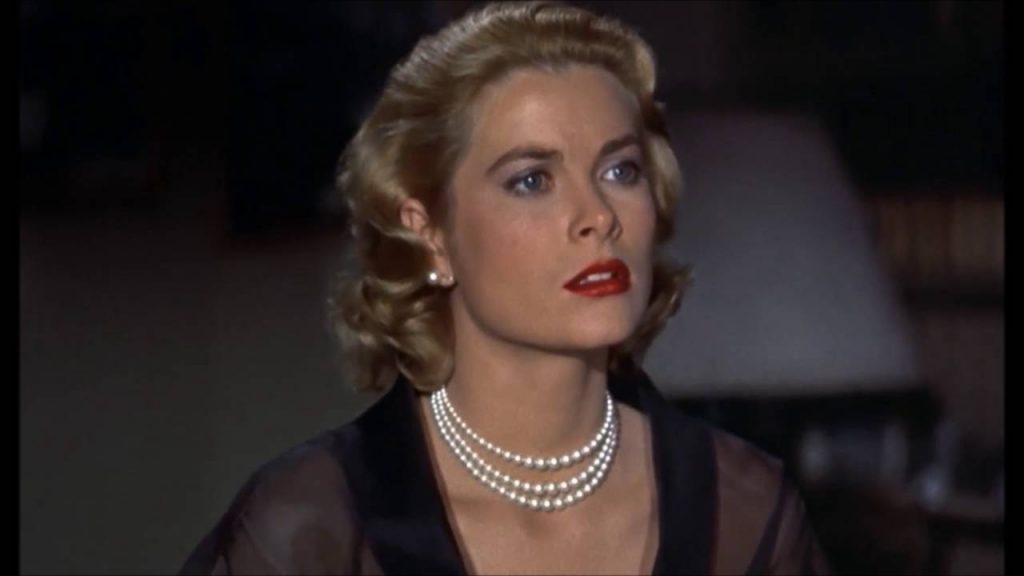 Gentlemen Prefer Blondes (Marilyn Monroe) 1953
While diamonds certainly are a girl's best friend, nobody knows it better than a couple of cruise ship singers and their well appointed suitors. Played by Marilyn Monroe and Jane Russell, the sultry pair set out for Paris on a ship full of men. Inevitably, hijinks ensue. Highlighted by her electric pink dress and gloves, Monroe drips with diamonds in the form of cuffs, earrings, and a spectacular collar. She performs the famous diamond crazed show tune while smacking men with her fan and namedropping some of the world's richest jewelry houses. "Tiffany's!" "Cartier!" "Talk to me Harry Winston, tell me all about it!"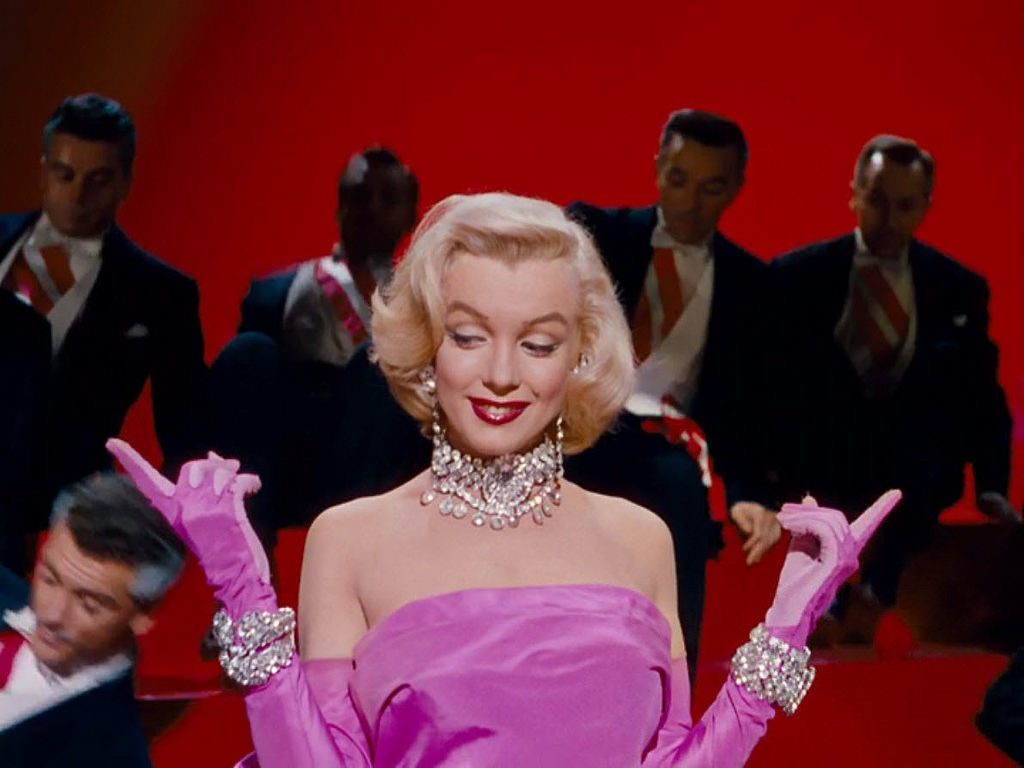 Eye of the Devil (Sharon Tate) 1967
While certainly not the most expensive piece on our list of movie characters who give us jewelry envy, Sharon Tate's long, eye shaped pendant in Eye of the Devil is transfixing. After all, the cult classic has all the makings of the best thriller movies – paganism, human sacrifice, a spooky mansion, and a bombshell blonde playing the mysterious neighborhood witch. Also starring Debora Kerr, the film launched the career of the beautiful Tate, and continues to entertain campy, occult movie fans. Sadly, Sharon Tate's career was cut short by the real life horror of the Manson murders only two years later.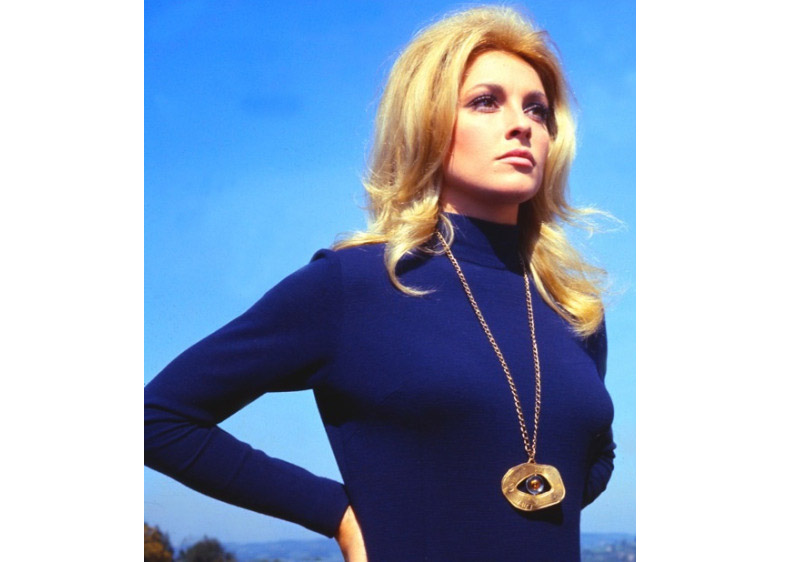 Gone With the Wind (Vivien Leigh) 1939
Vivien Leigh embodies the stubborn and stylish Scarlet O'Hara in one of the earliest fashion movies to make our list. Leigh and costar Clark Gable bring Margaret Mitchell's lush Civil War epic to life in the Academy Award winning 1939 film. Scarlett puts on "plenty of rouge," a burgundy ostrich feather dress, and a pair of gold drop earrings in the infamous birthday party scene. Scarlett's wardrobe is stunning throughout the film. But it's the moment after Rhett discovers the love triangle with her old flame Ashley that cements her in movie character history.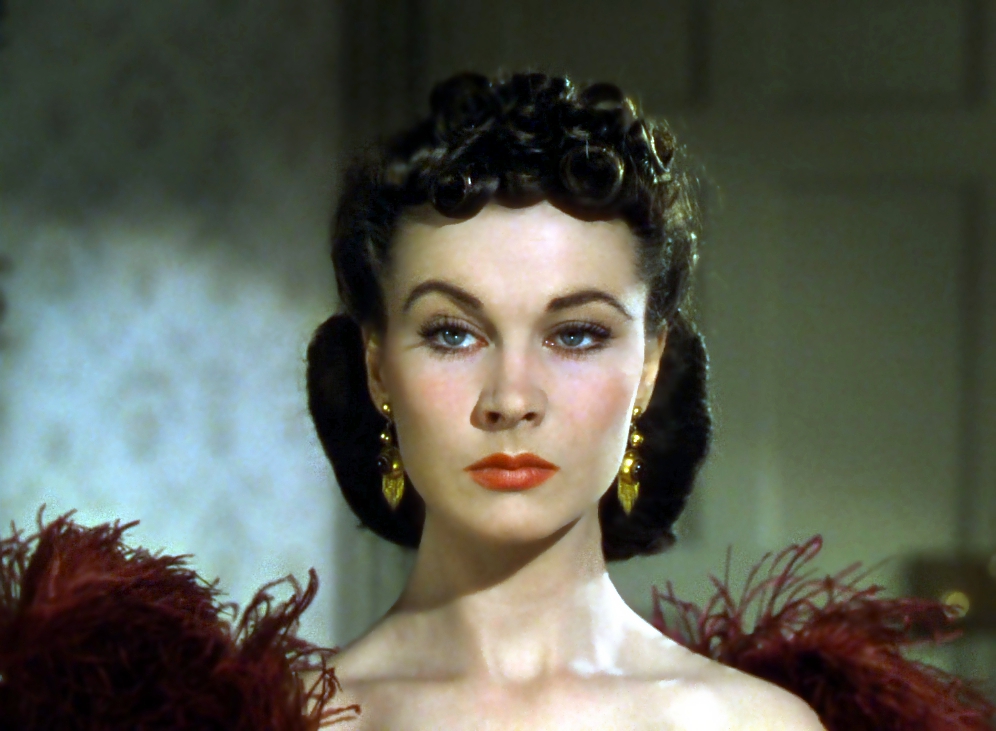 Breakfast at Tiffany's (Audrey Hepburn) 1961
Holy Golightly meets her match when a charming, and similarly kept young man moves in to her building. Played by Audrey Hepburn, the Manhattan party girl and mob informant embodies old Hollywood glamour. The 1961 film based on Truman Capote's novel of the same name introduced women everywhere to their next obsession – pricey designer jewelry. More precisely, bling from a robin's egg blue box. Holly is probably one of the most imitated movie characters of the 20th Century. After all, all it takes is a sleek black gown, a cigarette holder, and an oversize pearl necklace to transform into the Breakfast at Tiffany's star for Halloween.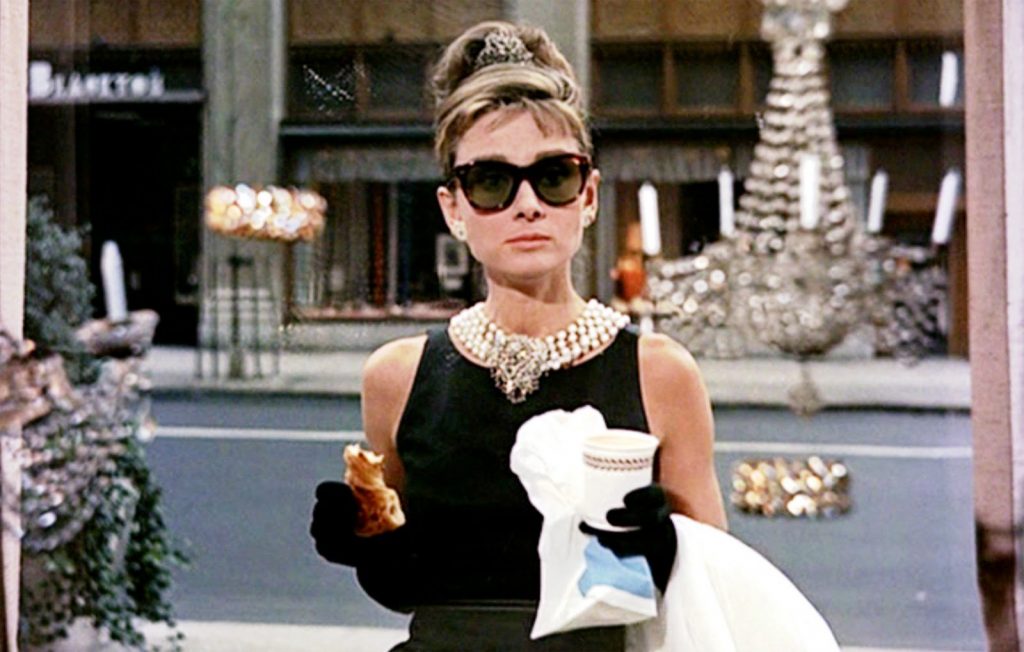 90s & 2000s Throwback Movie Characters
Titanic (Kate Winslet) 1997
From Celine Dion's "My Heart Will Go On" to the often replicated Heart of the Ocean sapphire necklace, no film defined the 90s quite like Titanic. Played by Kate Winslet, the young Rose falls for a charming rogue without a penny to his name. Leonardo DiCaprio's character Jack wins her over in the hours before the tragedy strikes (spoiler alert). Next, he immortalizes the gorgeous necklace from her ex in a steamy portrait session. Harry Winston designed the famous film prop, and based it off the Hope Diamond which is now on view at the Smithsonian.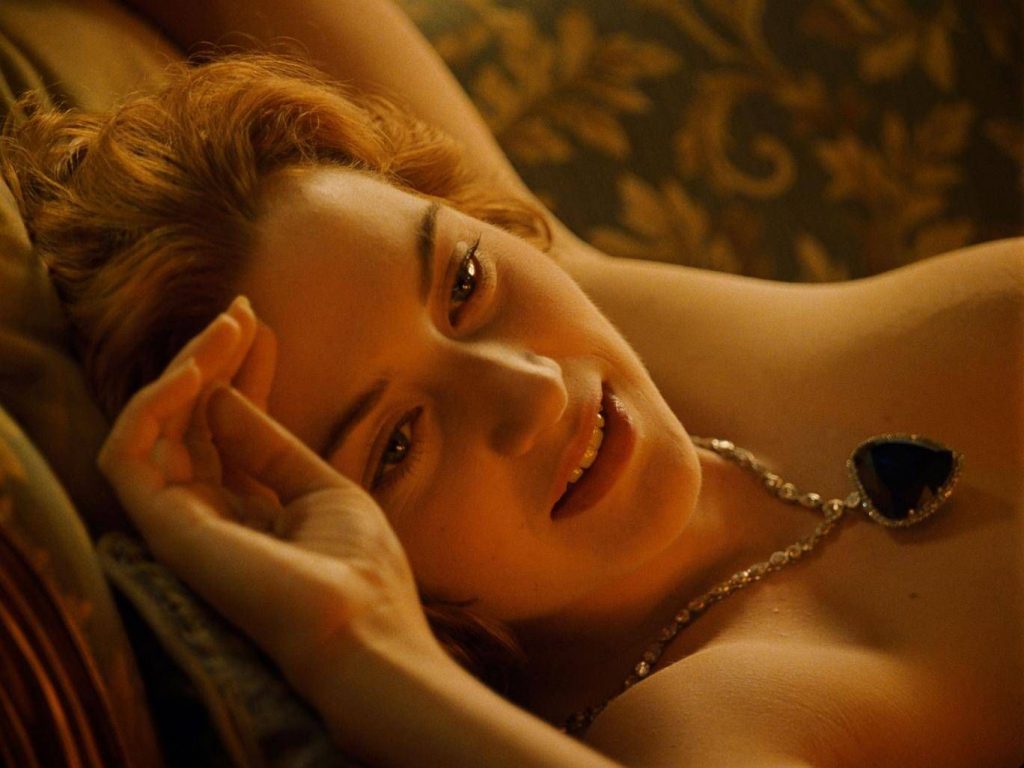 Pretty Woman (Julia Roberts) 1990
With her big red hair and legs up to here, Pretty Woman heroine Vivian Ward is one of the most unforgettable movie characters of the 1990s. As far a fashion movies go, the cult favorite runs the gamut. From racy street-wear and thigh high boots to leading lady Julia Roberts all glammed up for the opera. We adore the scene where Richard Gere snaps the velvet jewelry box closed on the unsuspecting Roberts. Her genuine and infectious laugh made for an ad-libbed moment that went down in cinema history. Of course, that ruby and diamond necklace set inside wasn't bad either.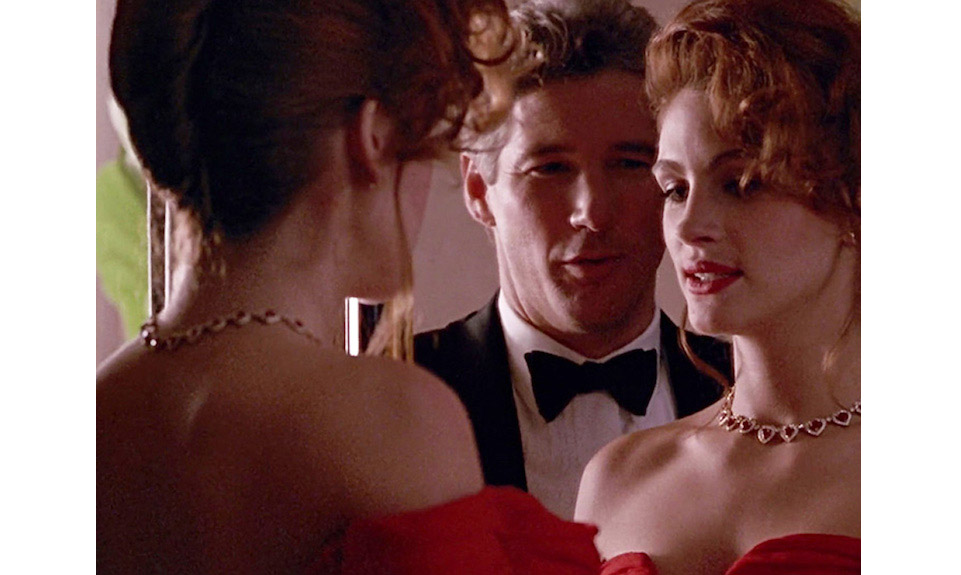 Queen of the Damned (Aaliyah) 2002
A moody cult film of the early aughts, Queen of the Damned brings together some of worst and the best elements of the era. Played by R&B singer Aaliyah, Queen Akasha wakes from the dead in search of the vampire Lestat's great white abs and rock star swag. It certainly wasn't considered one of the best thriller movies of the vampire Renaissance. But the Anne Rice penned piece falls in line with Blade, Underworld, and The Crow. Canned lines and a Nu-Metal soundtrack drive the nostalgia factor for fans of a certain age. If you didn't grow up on Mountain Dew and Tamagotchi, quick warning: you might not appreciate it. But fact is, Queen Akasha's bra-necklace-crown combo kicks ass in any decade.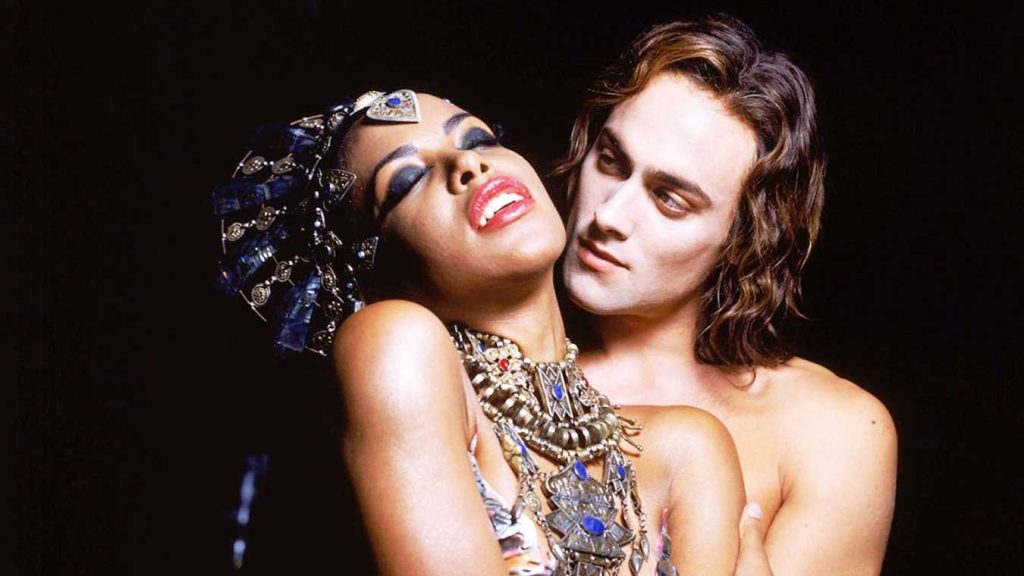 The Bodyguard (Whitney Houston) 1992
When Whitney Houston hit the stage as a not-so-fictional pop star in The Bodyguard, it was sure to inspire some crazed fans. In an attempt to keep her overzealous admirers at bay, she enlists the help of a former Secret Service agent played by Kevin Costner. Houston, as movie character Rachel Marron, dons a space age helmet and bold metallic beaded necklace while performing her radio hit "Queen of the Night." In one of the film's tensest scenes, the protective Costner is left on the sidelines assessing threats from concertgoers. Meanwhile, Houston works her magic for a chaotic, packed house.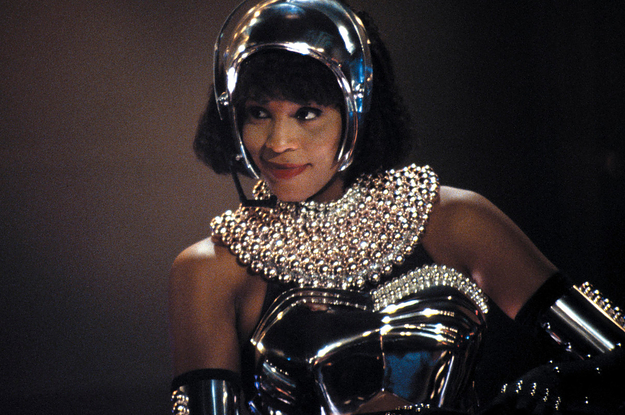 Romy & Michelle's High School Reunion (Lisa Kudrow/Mira Sorvino) 1997
You didn't think you'd escape our tour of the 90s without our girls Romy and Michelle, did you? One of our favorite fashion movies of all time, this gloriously styled comedy features some killer Madonna inspired 80s flashbacks and a whole lot of late 90s shine. When these spunky movie characters are not busy rocking up-dos and power suits, the high school buds played by Lisa Kudrow and Mira Sorvino shine in rhinestone chokers, feathers and bows. The sparkly accessories in Romy and Michelle's High School Reunion aren't pricey by any means. Nevertheless, they take us back to a time when rhinestones and metallic Lycra ruled.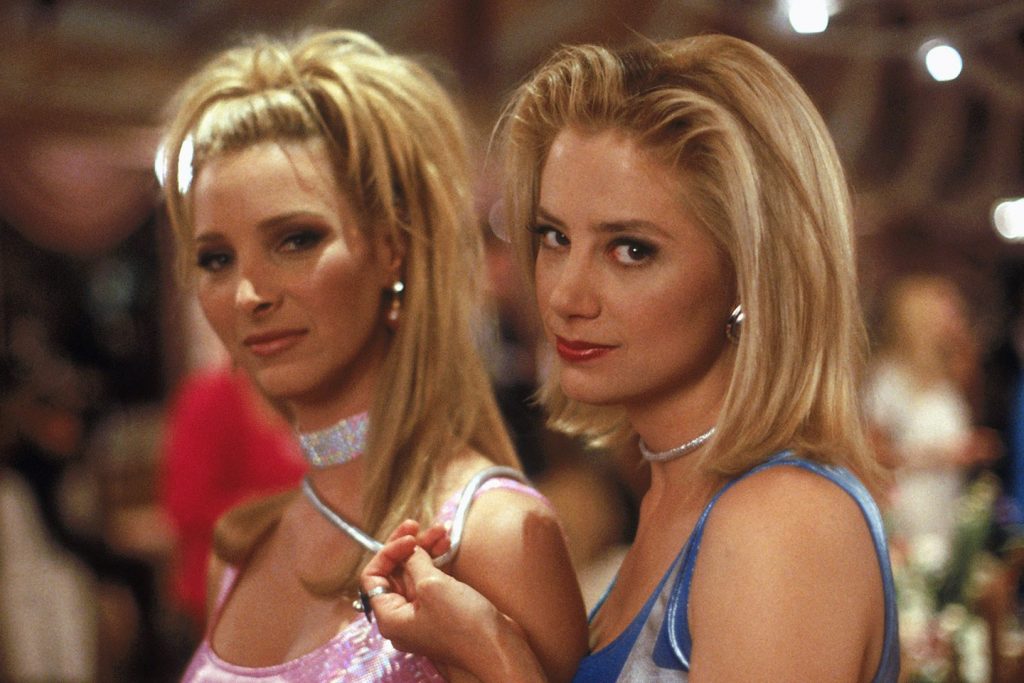 Moulin Rouge (Nicole Kidman) 2001
Moulin Rouge is a lux take on the life of a showgirl at Paris' most famous nightclub. The over the top 2001 film ushered in a new generation of musicals and riffed on everything from "The Sound of Music" to "Diamond Are A Girl's Best Friend." Nicole Kidman plays the caged bird movie character perfectly. She divides her loyalties between an earnest writer and a Duke who gifts her an elaborate diamond necklace. Designed by Stefano Canturi, Satine's necklace was so valuable, a "stunt double" piece was used in the most dangerous scenes.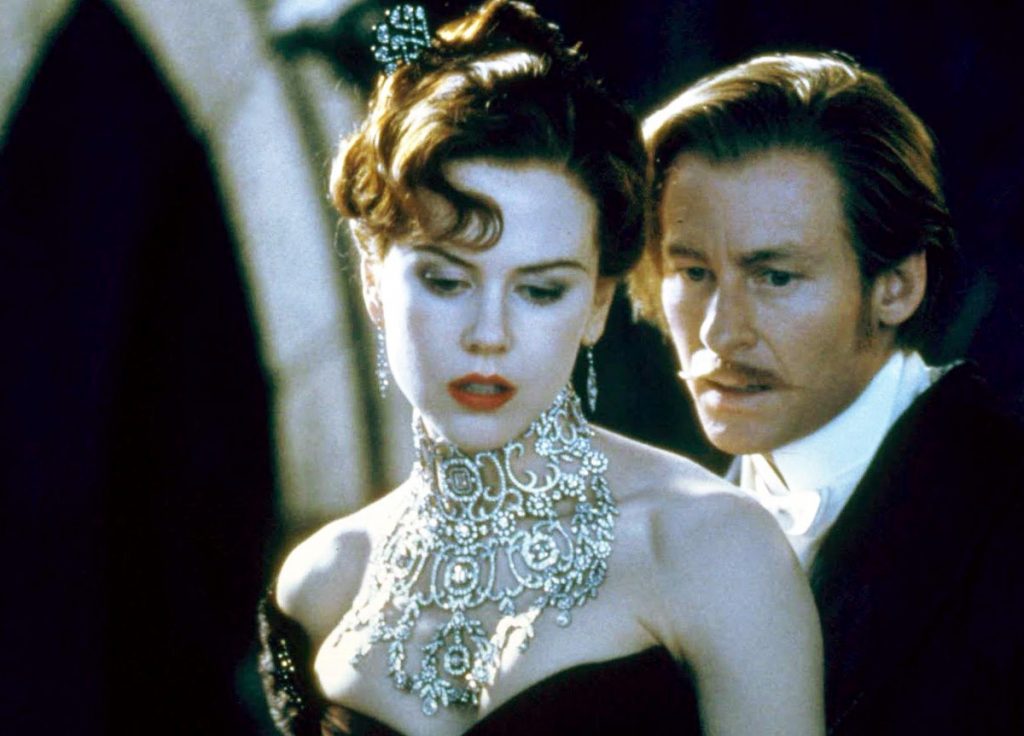 Marie Antoinette (Kirsten Dunst) 2006
If you're going to go down in a blaze of glory, you may as well do it looking like a million bucks. Or better yet, $4 million. That was apparently the budget for Kirsten Dunst's jewelry in Marie Antoinette. Our favorites: the 18th century chandelier earrings worn by the gorgeously doomed queen. Director Sofia Coppola took a modern approach in this stylized retelling of France's indulgent teen bride. Like several of the fashion movies on our list, Marie Antoinette won an Oscar for best costume design. Plus, it got lots of love on the pages of Vogue.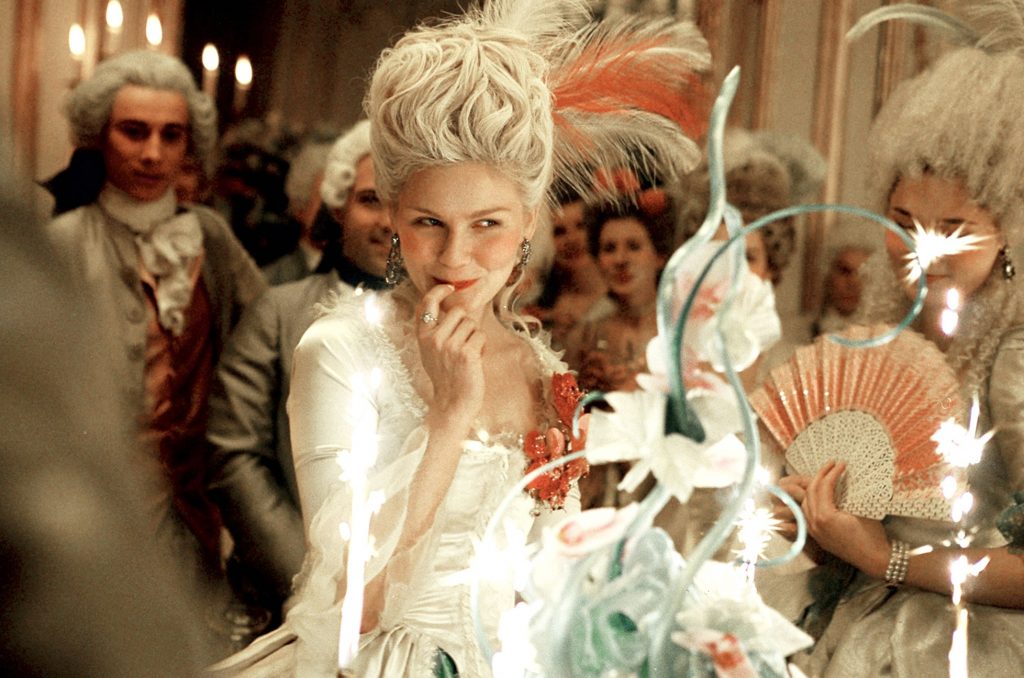 Recent Blockbuster Movie Characters
Crazy Rich Asians (Gemma Chan) 2018
In Crazy Rich Asians, our introduction to Chinese taste-maker Astrid Young Teo takes place in a jewelry store in Shanghai. Though she's described as "down to earth" by her cousin Nick, it's clear that she's a woman who gets what she wants. In this instance, it's a pair of rare gemstone and Burmese pearl drop earrings for a cool $1.2 million. While a couple of glamorous engagement rings make their way into the plot too (spoiler alert), Gemma Chan's character steals the show when she dons the pricey antique earrings.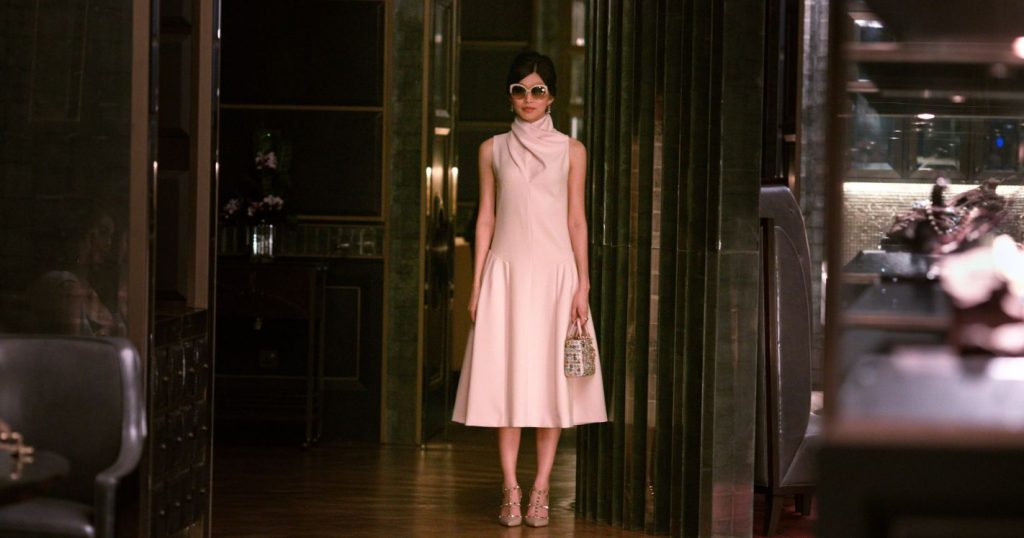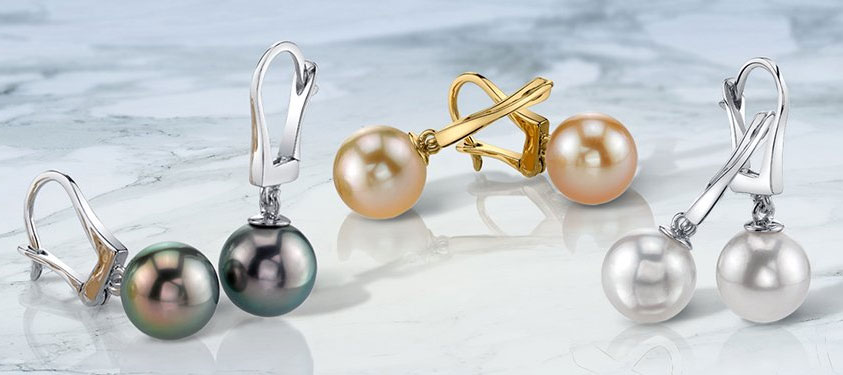 Pearl Spotlight:
Pearl earrings are an elegant and affordable way to glam up any look. Whether you're into simple studs or a dramatic drop, we've got you covered. Adding a pair of natural pearl earrings is the perfect finish for a romantic dinner or office ensemble.
Coco Before Chanel (Audrey Tautou) 2009
Exploring the early years of the designer's life, Coco Before Chanel begins with a modest seamstress' wardrobe and finishes with the iconic Chanel fashion we know today. Played by French actress Audrey Tautou, the young Gabrielle – aka Coco – pushes back against corsets and conventions. While her signature layered pearl look doesn't come into full swing until later in her career, we love the timeless double strand pearl necklaces Coco wears here.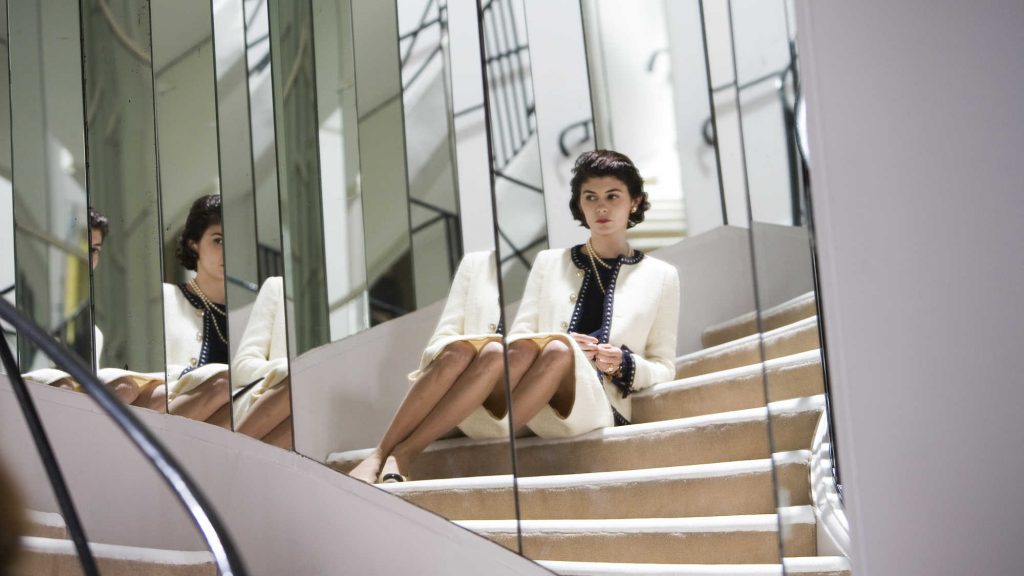 Black Panther (Lupita Nyong'o) 2018
Set in the futuristic African nation Wakanda, Black Panther brings big action and exotic, tribal inspired costumes to the silver screen. After all, the 2018 Marvel Studios blockbuster won an Academy Award for costume design. Our favorite: the look on fashion industry darling Lupita Nyong'o. Her stacked silver collar and fan necklace combo stand out against the red tunic. And forearm cuffs and armor inspired shoulder pads add an extra boost of badass. Many think of animated films as the best Disney movies. But now that Star Wars and Marvel have joined the fold, they're offering epic films for fans of all ages.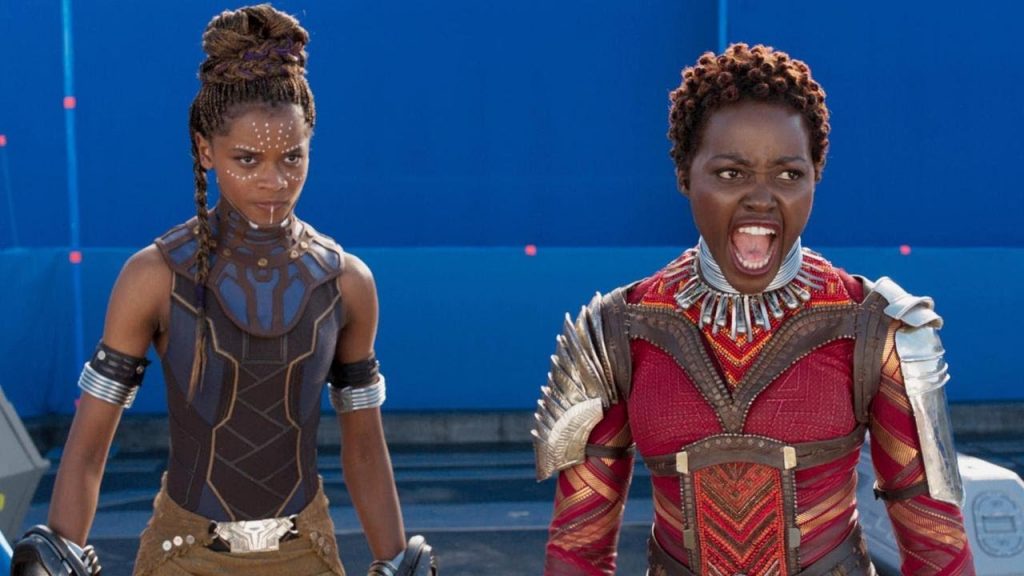 The Hunger Games Series (Elizabeth Banks) 2012 – 2015
So maybe it's not technically jewelry, but Effie Trinket tops the list of characters that give us wardrobe envy. The Hunger Games host played by Elizabeth Banks continues to wow us with adventurous looks. For example, her head to toe monarch number in The Hunger Games. Or, check out the gray wool ensemble with fur shoulder pads, diamond drop earrings, and an icy hairpiece in Mockingjay Part 2. In any case, Effie brings the noise. She's at once futuristic and fashion forward. Effie Trinket is a wig wearing movie character that would feel just as comfortable in Alice in Wonderland.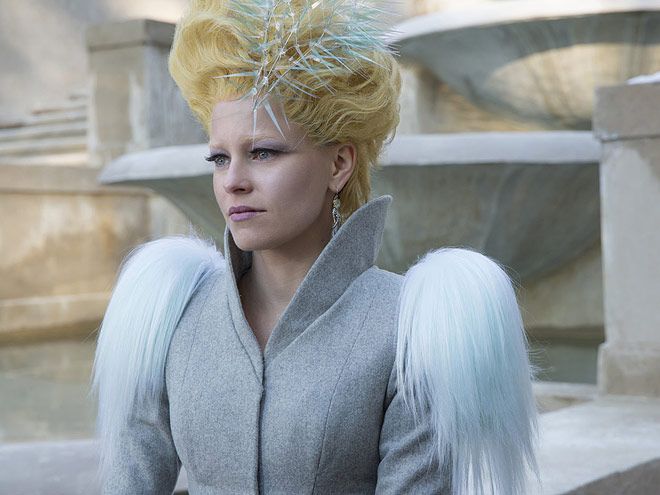 Ocean's Eight (Anne Hathaway) 2018
Many of the best thriller movies feature a heist, but the all female team in Ocean's Eight executes theirs with style. The all-star cast pits Sandra Bullock and company against Anne Hathaway, and puts a feminine twist on the Ocean's franchise. Hathaway plays actress Daphne Kluger, a fashion icon and co-host of the Met Gala. Inspired by a real piece of jewelry created for an Indian prince, the Cartier necklace Kluger wears to the gala is the object of Debbie Ocean's desire.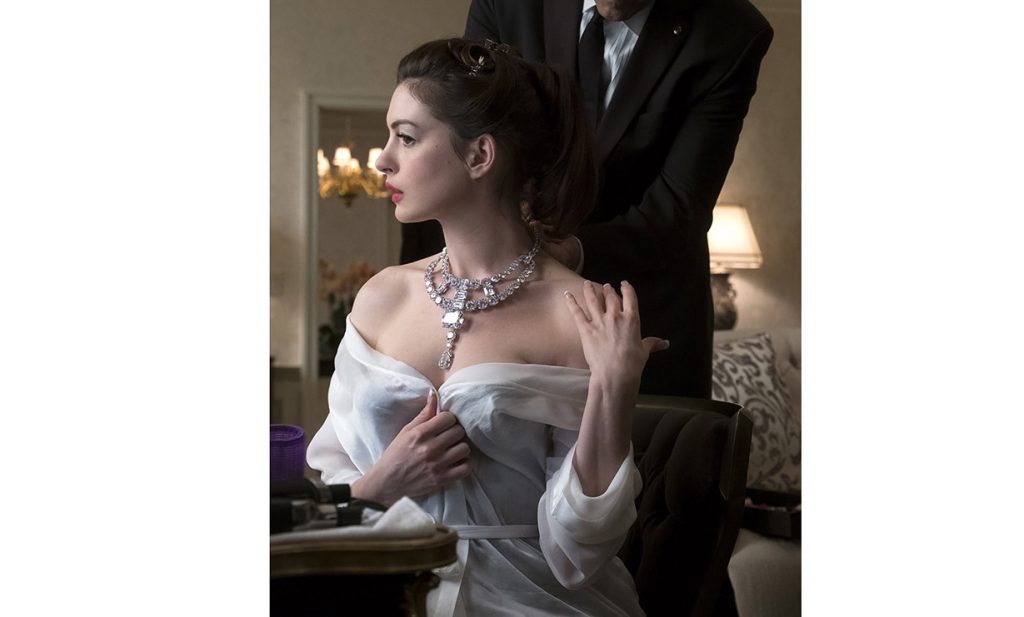 The Great Gatsby (Carey Mulligan) 2013
The hip hop infused Great Gatsby remake takes it up a notch with Oscar winning costume and production design. Carey Mulligan channels Daisy with lush flapper gowns and a diamond headband. Our personal favorites are the stacking pearl bracelets with an attached diamond ring. Her doe-eyed innocence mirrors that of Mia Farrow's Daisy. And Leonardo Di Caprio seems to be up to his old tricks as Jay Gatsby – once again pining for a taken woman.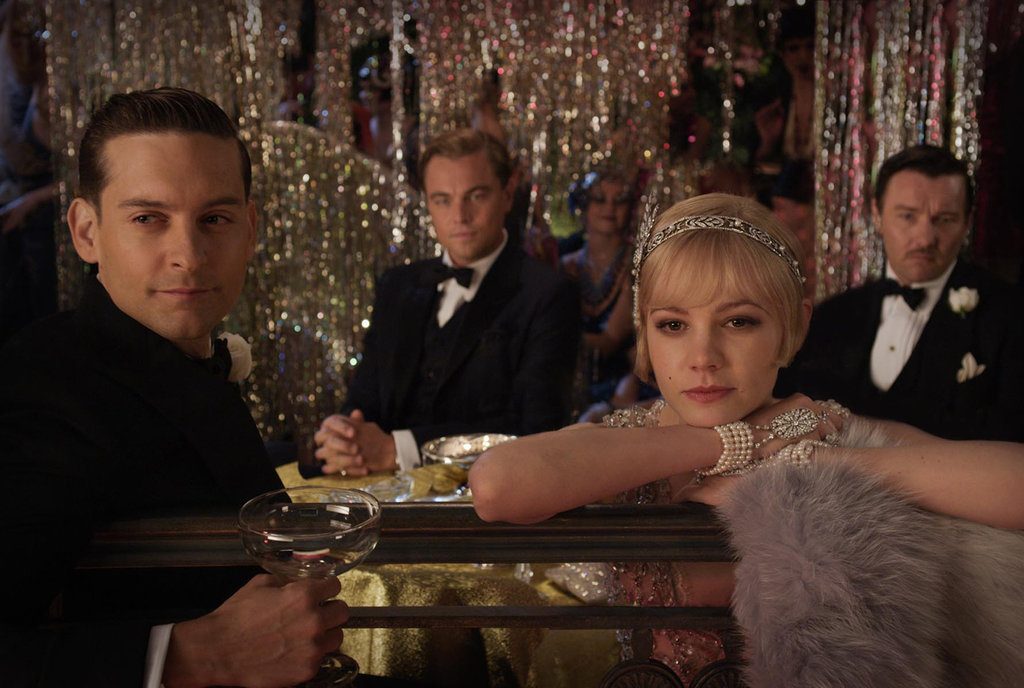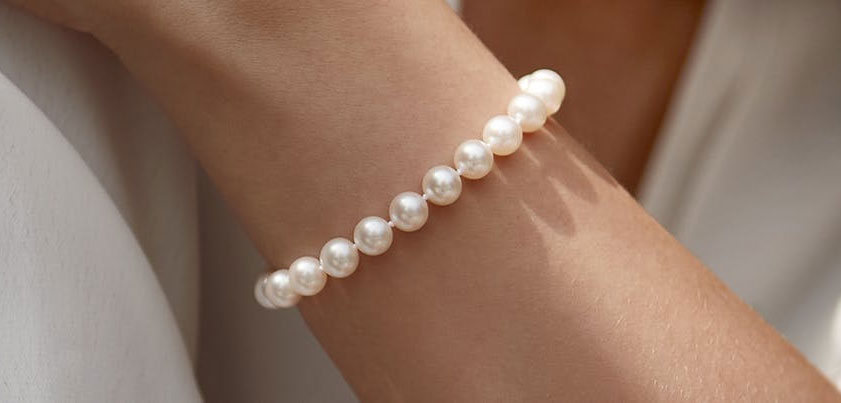 Pearl Spotlight:
While pearl necklaces get the most attention, we think a bracelet is a great way to mix it up. Wear one alone for a subtle touch, or stack them up for a glamorous, layered look.
Anna Karenina (Keira Knightly) 2012
Keira Knightly dives into Russian high society as the title character in Tolstoy's Anna Karenina. Dressed in red silk and piled high with pearls, she navigates family scandal, a loveless marriage, and her own desires in the ruthless 19th century drama. Her scorned husband played by Jude Law and lover played by Aaron Taylor-Johnson round out the tragic love triangle. If you can get past the British accents, the Imperial Russia set story is powerful, convincing, and full of pure Tolstoy suffering.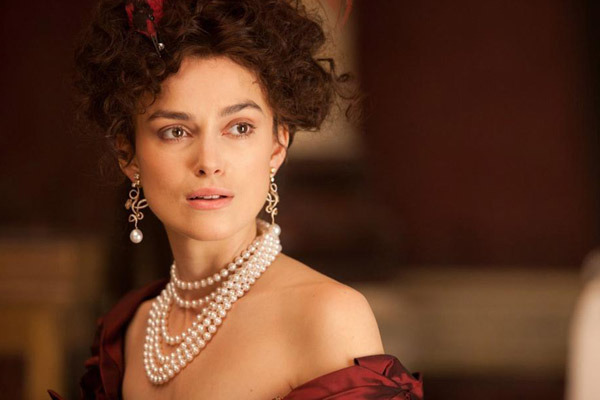 Wonder Woman (Gal Gadot) 2017
What would be a list of movie characters with amazing jewelry be without at least one super powered piece? We love everything Wonder Woman has going on. But with the Bracelets of Submission, she's the most powerful gal on our radar. Brought to life by Israeli actress Gal Gadot, the DC Comics superhero leaves her Amazonian home to fight the war of all wars. Subsequently, she gets a handle on those powers while she's at it. With the help of her bracelets and the Lasso of Truth, Diana manages to escape some scary situations while trying to save all mankind.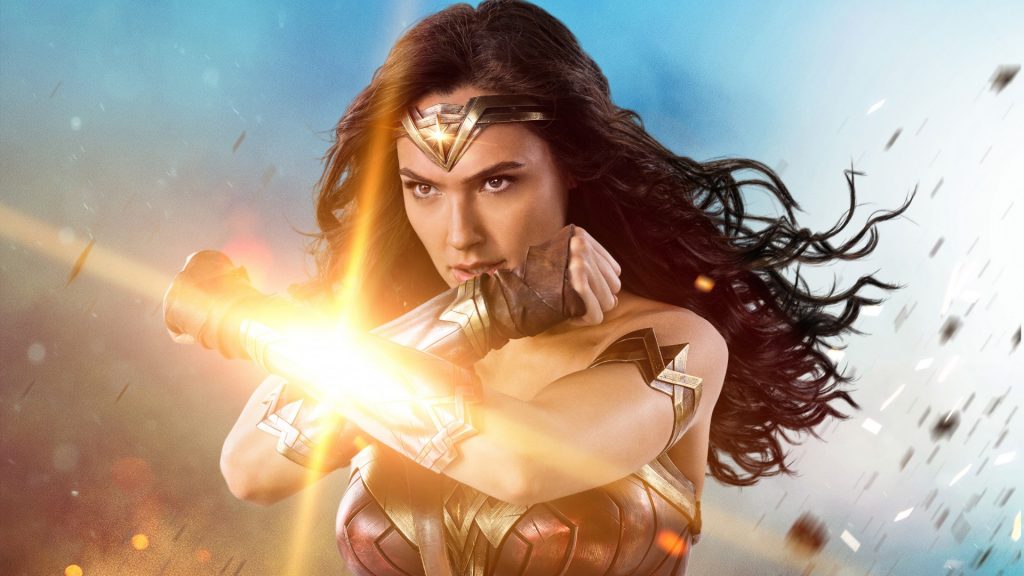 Black Swan (Natalie Portman) 2010
Certainly one of the best thriller movies by Darren Aronofsky in years, the dark 2010 dance flick Black Swan brought the drama. Natalie Portman won an Oscar for her role as Nina Sayers, and fans were left shaken by her rendition of the dichotomous ballet roles. Spurred on by a rivalry with understudy Mila Kunis, Portman's character dives headlong into a dizzying obsession with being the best. Black Swan's costuming takes notes from the original Tchaikovsky ballet, Swan Lake. However, the edgy makeup and crown would be right at home on a villainess in any of the best Disney movies.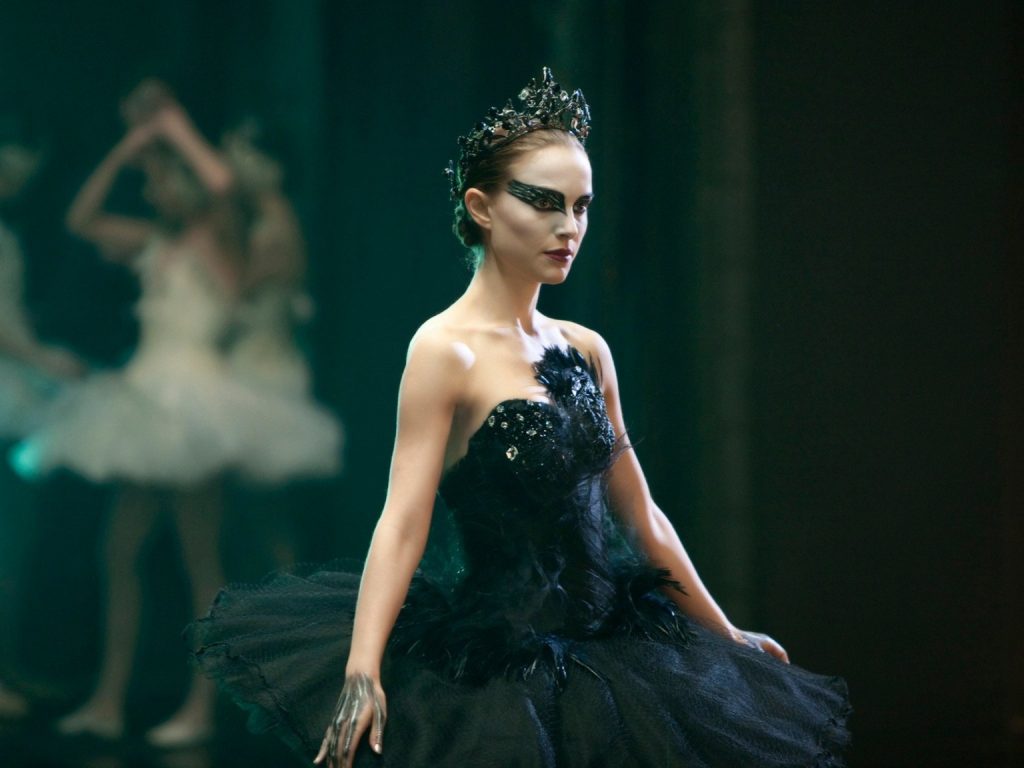 Aladdin (Naomi Scott) 2019
Our favorite movie characters from childhood were animated princesses. Luckily for the next generation of fans and nostalgic adults like us, Aladdin joins several of the best Disney movies to get a live action revamp. The new Jasmine, played by stunner Naomi Scott, shines in rich silk scarves and gold and turquoise enamel jewelry. At the same time, the handsome newcomer Mena Massoud delivers an updated Aladdin, and Will Smith delivers dad jokes as Genie. As a result, we've got another future classic for families to love.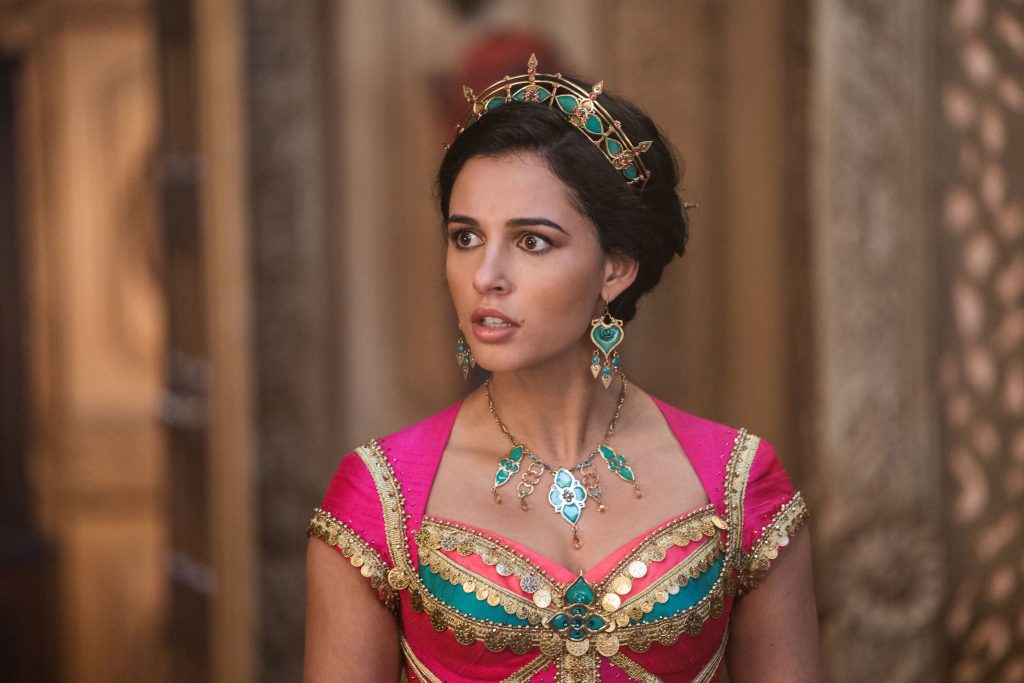 Binge-Worthy TV Characters
Westworld (Thandie Newton) 2016 –
As HBO teases Westworld season 3, we're cheering for Maeve, a saloon girl gone rouge. Although her status was up in the air at the end of season 2, fans of Thandie Newton will be happy to note her appearance in trailers for the new 2020 release. Rumor has it that the remaining TV characters have left the park, but for now, we're going to cling to that epic Western imagery a little longer. So, here's one last look at Maeve in her Victorian glory. Check out her ruby and pearl dangle earrings, delicate necklace, and feather hairpiece.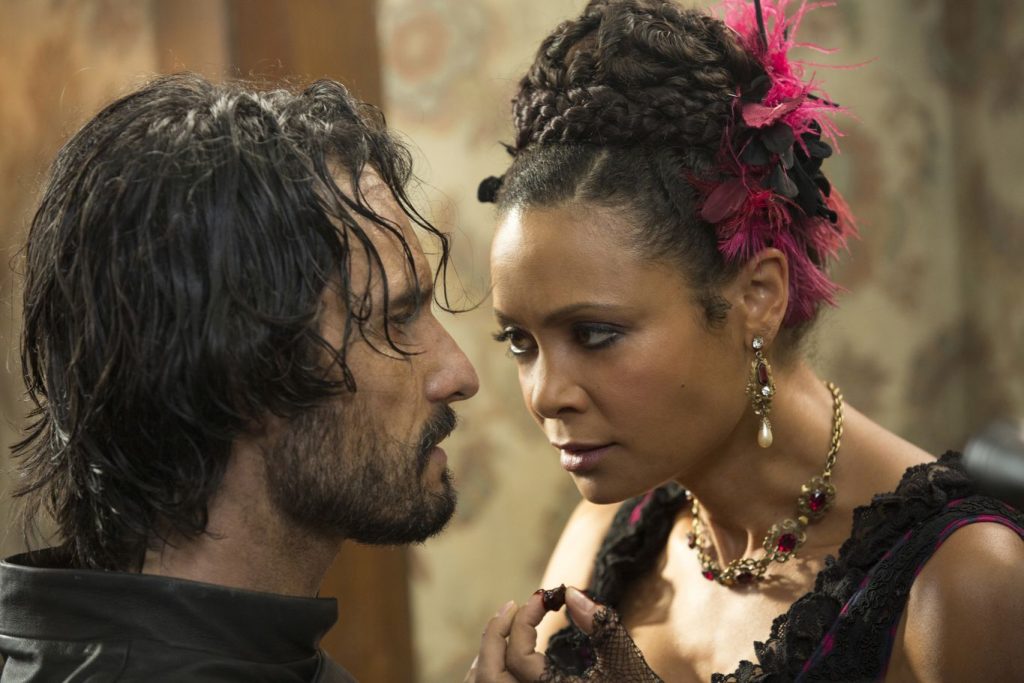 Game of Thrones (Lena Headey) 2011 – 2019
For eight glorious years, the world loved to hate Cersei Lannister. If we're honest with ourselves, she had most of it coming. We watched her evolve from a cunning, but elegant mother and queen into a ruthless warmonger whose children were all dead, and we loved every minute of it. With her struggles, so changed her style. Over the years, we saw Lena Headey fully commit to the role by shaving her head (SHAME! SHAME!). After which she took the opportunity to dial up the accessories without those golden Lannister locks in the way. By the end of the binge-worthy HBO series, many of the softer female characters had transformed into cold, hard, shoulder pad wearing women too. Sansa Stark, anyone?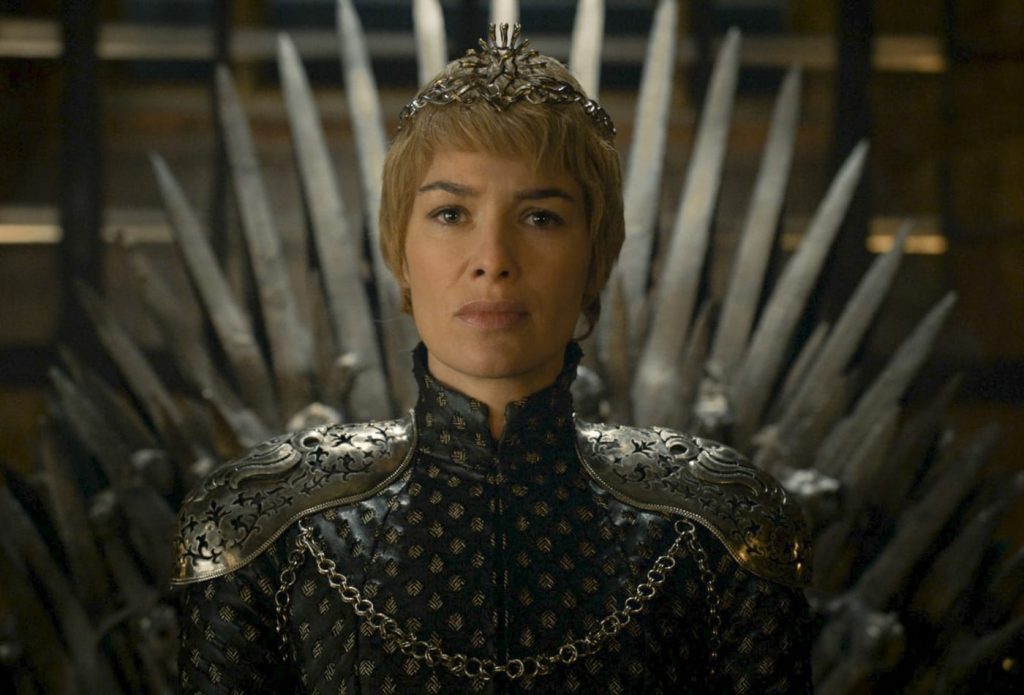 The Crown (Claire Foy) 2016 –
Claire Foy wowed Netflix audiences and royal family fanatics for two seasons as a young Queen Elizabeth II in The Crown. Her curt and vulnerable portrayal of the monarch won her a Golden Globe and an Emmy, and cemented her as one of the most beloved TV characters in recent years. Alas, Foy passes the torch to Olivia Colman as the mature queen in season 3. Similarly, Matt Smith bows out as Prince Philip to make way for Tobias Menzies. We'd imagine The Crown season 3 will have every bit of the same glamour with Elizabeth feeling stronger under the weight of the monarchy and all of those sumptuous jewels.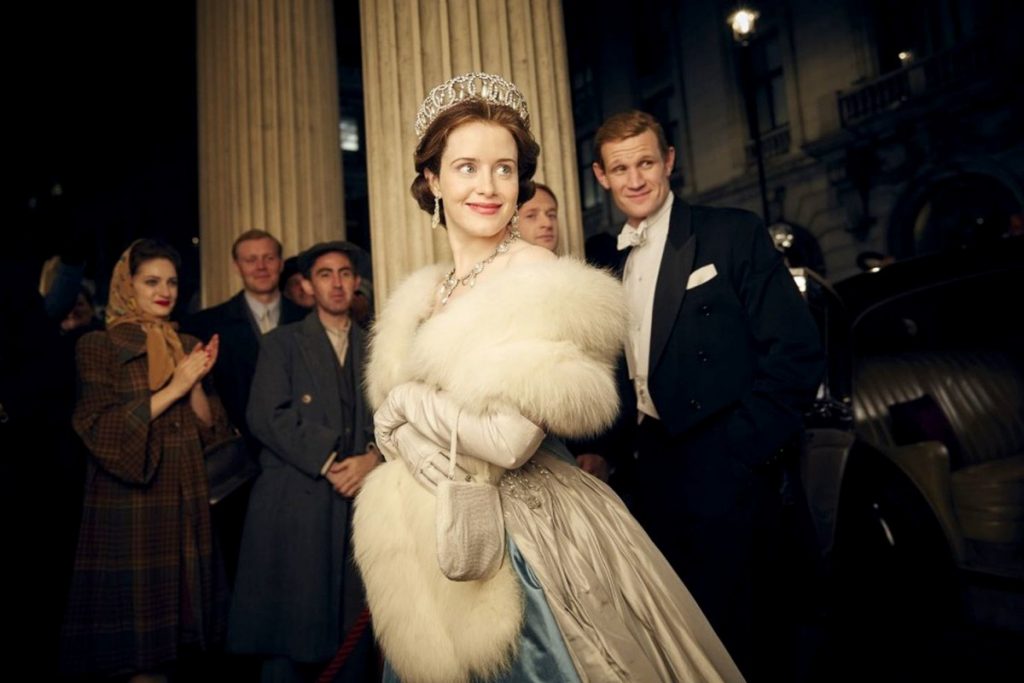 Marco Polo (Zhu Zhu) 2014 – 2016
The beautiful Chinese actress and former MTV host Zhu Zhu made her name in the states as Marco Polo's Kokachin. She plays the imposter of the Blue Princess – a woman who may have actually existed. Zhu Zhu gorgeously portrays the political pawn in the dark historical drama. The Netflix series dazzled us with rich Mongolian costumes, and Kokachin looked stunning in beaded jewelry, silk, and furs.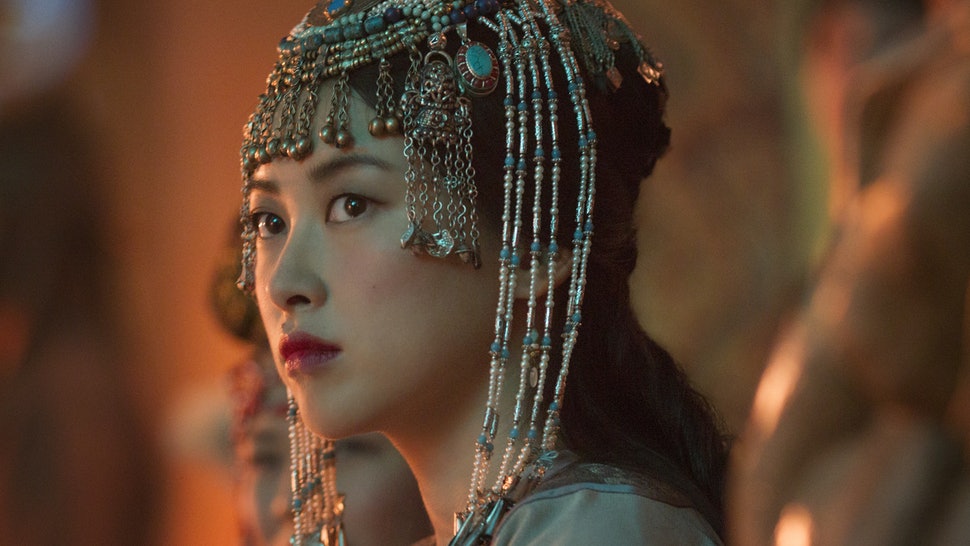 Mad Men (Christina Hendricks) 2007- 2015
Almost singlehandedly, AMC's Mad Men ushered in a revival of mid-century modern furniture and smart, 1960s fashion. At the helm of Sterling Cooper Draper Pryce's stylish offices was Joan Harris Holloway – a beautiful redhead with all the answers. A case study in managing up, the savvy TV character worked her magic from the reception desk, and turned Christina Hendricks into a fashion icon. When you've got a well tailored dress and a killer curves, you don't need to go overboard in the jewelry department. Most days, Joan was seen in office friendly accessories like a gold brooch and her trusty pen necklace.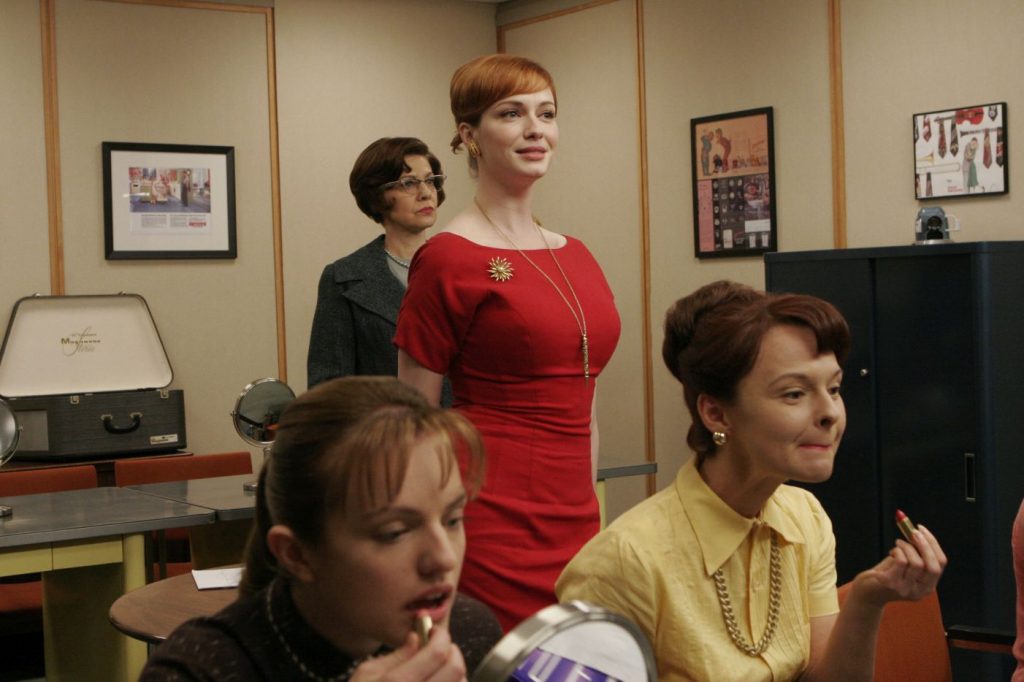 The Tudors (Natalie Dormer) 2007
You might know her better as Jeoffrey's cunning queen in Game of Thrones, but Natalie Dormer has filled more than one role as an ill-fated wife of a tyrant. As Anne Boleyn in The Tudors, she used her Machiavellian ways (in the time of Machiavelli, no less) to seduce King Henry VIII. The Showtime period piece treats fashion movie fans to rich costume design and Renaissance jewelry galore. Although we could be partial, we simply love Anne Boleyn's lavish pearl looks best. If you're going to marry (and be murdered by) an evil monarch, you ought to look great doing it. At least, that's our take.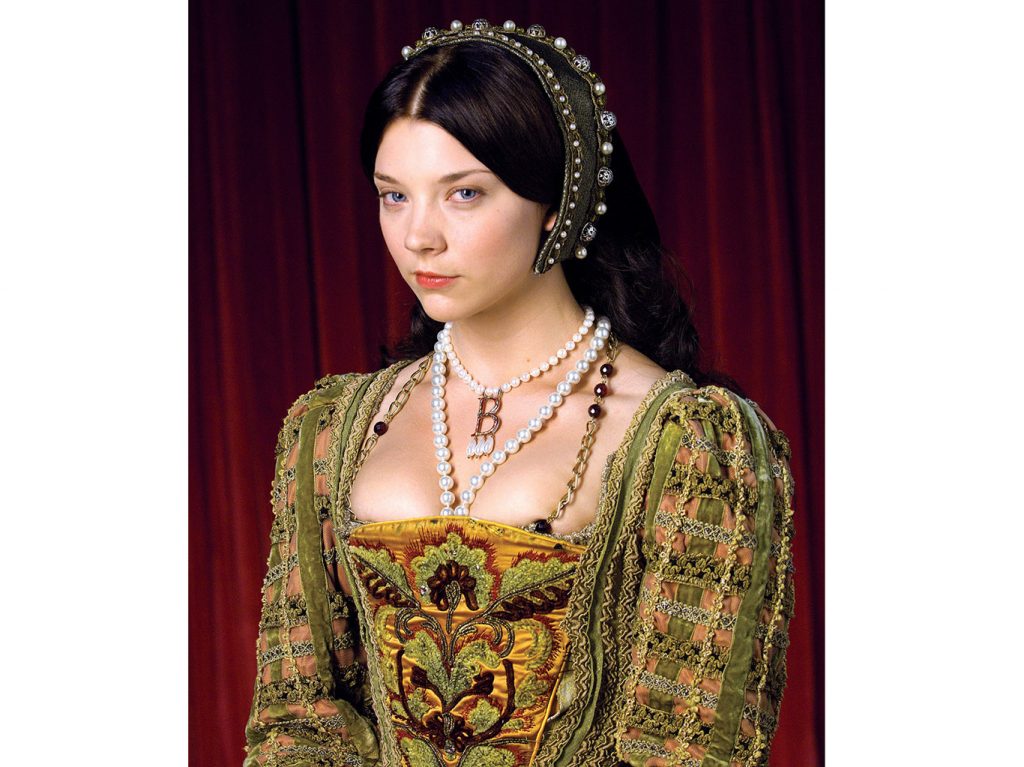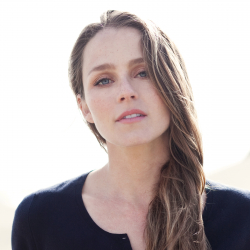 Latest posts by Gina Teichert
(see all)