Many men will tell you that finding your dream woman is easier than finding the perfect engagement ring. To buy a ring is not as simple as saving money for a sparkly diamond anymore, because many women are breaking away from convention and choosing a different stone. The days of traditional diamond solitaire rings are past; engagement ring styles are revolutionizing, and these days women prefer designs that suit their lifestyle and flatter the shape of their hands. If your girlfriend wants a pearl engagement ring, our guide tells you everything you need to know to find a ring with a design and setting that she'll love forever.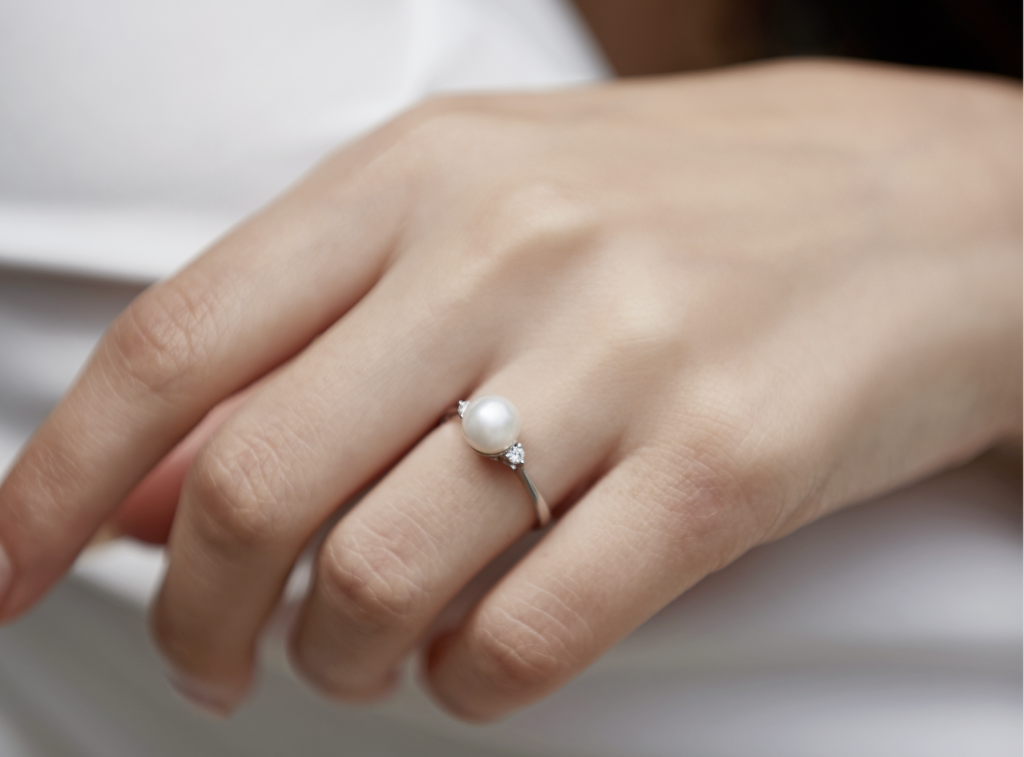 Why You Should Choose a Pearl Engagement Ring
If you're thinking of choosing a pearl for your engagement ring instead of a diamond, there are some excellent reasons to follow your heart. Diamonds only became popular for engagement rings when the De Beers diamond cartel launched a marketing campaign for their gems in the 1930s. Before that, other gemstones such as emeralds, rubies, and pearls were the traditional choice for an engagement ring. Pearls are one of the most popular engagement ring stones because they symbolize purity, loyalty, generosity, and integrity. The romantic imagery associated with pearls undoubtedly adds to their current return to popularity. They also pair exceptionally well with vintage style and romantic wedding dresses.
When it comes to selecting a pearl for your engagement ring, there is an astonishing variety of colors and sizes available. Pearls come in shades from traditional white to black Tahitian pearls, and the warm shades of Golden South Sea pearls. You can mix and match the alternatives to suit your preference, budget, and the style of your ring. Pearls also compliment all metal colors and other gemstones so you can customize your pearl engagement ring with options to match your taste.
Will a Pearl Engagement Ring Last?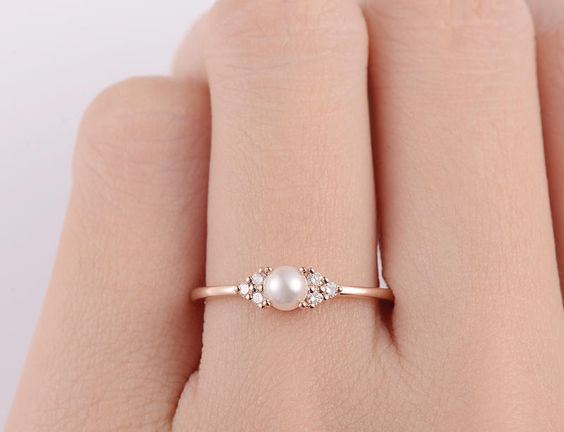 Yes. If you take proper care of your engagement ring, it will last a lifetime, and your children can inherit it. To protect your pearl ring, and all fine jewelry for that matter, take it off before you undertake physical activities such as garden work or go to the gym, and never expose your jewelry to harsh chemicals. When you take it off, wipe your pearl ring with a soft cloth to remove any oily residue that built up from your skin.
Mistakes to Avoid When Buying an Engagement Ring
An engagement ring is one of the most important tokens of love you will give your girlfriend, and since it's a piece of jewelry instilled with so much symbolism, you want to make sure that you choose wisely.
No rule says how much you should spend on an engagement ring but overspending your budget is an undeniable mistake. One of the most significant benefits of a pearl engagement ring is that various types of pearls suit different budgets and it's easy to find pearls that are perfect for you. Never compromise on quality for the sake of a bigger size. Whether you opt for freshwater pearls or white South Sea pearls, if you choose the best quality pearl, you will have a flawless gem with deep luster and thick nacre that does justice to the setting and which you can show off proudly.
Ring styles are like clothing fashions – they change over time. When you buy a mass-produced engagement ring, you not only run the risk that you will come across someone wearing the same ring, but it might also start to look dated after a few years. By choosing a pearl ring for your engagement, you're already on your way to having a unique piece of jewelry; complete the look and customize your ring with gemstone and metal color options.
Women sometimes decide on a style of ring they like without considering the shape of their hands. Take your fingers into account when you choose a ring and try to find one that will make your hands look elegant when you wear it.
Contemporary Pearl Engagement Ring Styles
Deciding on a ring style might be the hardest part of finding the perfect engagement ring. There are many timeless styles to choose from, and some designs come with a modern twist. The setting determines what size pearl is suitable for the ring, and how many other gemstones you can add to the design.
A solitaire is a single pearl set in an engagement ring. This design is the ideal style to show off an exceptional gemstone such as a white South Sea pearl.
Twist engagement rings are a variation on the angular lines of a solitaire ring. With a wavy metal band framing the pearl, this type of engagement ring is romantic and feminine.
A three-stone engagement ring has a pearl as the center stone. Smaller stones bracket the pearl, drawing attention to its lustrous beauty. You don't need to limit yourself to just three stones though; any number of accent stones can flank the pearl in a symmetrical arrangement.
An eternity engagement ring has an unbroken circle of gemstones. The ring can have one, two, or even three bands, and a pearl set amid them. Eternity rings are a sign of lasting affection and an excellent choice if you want to combine the beauty of a pearl with the symbolism of love.
In a halo setting, a circle of smaller stones surrounds the pearl. Diamonds are a good choice for a halo setting because they add brilliant sparkle to enhance the beauty of your pearl ring. If statement jewelry suits your girlfriend, you can even opt for a double halo ring.
A pavé engagement ring lets the pearl stand out as the focal point of the design, while smaller stones encrust the band of the ring. The stones are set flush with the metal. This type of ring is the perfect way to draw attention to an exceptional pearl with the use of brilliantly faceted stones.
Modern and Alternative Style Engagement Rings are easy to recognize by their asymmetrical design and flourishes in the metal. These rings are interesting and unique, but it is a challenge to pair them with a wedding band, so it's best to look out for a bridal set if you prefer this type of ring.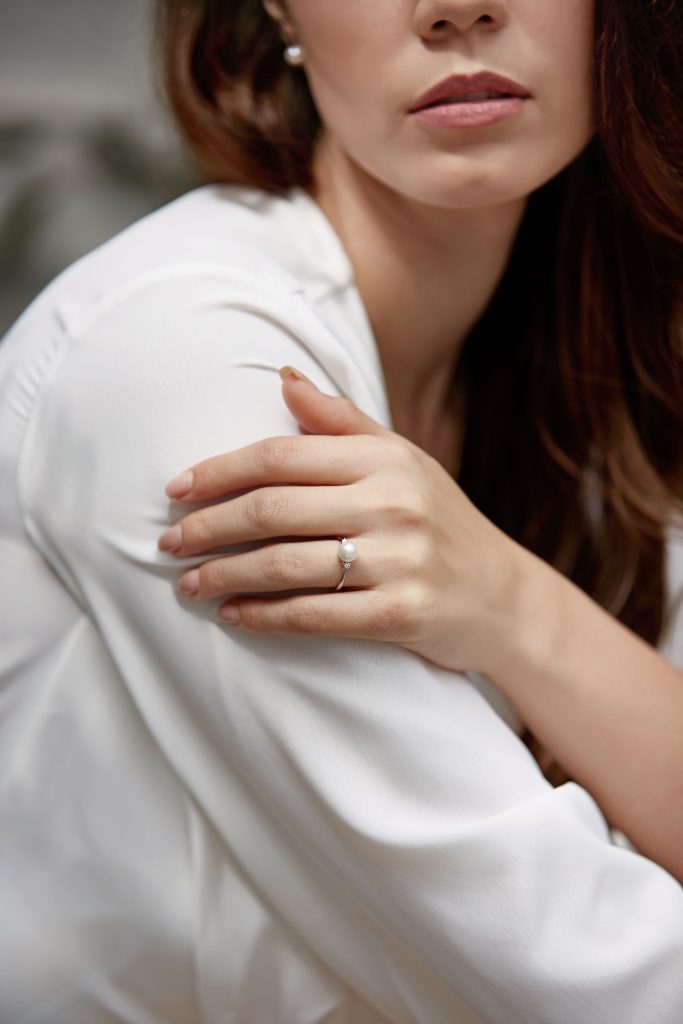 JEWELRY SPOTLIGHT:
PEARL ENGAGEMENT RINGS
Whether you're looking for a simple and sleek solitaire pearl engagement ring, a lavish pavé pearl engagement ring, or any other pearl engagement ring design Laguna Pearl has a selection that allows you to find the ring that is perfect for your loved one. On top of that, we offer pearl engagement rings that feature all of the different types of pearls. If you're looking for something more unique, consider a Tahitian pearl ring which has an exotic dark color. If you're after something more classic and timeless, there's no better choice than a white Akoya pearl engagment ring.
Is it Safe to Buy a Pearl Engagement Ring Online?
If you choose a reputable shop, you have no reason for concern. A good quality pearl engagement ring always comes with a certificate of authenticity, and most online pearl shops have a stress-free return policy if the ring doesn't fit or you change your mind about the style.
An engagement ring is primarily a symbol of your love and devotion, but it also comes with a lot of pressure. She expects a beautiful piece of jewelry which she can show off to her friends and family, while you try to stay within budget and find a top-quality ring that will last a lifetime. When it comes to precious stones, a pearl engagement ring is a classic choice. It is the answer to your quest for a unique piece of jewelry with lasting value, while its elegance will melt the heart of any modern bride. Finally, while the wedding may be many months away, a pearl engagement ring allows for a bride to wear pearl bridal jewelry during the big day, creating a one-of-a-kind look that both you and her will remember for the rest of your lives.
Latest posts by Sos Nazaryan
(see all)