A pearl necklace is a powerful piece of jewelry. Impossible not to notice, a necklace helps you to express your personality, and it draws people's attention to your face. The right necklace can add a dash of color and interest to your outfit, and accessories can instantly elevate the level of refinement of your ensemble. With so many benefits to wearing a necklace, it is useful to know what the different styles of pearl necklace are, and how to wear them.
1. Pearl Choker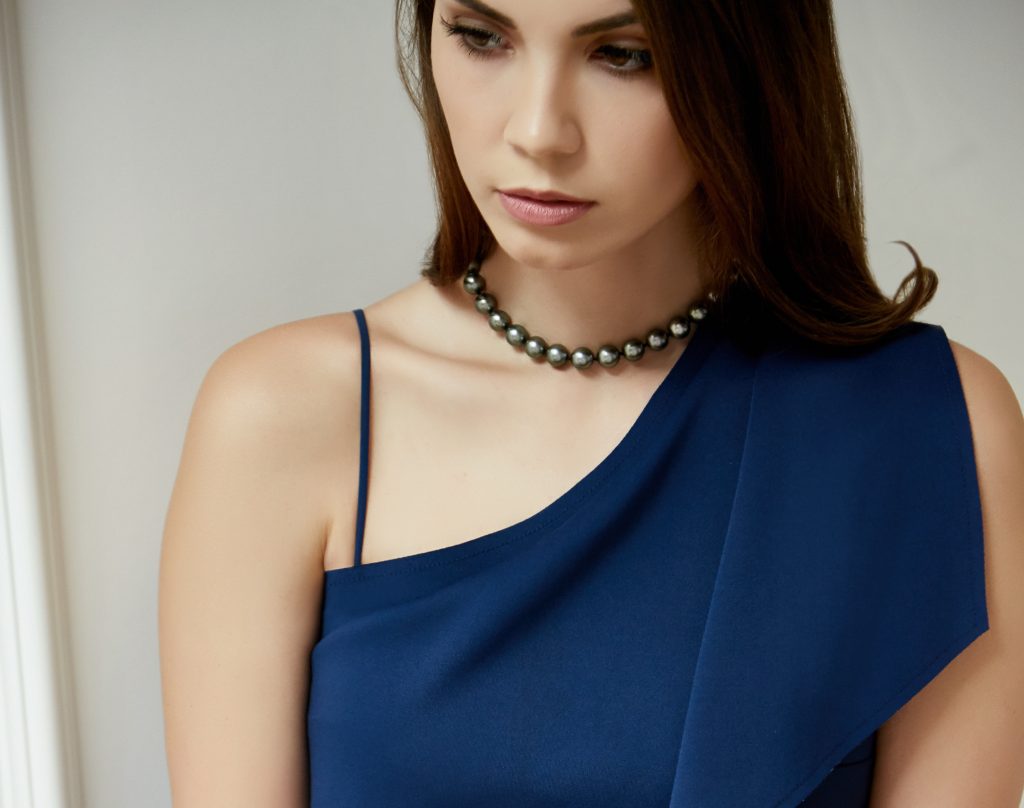 Every woman should own a pearl choker necklace. Choker necklaces are usually 14 to 16 inches long, and the pearls lie closely against the base of the throat. To find the ideal choker length for you, measure around your neck just above the collarbone, and add 2 inches to the length. A choker should fit snugly at the hollow of your throat but be comfortable enough so that you can breathe easy.
Pearl chokers are traditionally worn with formal attire such as an evening dress or a wedding gown, but it's such an adaptable piece of jewelry that it even looks good with your casual outfits. You can wear a choker to add a breathtaking effect to any off-the-shoulder dress or open-neck top in your wardrobe.
People sometimes say that you shouldn't wear a choker when you have a short neck, but if you choose the right pearls, anyone can wear a choker. Chokers strung with large pearls and added details such as a pendant or gems look alluring on long, slender necks, but if you have a short or a wide neck, a thin choker with small pearls will suit your body type and look equally charming.
Because of their restricted length, pearl chokers are usually the most affordable necklaces. If you are shopping for a pearl necklace, why not take advantage of the saving and select superior quality pearls? You can choose a necklace with AAA-grade pearls, or upgrade to more luxurious gems such as Hanadama pearls or South Sea Pearls.
2. Matinee Length Necklaces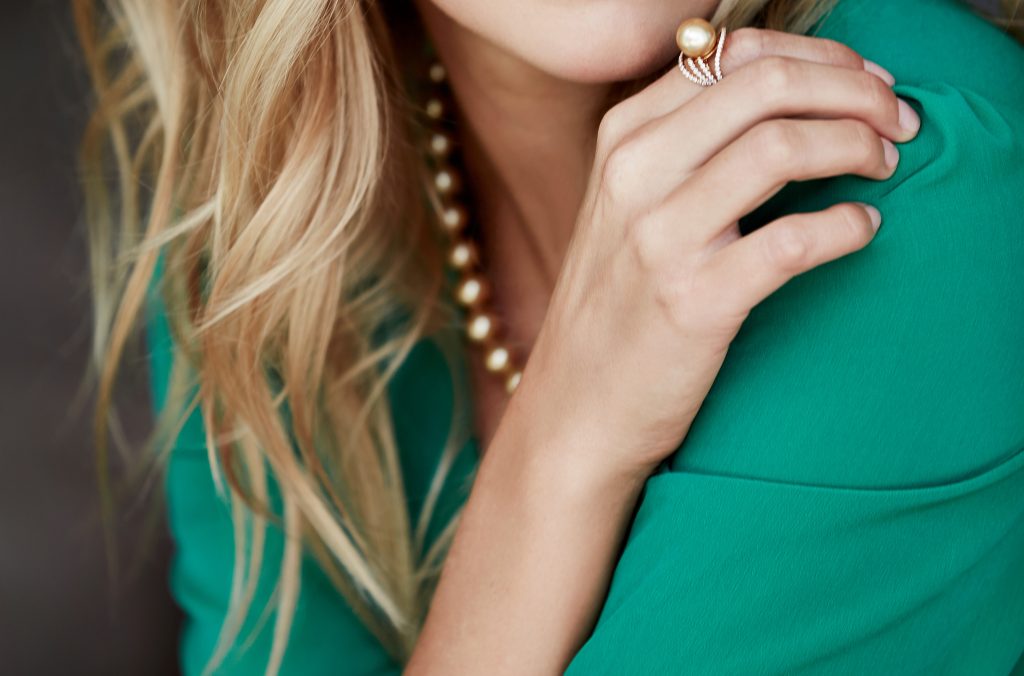 A matinee necklace is usually 22-23 inches long and falls on or just below the bust. Because of their easy to drape length, you can wear matinee pearl necklaces with everything, from a sundress to a winter outfit with a closed neck or a high collar.
A matinee necklace is a truly classic piece of pearl jewelry which you can wear for formal occasions or use it to liven up casual clothing. Because of its attention-grabbing length, a matinee necklace is a valuable complement to simpler styles and an ensemble in muted colors. However, don't think the matinee is a necklace which only fits in with conservative wardrobes and older women; you can create an amazingly youthful look when you layer your necklace with a choker or a pearl pendant.
JEWELRY SPOTLIGHT:
PEARL SETS
Pearl sets are the ultimate jewelry package, giving you the advantage of adding three matching pieces of the most timeless pieces of pearl jewelry for one truly unbelievable price. Pearl sets include a set of pearl earrings, a pearl bracelet, and a pearl necklace, giving you a great deal of versatility when it comes to accessorizing your outfits. Best of all is that you can choose whatever necklace length that appeals to you, whether it's a choker, rope, or another option. Pearl sets are available for Freshwater, Akoya, and Hanadama pearls, so you can pick the set that best matches your budget and style.
3. The Pearl Rope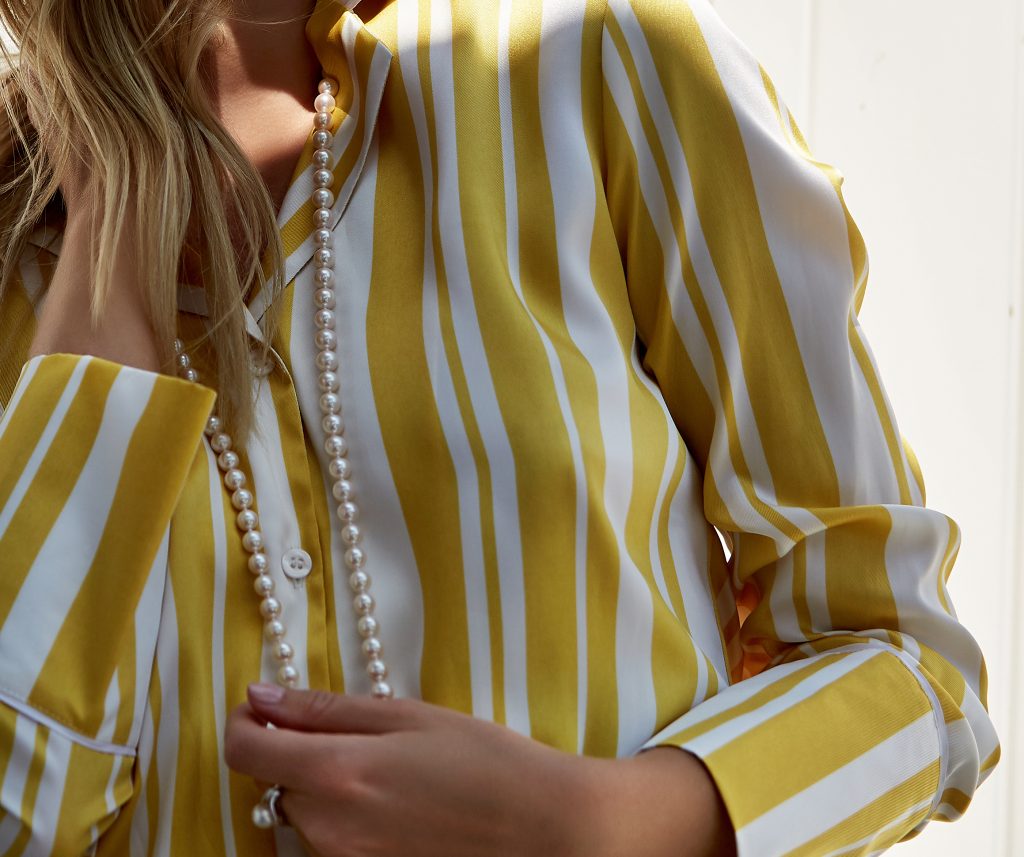 A strand of pearls longer than opera length (36 inches) is a rope necklace or lariat. Typically, a pearl rope is 51 inches long. You can wear it as a single necklace, double it up to make two strands, or even turn it into three short necklaces when you wrap it around your neck multiple times. Women sometimes twist a pearl rope around their wrists to make a layered bracelet.
Pearl rope necklaces are often strung without a clasp because they are long enough to fit over your head easily, and women prefer a magnificent uninterrupted strand of pearls. The most popular pearls for a rope necklace are freshwater pearls and Akoya pearls.
The length of a pearl rope makes it the most versatile necklace of them all. Whether you wear it single or drape it in several loops, the sheer number of pearls in a rope length pearl necklace makes it a dramatic piece of jewelry and depending on how you style it; you can wear your necklace with any outfit.
4. Pearl Pendants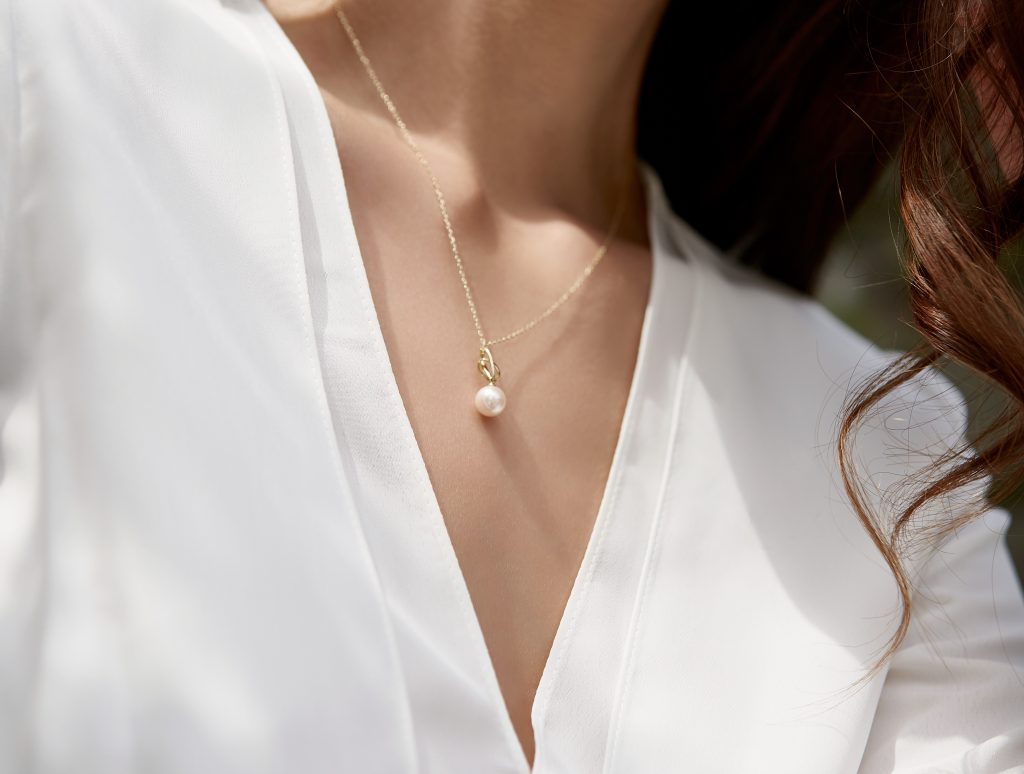 Pearl pendant necklaces are one of the most versatile and modern types of jewelry, and you can choose a chain of gold or silver color metal or another material such as leather or woven cord to suit your preference. When you choose a pendant, the chain is as important as the pearl; to create a harmonious piece of jewelry, always select a high-quality material to complement the pendant setting.
Pearl pendants are available in an array of sizes and styles, from an unadorned single baroque pearl to pendants with intricate gold designs encrusted with diamonds. These pendants aren't only for women either; a black Tahitian pearl on a leather or rubber rope is masculine and the perfect accessory for a man who dresses with style.
If your wardrobe revolves around a more casual way of life, a pearl pendant is an ideal piece of jewelry to accessorize your outfit. Pendant necklaces look wonderful with everything from t-shirts and jeans to a maxi dress, but a pearl pendant is adaptable enough that you can use it to dress up a formal outfit for work instantly.
5. Multicolor Pearls
White is the traditional color for pearl jewelry, and you can never go wrong with this classic choice. However, pearls come in an astonishing array of natural colors, and pale skin tones often look wholesome with pearls in shades of cream, silver or pink. If you're looking for daring jewelry, you will love the powerful effect of Tahitian pearls and Golden South Sea pearls. With tones ranging from pure black to green, brown, and deep yellow, these pearls will turn any outfit into a declaration of style and elegance. Is it a challenge to choose just one color? The carefully selected gems in a multicolored pearl necklace can turn your jewelry into a riot of trendy colors.
6. Layers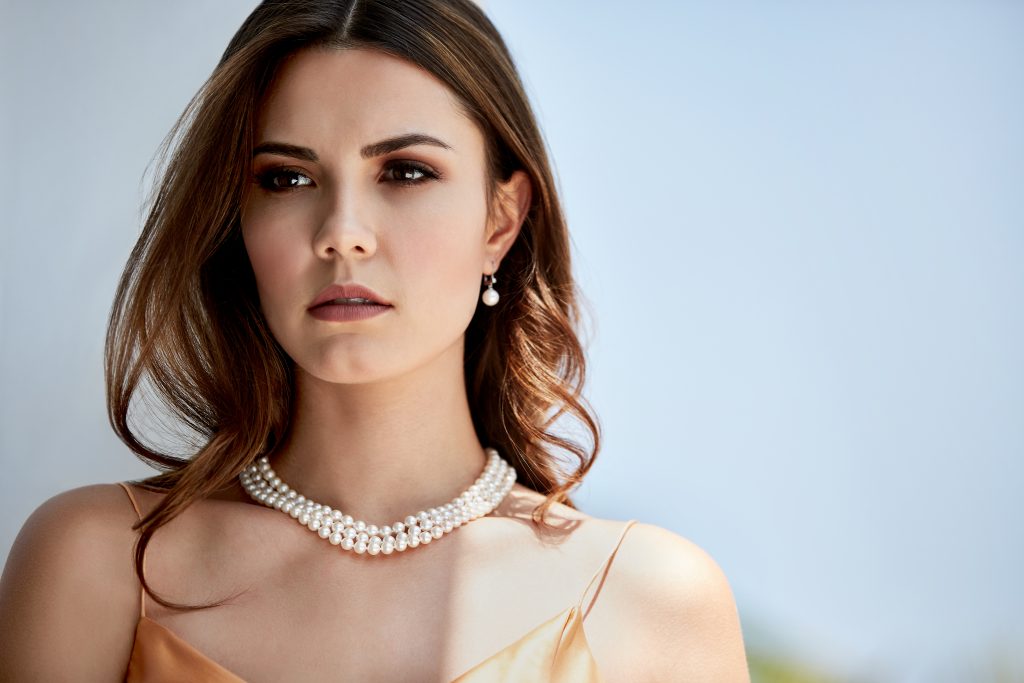 If you love jewelry, then there's no better way than layered necklaces to show off your pearl collection. Double up your opera length pearl necklace and add a choker to make a triple layer or wear multiple necklaces and pendants together for a bohemian look. Layered necklaces work well to liven up single-color outfits and clothing with a simple design such as a classic robe dress. Pearl jewelry also looks beautiful when you combine it with metal chains, and you can add medallions, beads and other accessories for a with-it look.
How to Buy Pearl Necklaces Online
No ensemble is complete without a pair of statement earrings to complement your pearl necklace. A simple pair of pearl stud earrings will go with anything and if you prefer your pearls to match, consider choosing a pearl set instead of buying separate pieces of jewelry.
Once you've decided on a length and color for your necklace, it is easy to order pearls online but always make sure that you're buying from a reputable dealer. Real pearls should come with a certificate of authenticity and make sure that the company you're buying from has a hassle-free returns policy if you want to exchange your pearls for a different size or style.
Latest posts by Sos Nazaryan
(see all)