They've been IN for the better part of the decade and they're still going strong. Edgy, sleek, or boho-inspired, minimalistic or adorned with gems, pendants and beads – we're talking about the choker necklace, aka the IT item on everyone, from the high-street and the beach to the hottest runways of the world.
If you haven't given the choker necklace a second look, it's time to do so – especially since pulling it off is nowhere near a daunting task. In fact, we're challenging you to find your go-to design and wear it in your own way. And, if you're in need of a little inspiration, we've compiled a list of no less than 15 creative ways to rock that hot new choker. Here's a quick look on all our styling ideas detailed below!
How to Wear a Choker Necklace:
Wear a pearl leather choker with your beach outfit.
Wear a simple on-tone choker with a low-cut, romantic dress.
Pair an oversize comfy sweater with a thick black choker.
Create a mix of pearl and gold tone necklaces for an eclectic look.
Pair your choker with other necklaces in a similar finish for a layered look.
Mix a leather choker with metallic pieces and a leather jacket for edgier results.
Wear your long strand of pearls wrapped around your neck for a classic-gone-modern look.
Pair a pearl choker with sparkly rhinestone pieces for a mish-mash effect.
Wear a seashell choker necklace with your bikini at the beach.
Pair an open choker with a retro neck scarf for the perfect weekend outfit.
Go monochrome in white with a thick choker necklace and a lace dress.
Rock SoCal style with an ultra-long leather choker.
Pair deep low-cuts with drop choker designs for an avant-garde look.
Reveal a mix and match of different necklaces at the post-office outing.
Wear multiple choker necklaces featuring colorful sand beads for the perfect bohemian look.
Eclectic, Edgy or Posh? The 15 Ways to Wear a Choker Necklace
1. Boho Beach Vibes with the Leather Pearl Choker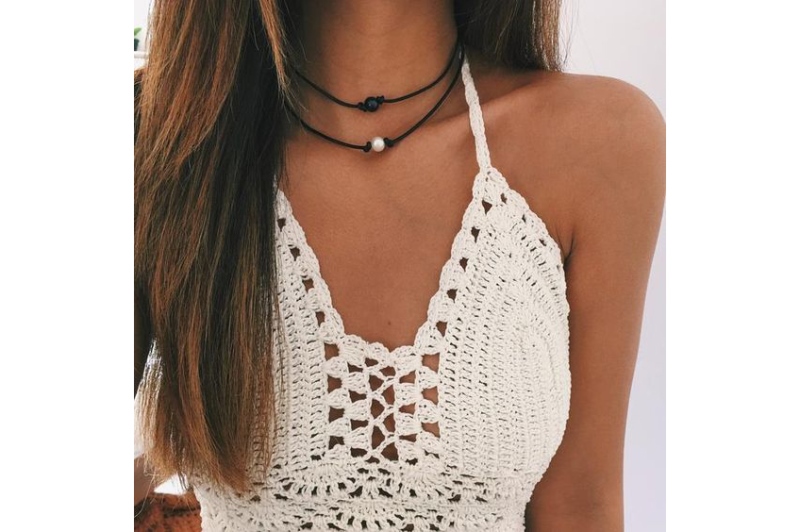 Crochet details are big each summer – and this year, the trend is at its all-time-heights. Master the look of bohemian beach style with this unique pairing: a crochet bikini or halter top and a leather pearl necklace. A solitaire pearl on a minimalistic string is all you need in order to encapsulate that summer vibe to perfection. Next in line: sunnies, the optional sunhat and a lace beach cover-up for that flouncy look that looks fab in the breeze.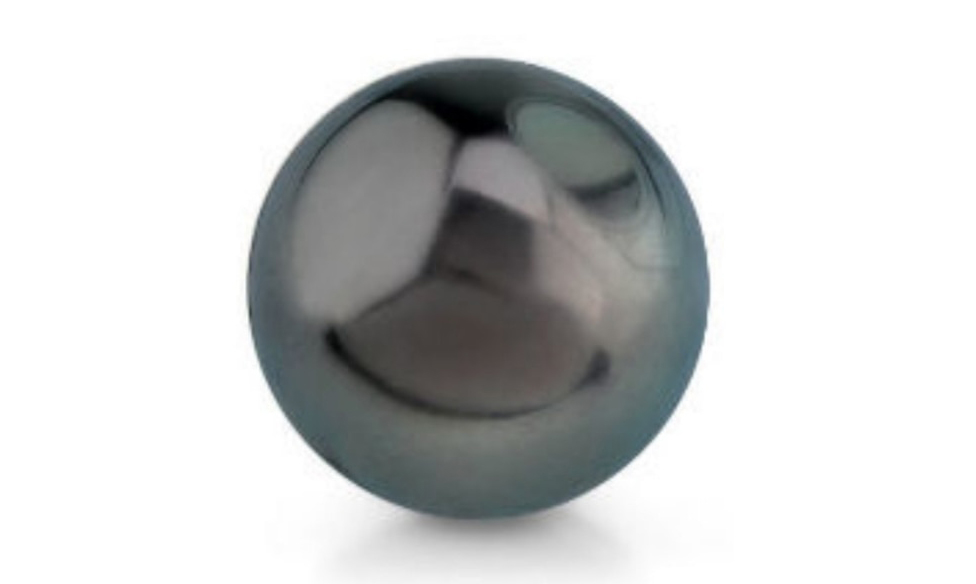 PEARL SPOTLIGHT:
Create your very own leather pearl necklace and rock your unique piece to the next beach fiesta with one of our ultra-radiant Loose Pearls. Whether you love the purity of White South Sea Pearls, the glam look of Golden Pearls of the iridescence of Black Tahitian Pearls, a custom solitaire pearl necklace is sure to look stunning against your sun-kissed skin.
2. Romantic Feels with Lace and Dusty Hues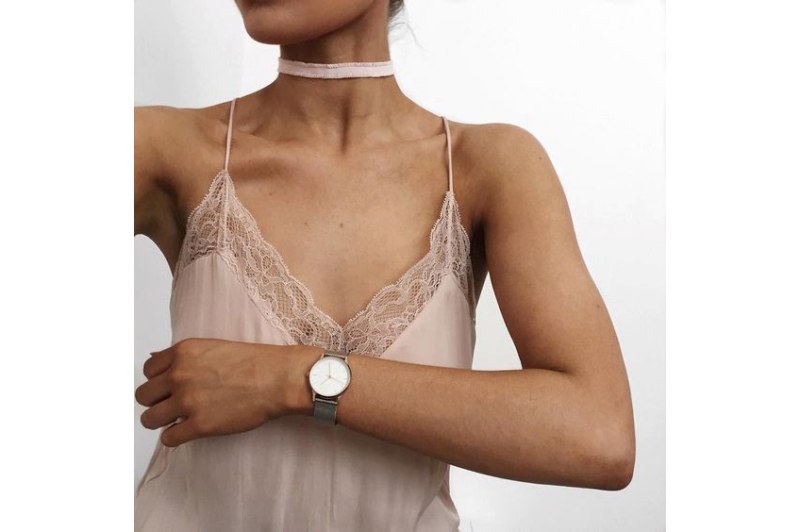 For a romantic date night out, there's nothing quite as seductive as lacy details. And a lace trim accenting a low-cut frock simply calls for an on-tone choker necklace in a slightly tousled design. A low and wide V neckline accentuating your shoulders works really well with a choker on the effortless, slightly disheveled side, especially if they both perfectly coordinate in color. Our pick: the dustier shades of pink or lilac, which work perfectly if you're looking for something that's not quite bright and bold, yet not totally desaturated either.
3. Edgy Gone Soft with the Ultra-Thick Choker Necklace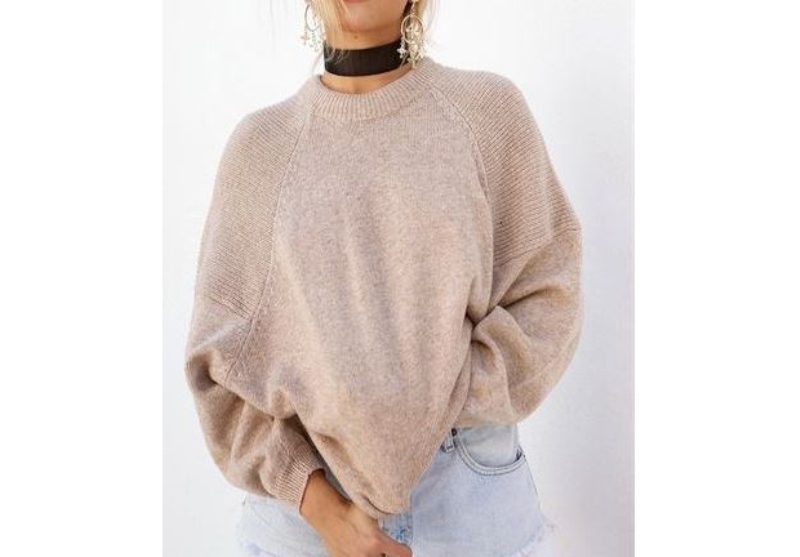 Master the art of optimal juxtaposition when it comes to styling with the right kind of soft and the right kind of edge. Case in point: this ultra-cozy, oversized sweater in the softest fabric and hue, paired up with an ultra-thick, edgy black choker necklace. Next in line: pale distressed denims to complete the modern look, perfect for off days that are relaxed, yet call for an instant style boost.
4. The Mish-Mash Appeal with Pearls and Karma Metallics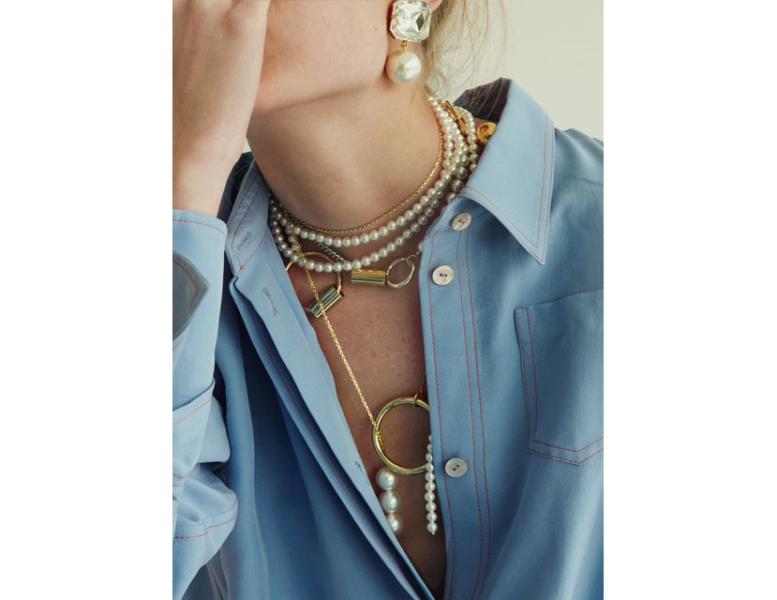 If your personal style is quite the departure from the trendy minimalistic designs, there's no better way to wear a choker necklace than with the right mish-mash combo. Our pick: your ultra-long pearl necklace, mixed with Karma pendant necklaces on thin gold chains. Paired with a button down or worn with your casual attire, this mix is anything but predictable. Plus, it scores big points on creativity, with a touch of mindfulness.
5. Weekend Style Vibes with the Layered Choker Necklace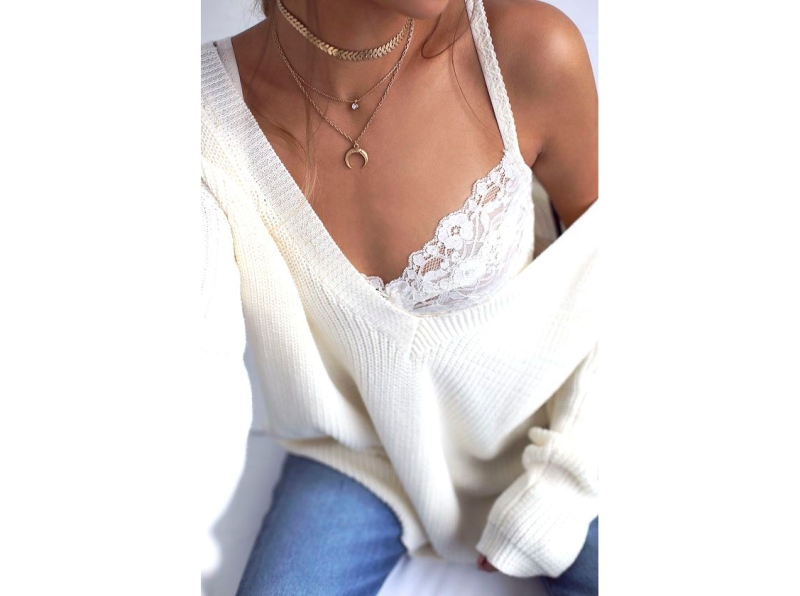 Mastering weekend style to perfection might be a matter of preferences, but there's one fool-proof recipe that can't go wrong. Call it a weekend uniform, but a pair of blue denims and a cozy white top are sure picks that simply emanate weekend vibes. And the piece of résistance is, you guessed, no other than the choker necklace, in all its layered and dainty glory. Mix different lengths, simple or pendant-adorned pieces and stick to gold for a look that's on-trend, easy to create and totally versatile.
6. The Leather and Metallics Mix for the Urban Edge Aesthetic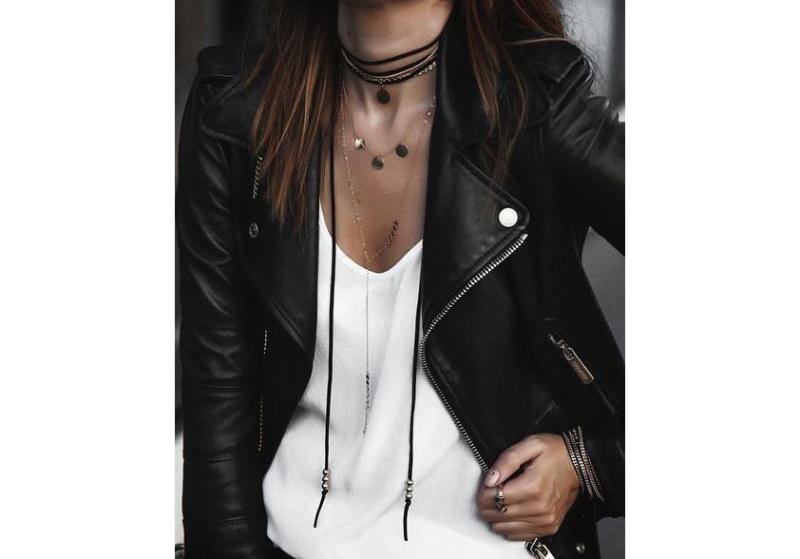 Few items of clothing scream urban street style as loudly as the leather jacket does. And when it comes to capturing that edgy look, the leather jacket still remains on top of the charts. To master the urban edge look, opt for a choker necklace that comes as an ultra-long leather string and pair it up with a mix of gold tone pieces that feature dainty pendants. A loose white tee completes the look perfectly, as do classic skinny denims.
7. Reinvented Strands of Pearls – When the Classics Go Hip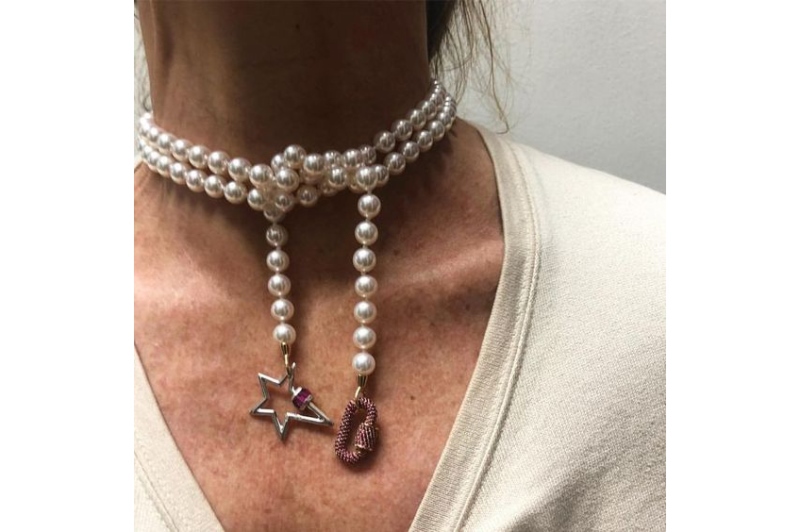 As a lover of pearl jewelry, you are always on the lookout for new ways to rock your favorite gemstone. And while classic strands hold a top spot in your heart, a modern twist on the traditional is always a welcomed alternative, especially when on a mission to revamp your look. Meet the reinvented strands of pearls, namely wearing your favorite string around your neck, in a tie & drop design. Suitable for V necklines, this type of choker necklace is all about allowing you to explore and redefine your personal style.
JEWELRY SPOTLIGHT:
If you're on the lookout for the best ultra-long pearl necklace out there, opt for the radiant premium quality Pearl Necklaces from Laguna Pearl. Combined with necklaces of different lengths, worn as they are or wrapped around the modern way, your look will be instantly elevated with the right lustrous pearl jewelry piece.
8. The Modern Maximalist with Pearl Chokers and Bling Galore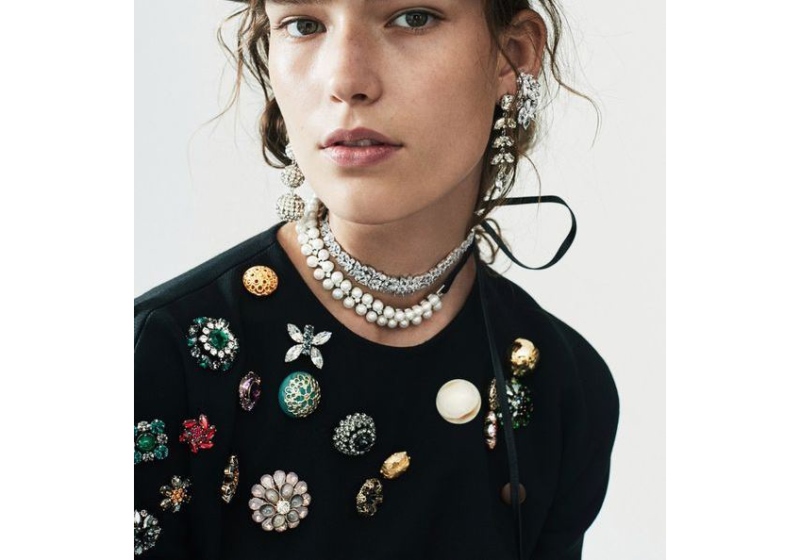 You're creative, expressive and passionate and your clothing style totally reflects that. If so, true maximalists out there unite, as the new rule in fashion is that there are no rules to be followed – just your very own creative instincts. Hop on the eclectic mish mash trend with a mix of pearl chokers, gemstones and crystals, lots of bling and vintage brooches, all merged in one animated, charmingly quirky look with tons of personality.
9. Summer Flair with the Seashell Choker Necklace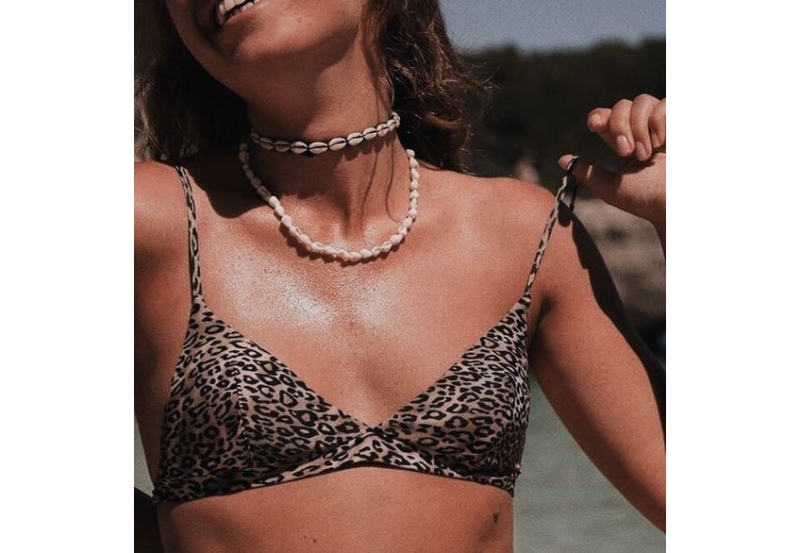 Taking your pearl home (namely to the beach) is totally on trend, as detailed above – and so is taking your seashells. A high-placed choker necklace made entirely out of small, dainty shells, layered with another one of your favorite necklaces and the bikini bra that allows for an optimal tanning experience is all you need. The verdict is in: beach vibes aesthetic achieved! And whether you go the crafty route and DIY your shell choker necklace or pick it up as a souvenir on one of your exotic travels, you're sure to look beach-ready all summer long.
10. Urban Chic with a Retro Spin – Featuring the Open Choker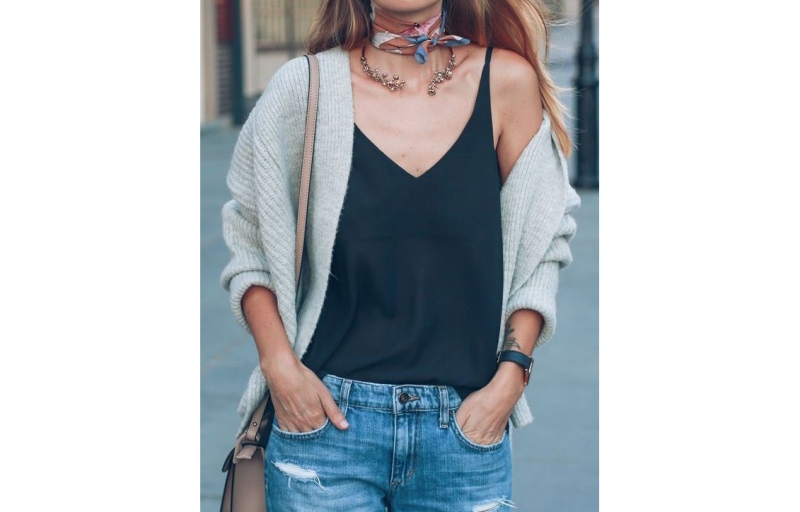 Choker necklaces come in all shapes and sizes and this one is definitely one of our favorites: meet the open choker, aka a chic alternative to the edgier styles. Whether you go for a minimalist gold open choker or opt for a wild, OTT design that's bound to make a style statement, it's all up to you and the market is bursting with chic possibilities. Our go-to look: pairing up an open choker necklace with a retro-inspired mini scarf, knotted tightly and chicly on the neck.
11. Monochromatic Romance with Flirty Appeal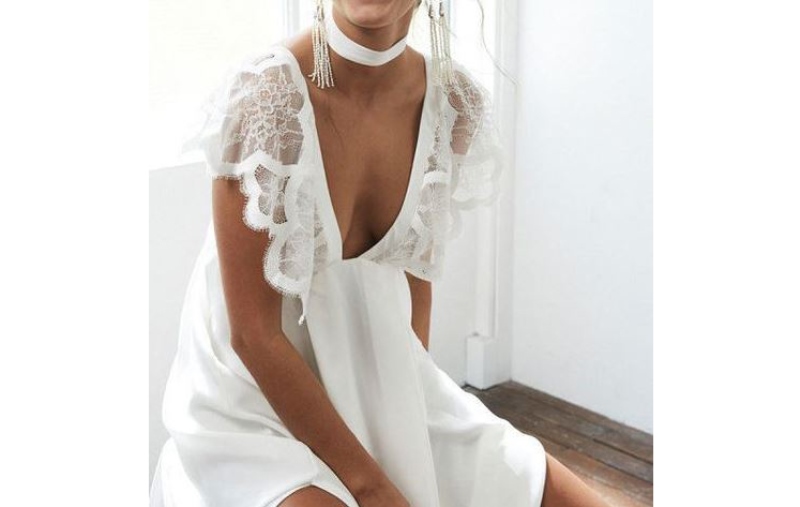 If you're all for embracing a romance-infused look with a serious dose of flirty in the mix, then lace is the way to go. A low-cut neckline paired with flouncy lace butterfly sleeves in crisp white calls for an on-tone neck piece, aka a tight, fixed and streamlined white choker. Complete the look with statement earrings that delicately hit your shoulders for the perfect merge between seductive and romantic, ideal for a wedding, a date night or a special anniversary.
12. SoCal-Inspired: The Multi-Layer Leather Choker Necklace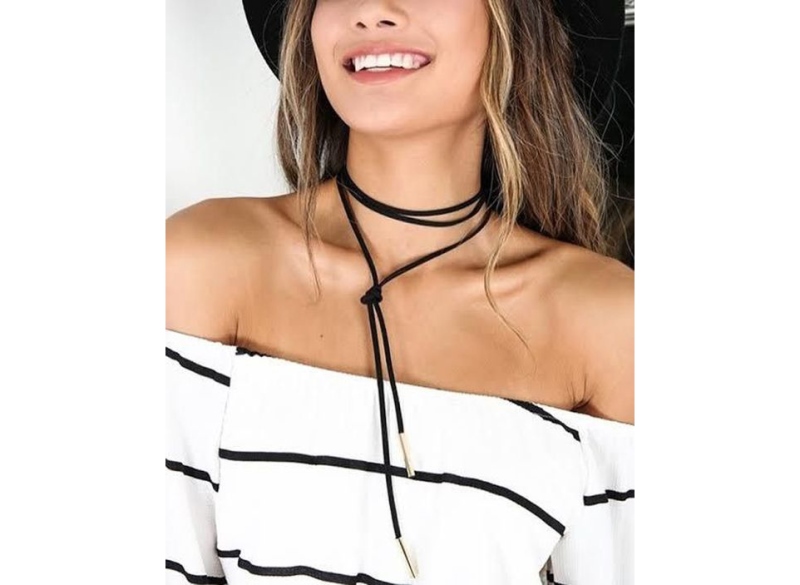 Whenever in need of a little style inspo that's on the effortless side, look for SoCal. As the epitome of relaxed, Californian style, SoCal calls for easy, no-fuss accessories and jewelry pieces. And a minimalistic, ultra-long and thin leather choker plays right into that look. For an easy weekend afternoon spent with friends, embrace the Cali vibes and pair up an off-the-shoulder top with a long wrap & drop leather choker necklace. A fedora hat comes in handy to complete the look, as do the optional loose beach waves.
13. The Vanguard Duo: Low-Cuts and Drop Chokers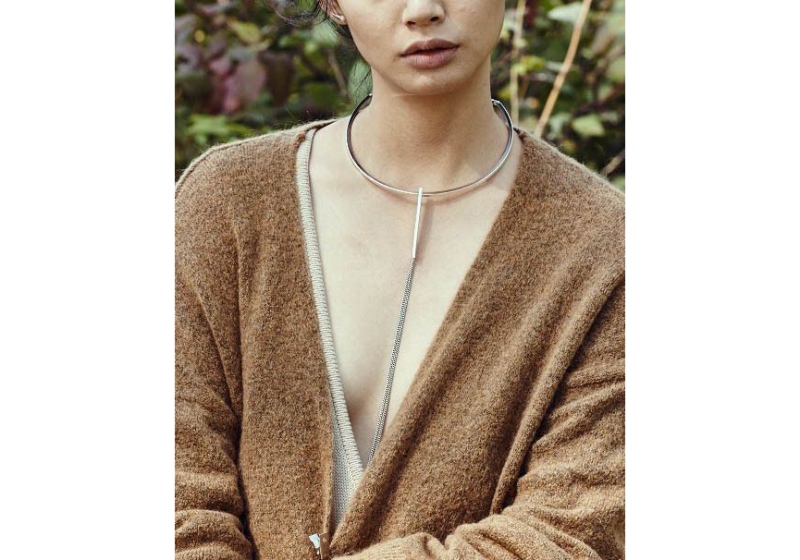 If you're all for easy-breezy, yet crave a touch of avant-garde for a special occasion, this type of choker necklace is totally vibing for you. Discover the elegant, yet slightly futuristic appeal of sturdy, fixed metallic chokers, complete with a drop accent, perfect for your arsenal of ultra-low necklines. For a play on hard and soft, mix up the sturdy metallic jewelry piece with a soft cashmere sweater and play with earthy tones in combination with glossy finishes.
14. From the Boardroom to the Post-Office Outing: The Sleek Gold Mix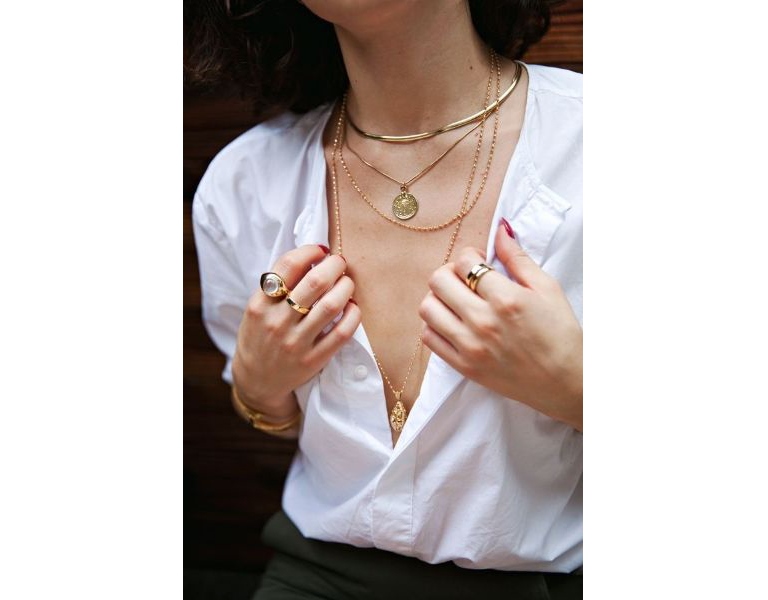 Since you work in a rather formal environment, sporting OTT choker pieces at work is out of the question. Instead, your office style can rely heavily on sleek, metallic and minimalistic chokers, worn at the base of your neck. But once the office hours are done and you're headed to post-work drinks with friends, you can reveal your carefully curated mix and match of gold tone necklaces at different lengths, paired perfectly with a sharp button down.
15. In True Hippie Fashion: The Beaded Choker Necklace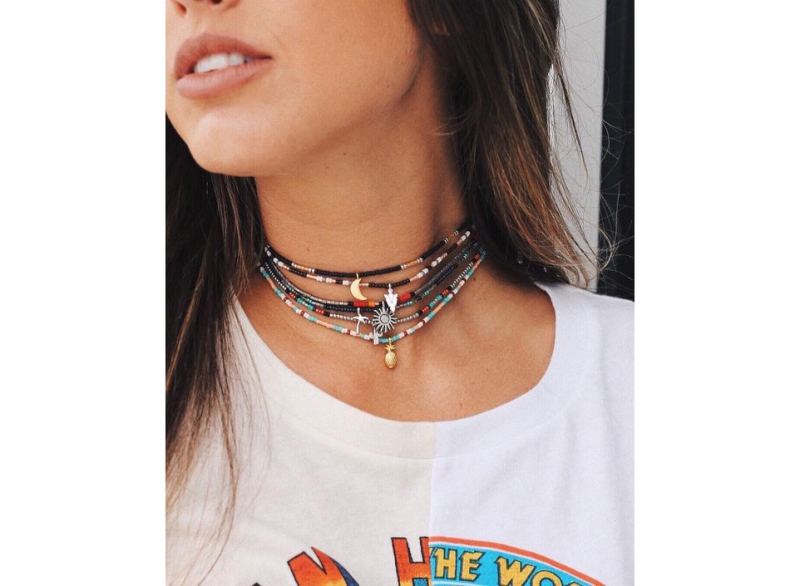 If what you've been looking for is on the effortless side, enjoy the casual vibe sand beads have to offer through a few layered bohemian choker necklaces. Adding a pop (or multiple pops) of color to your outfit is definitely easy when going for an ethnic-inspired collection of chokers (with or without dangly pendants), easy to pair with everything from bikinis to vintage tees and maxi dresses.
From sleek and streamlined to beach-ready and romantic, the choker necklace is a jewelry piece that knows no limits. Designed as a statement accent to any look, be it a formal office look or a party-ready ensemble, the choker necklace is all about allowing yourself to fully express and rock your style, wherever the day takes you.

Latest posts by Carla Jonas
(see all)