Congrats, you're getting married! From the venue to the dress and from the menu to the wedding favors, your To Do list is surely overflowing. But in the midst of all the planning, one little task should definitely not fall at the bottom of your priorities – and that is picking out some truly amazing, unique bridesmaid gifts.
Whether you are planning on sending your gift out together with the 'Will You Be My Bridesmaid' question or planning on delighting your friends with little attentions post-nuptials, this list will definitely help you out. From radiant yet affordable pearls and customized décor pieces to candy treats, check out our list of 10 bridesmaid gifts your friends will actually love.
A Quick Look at Some of the 10 Best Bridesmaid Gifts out There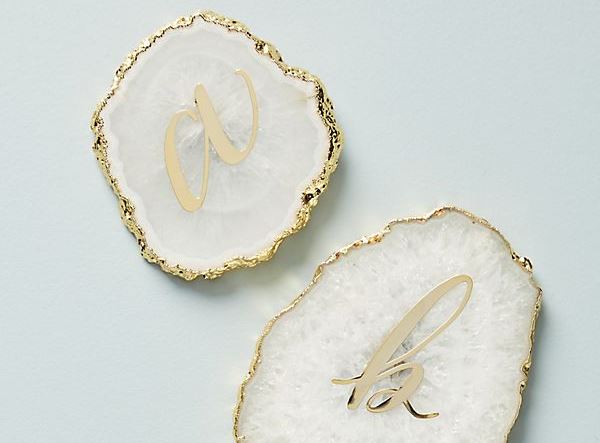 There's something quite special about personalized gifts, especially when you're shopping for someone close, someone who's been there by your side on the happiest day of your life. The best part of all: when on a budget, a simple custom touch like your friend's initial on a dainty piece of décor manages to elevate the gift instantly. And when you add gold foil details into the mix, even better.
Namely: these ultra-pretty coasters from Anthropologie, which double as ring dishes (and what could be more appropriate than a ring dish to remember a wedding?). Hand-carved from organic agate stone, these coasters come with an electro-plated finish, plus the initial of your choice – in shimmery gold, of course.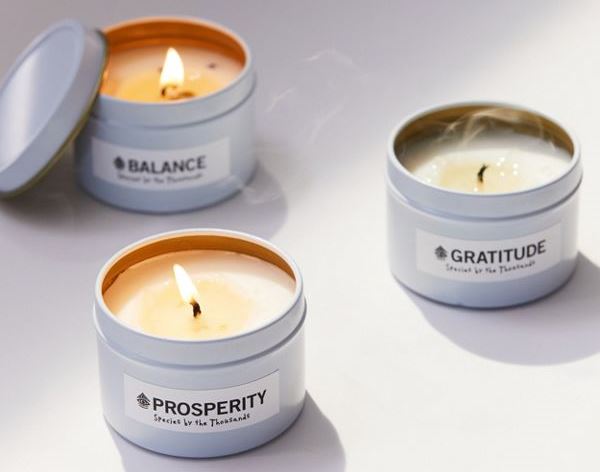 What better way to say 'thank you' to your best friends for being there for you during the most stressful – and then, the most rewarding – days ever than with the literal gift of 'Gratitude'? When you're looking for the right words to give thanks, simply let the present speak instead. And the Species by the Thousands Crystal Candles do just that. Offer the gift of Balance, Prosperity and Gratitude, complete with enchanting fragrances and positive energy.
Scented with essential oils, these soy wax candles come sprinkled with actual crystal combinations, meant to bring grounded energy into the space. Moreover, they come with a hidden surprise: when the wax melts down, the crystals are revealed and ready to be displayed. Whether you opt for the herbal-floral Balance candle, the grapefruit and basil Prosperity or the sandalwood Gratitude, these candles all include quartz crystals, known for bringing balance and enhancing concentration.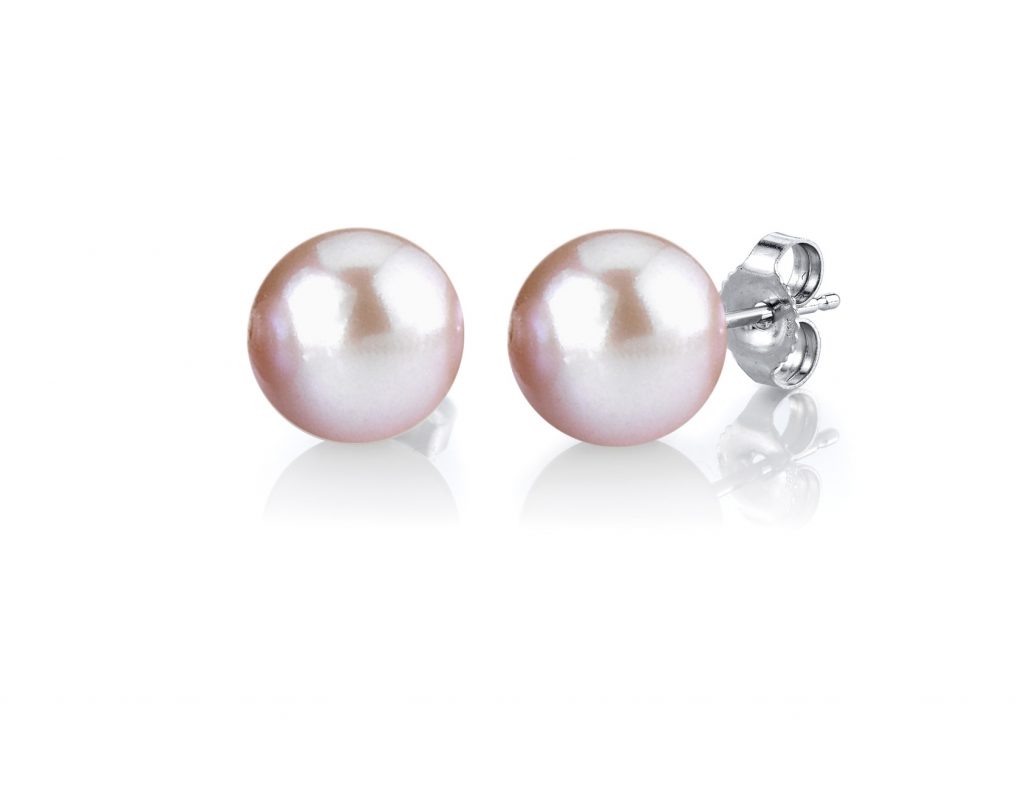 As one of the most popular choices when it comes to bridesmaid gifts, pearls simply can't go wrong. And while the classic white pearls are still the go-to pick, you can always switch things up and add a unique touch to your little gift by opting for sweet and radiant pink-hued gems of the sea. These darling stud earrings by Laguna Pearl are the perfect shade of rose that's a great alternative to the classics, while still neutral and versatile enough for the widest range of outfits – and that includes, of course, bridesmaid dresses.
What's more: radiant real pearls don't have to come with high price tags – and these Freshwater pearls are definitely a budget-friendly option. Featuring premium quality Freshwater Pearls that are naturally pink, these beauties measure 8 mm, which makes them ideal both for daytime and night-time looks. Plus, they come on elegant 14K or 18K white or gold settings, with your choice of back closure.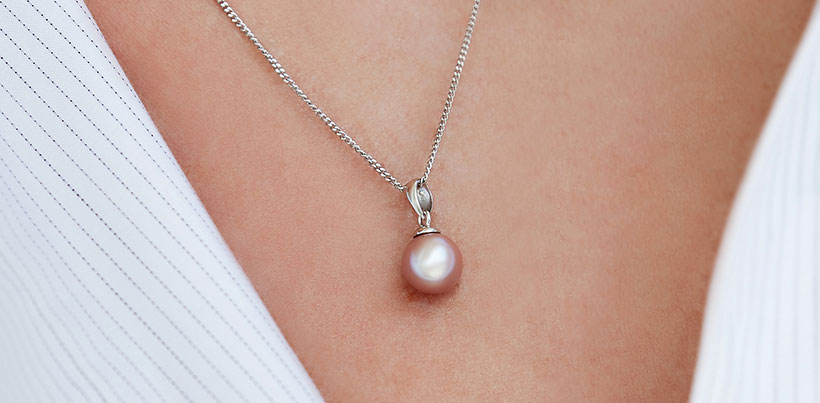 PEARL SPOTLIGHT:
While whites are classics, there's something quite special about dainty, lovely pink pearls in shades of soft rose or dusty blush. Cultured Freshwater pearls are the only ones that are naturally pink, so if you are looking for a great alternative to crisp whites, Freshwater gems are the way to go. From pink pearl bracelets to pink pearl rings, necklaces and earrings, our collection features the widest range of premium pink pearls.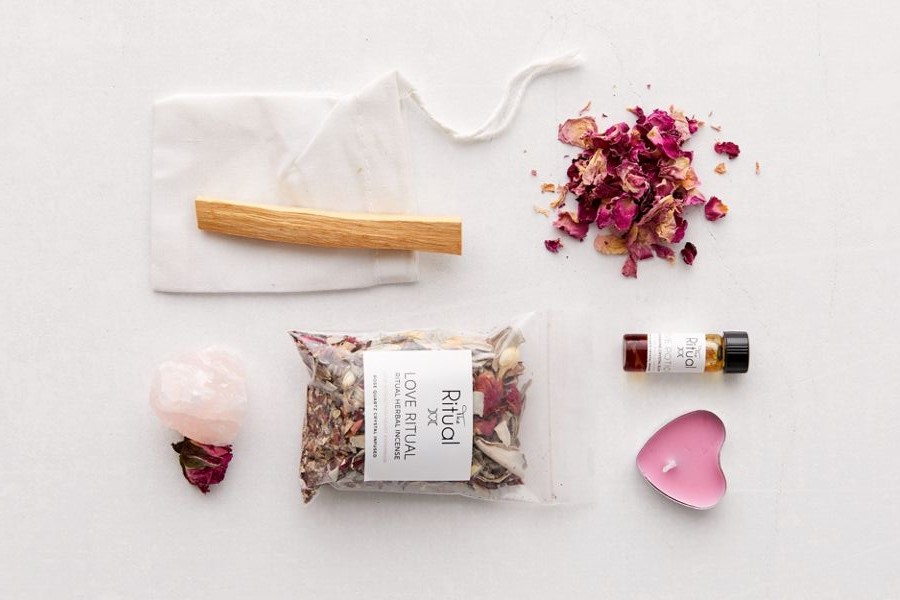 If you're all about delighting your friends with a gift that screams whimsy and originality, this next one should be one your shopping list. Keep the theme of the occasion the focal point with a gift that speaks of love: the Love Ritual Herbal Incense. Its aim: giving any space a brand new, fresh fragrance that is both energy-boosting and uplifting – a fragrance that represents nothing else but love, with its rose and sage accents. Featuring incense, crystals and a few little cute trinkets your friend can remember you by, this unique bridesmaid gift makes the perfect surprise for a quirky friend that always has your back.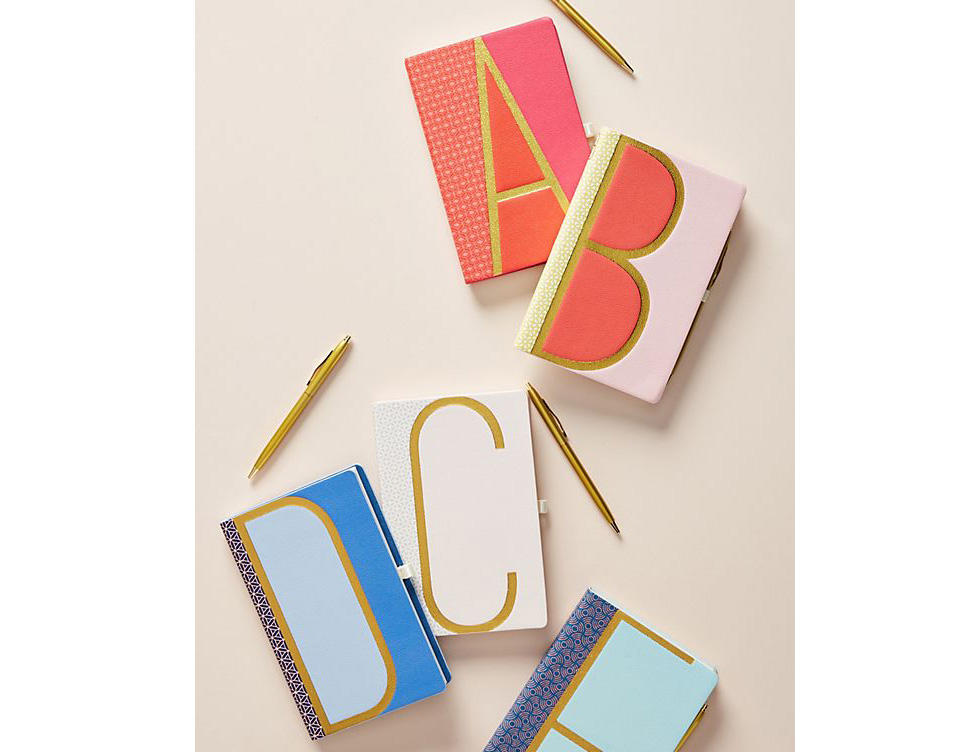 What better way to preserve all those beautiful memories you shared together than in a gorgeous little journal, monogramed with your bridesmaid's initial? While photo albums are the go-to gift, we're all for a more unexpected alternative that serves the same purpose – and these journals are just that. The perfect receiver: any dreamer or writing aficionado friend! These picks from Anthropologie are fun, modern and brightly colored, which makes them one of the more unexpected and creative bridesmaid gifts out there. And in order to stimulate your friend to fill up all those pages, this journal comes with a fab golden pen – just that extra shimmery touch that makes this little gift feel more festive.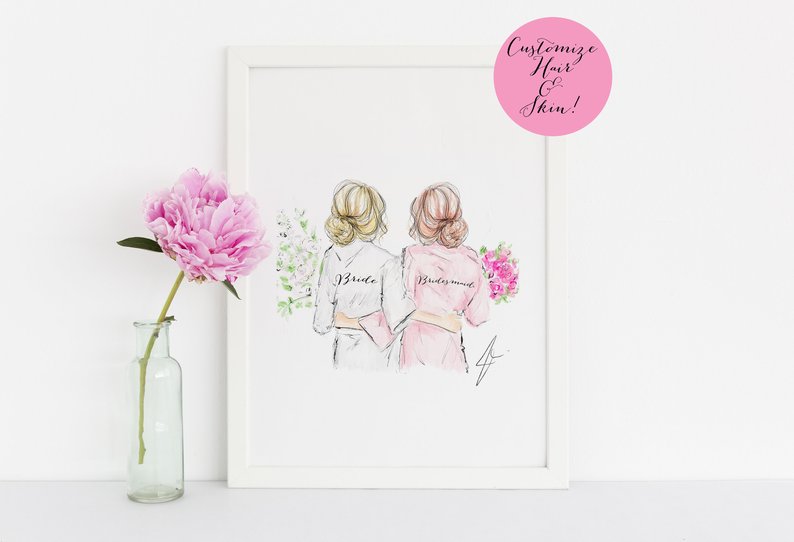 You've probably taken hundreds of selfies together, but none of them could possibly be as special as this next little gift. If you're looking for bridesmaid gifts that are as personal as it gets, nothing beats a custom illustration of you and your bestie. Handmade, budget-friendly and sweet, this Bridal Gals fashion illustration is the perfect pick if you're looking for a sentimental present that can add a personal touch to any room décor. Whether you opt for this present as a post-wedding gift or send out your 'Will you be my bridesmaid' invitation with this little treat, the bridal gals makes a unique way to celebrate both friendship and love.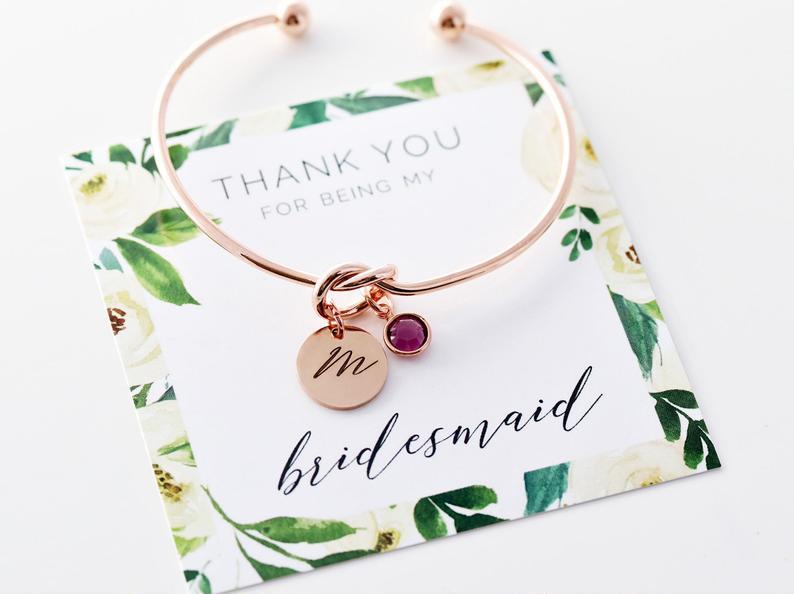 This next bridesmaid gift is definitely a classic. Meet the Love Knot Bracelet, aka one of the most popular, yet somehow not yet cliché bridesmaid gifts out there. Sleek, customized and personal, the love knot bracelet is one of the most symbolic gifts you can offer your best friends, both before and after the nuptials. Plus, you get double the personalization, since you can add both your bridesmaid's initial engraved on the pendant, as well as her birthstone month as an extra special touch. Send out your love knot bracelet accompanied by a thank you card to show appreciation to your friends or pop the bridesmaid question together with this little memorable gift.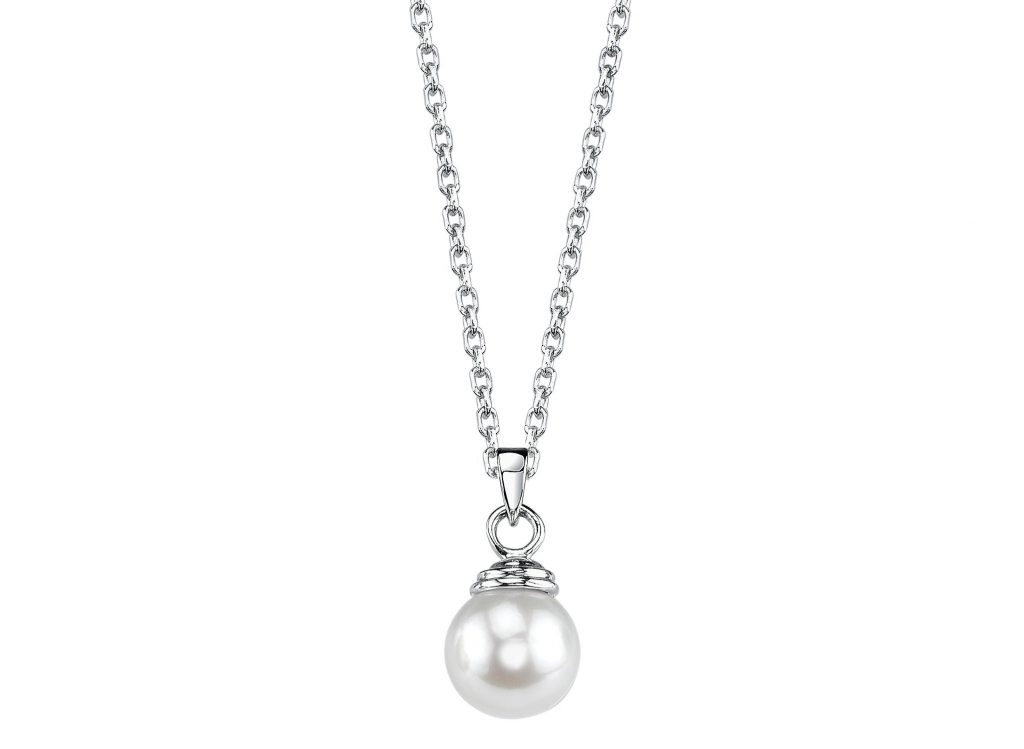 There are many routes you can take when shopping for bridesmaid gifts – the quirky, the fun, the classic and the timeless. If you're more inclined to opt for a gift that stands the test of time, few options are as appealing as a jewelry piece designed to perfectly complement the beauty of its wearer. And this stunning pearl necklace is exactly one of those gifts. Featuring a premium Japanese Akoya pearl, this piece comes with a white or yellow gold chain, plus the option to select your desired pearl color.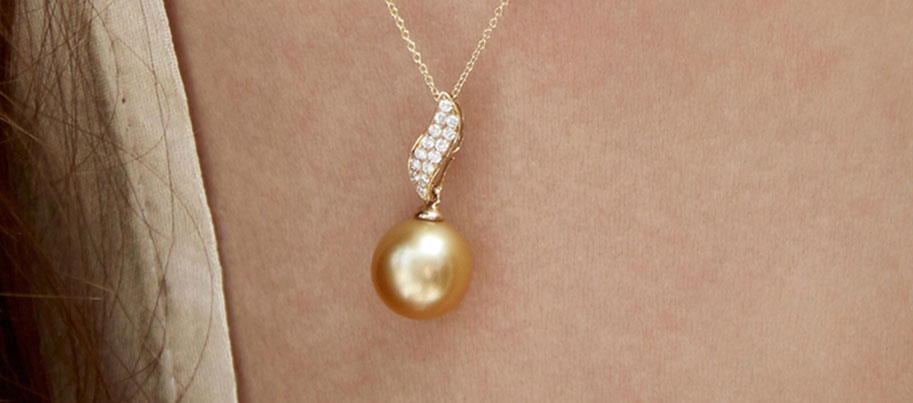 JEWELRY SPOTLIGHT:
Whether you love the look of white pearls, are intrigued by the beautifully exotic black pearls or love a feminine pink or peach accent, there's nothing that compares with the quaint, yet sophisticated beauty of a pearl pendant. Browse our collection of Pearl Pendants, available in the widest range of designs, sizes and colors, including Freshwater, Akoya, Tahitian and Golden South Sea pearls.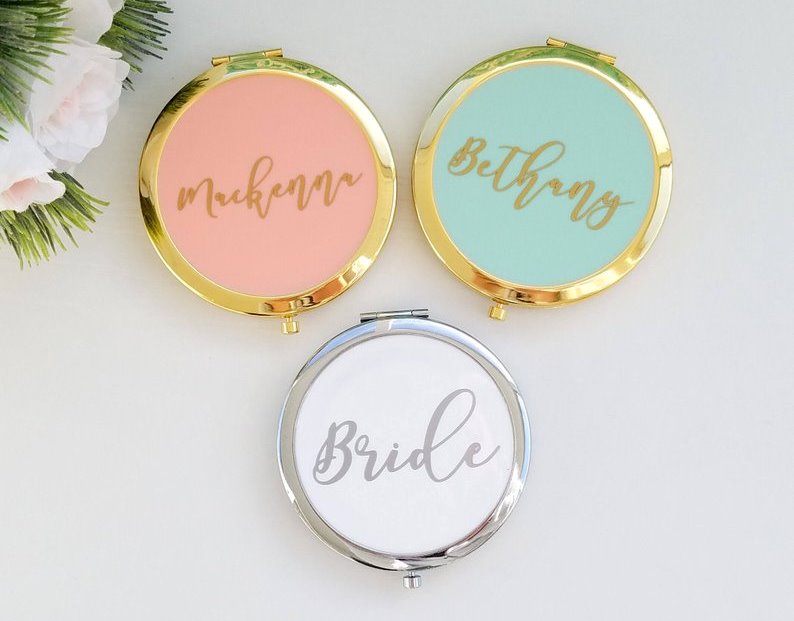 You've done your best and managed to plan an affordable $1000 wedding. And you want to keep going and stay focused on your frugal path. If you are looking for low-budget gifts that are the perfect mix between practical and glamorous, but far from cheesy, this one's a must-have. For a girl who can't resist a touch of gloss and sparkle with a personal accent: The Custom Bridesmaid Compact Mirror. Available in a wide range of colors, you can choose to match the shade of the bridesmaid dress with the compact and add a touch of silver or gold for an extra element of glam. Plus, the best part of all: these little compact mirrors come personalized with your bridesmaid's name – in glossy gold or shimmery silver.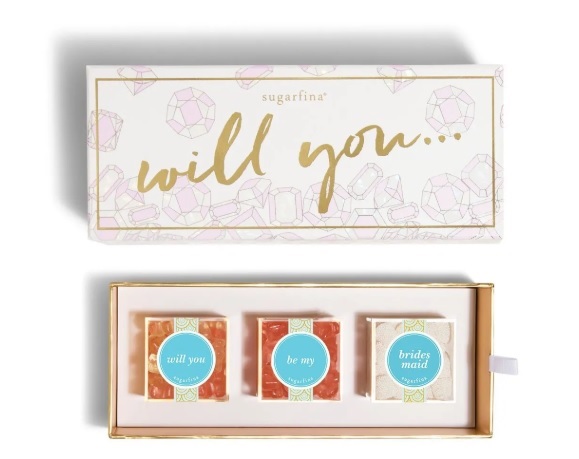 For the bridesmaids with the sweet tooth, it simply doesn't get better. Meet The Will You Be My Bridesmaid Candy Box, aka the perfect little sweet treat to accompany your big question. As a perfect gift to offer months prior to the wedding, this little delight from Sugarfina is popping the question in the best way possible: with the help of delish candy. And when we say 'candy', we mean the most celebratory sweet treats you could think of: champagne bears, pink diamonds and champagne bubbles. Proposing to your ladies has never looked (or tasted) this sweet!
It's settled: shopping for your bridesmaids has never been this fun. With gifts made of pure glow to sweet sugar and love-infused fragrances, the possibilities are all fabulously exciting. And with our little list designed to save you the hassle of browsing for the perfect bridesmaid gifts, you're can definitely cross this task off your jam-packed To Do list.

Latest posts by Carla Jonas
(see all)