From your gradation to your 50th wedding anniversary and from baby showers to birthdays, there's always a joyful occasion to be celebrated with gifts. Perfectly packaged with festive bows, accompanied by lush blooms, highly-anticipated and offered with love, gifts transcend the material and speak words of love, friendship, gratitude and more – and there's an art to it all. After all, gift giving is no modern habit – it's one of the oldest, pre-civilization customs out there (and what's more, it isn't limited to the just the human species).
If you're all about grabbing that perfect gift for your loved one, yet utterly overwhelmed with the copious amount of possibilities and products on the market, no worries. Our mega Gift Guide is aiming to help you perfect that shopping list, regardless of the occasion – all while featuring tips, traditional and modern alternatives, little-known facts about the custom and the best recommendations out there that will help you master the art of gift giving.
Part One of our Gift Guide is centered around the idea of love and marriage, focusing on everything you need to know about Bridal Shower Gifts, Wedding Gifts and Anniversary Gifts.
History of Gift Giving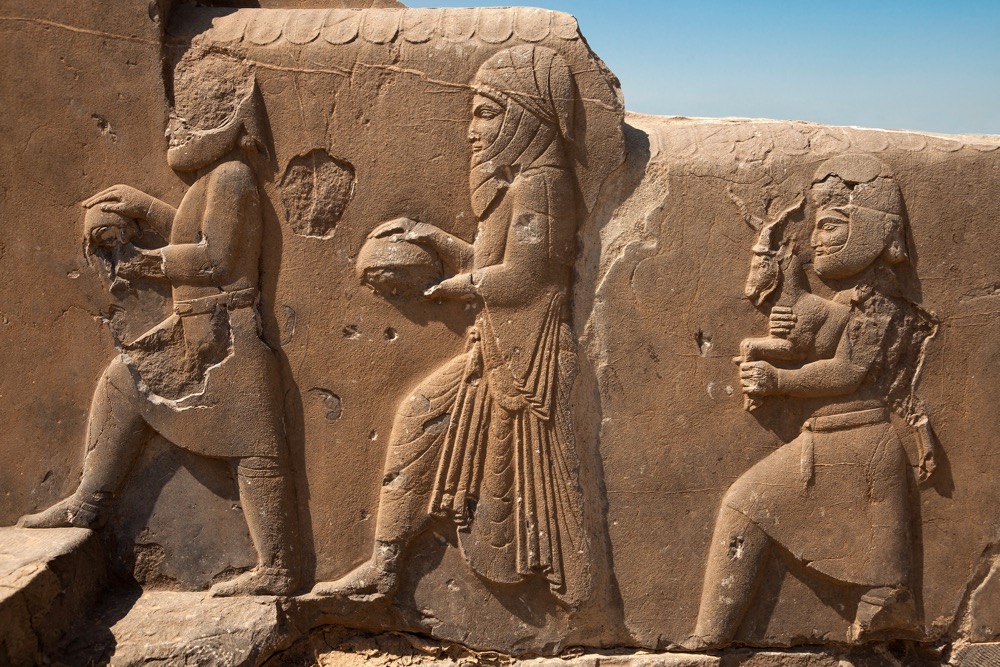 As one of the oldest human activities, gift giving coincides with the actual origin of our species. In fact, gift giving can even be observed in chimpanzees, as males often gift females various foods from their own stash. Back in prehistoric times, tree barks, stones and other natural objects were often offered as a way to show affection and to establish a hierarchy within the group. Once more elaborate tools started to be used, gifting involved more complex and useable creations, such as pendants made out of stones or animal teeth.
Back in the Roman times, good luck tokens were used in order to show allegiance, a custom which greatly influenced Western practices. In the Egyptian era, gifts were offered to the powerful pharaohs on their coronation day, who later saved and stored their fortunes for the afterlife – and some of the most popular options included jewelry pieces, flowers and even money. Buried with the dead, Egyptian gifts also featured everyday items, including food and plates, in addition to valuables.
As customs progressed throughout the eras, in the Medieval Times, gifts were the go-to when aiming to make friends (and enemies) during times of war, as they were used as a symbol of allegiance, as well as exchanged for personal favors. Moreover, gifts were often offered by the father of the bride to the groom – including land, animals and money.
Here's a quick look at some of the most famous gifts ever given:
The Most Famous Gift in History: No other than the Statue of Liberty, which was offered in 1885 by France to the United States, celebrating the 100th anniversary of The Declaration of Independence.
The Most Famous Jewelry Gift: It was once in the possession of royalty – and it's found its way from Mary I of England to actress Elizabeth Taylor. La Peregrina pearl is definitely the most famous jewelry gift ever – and Richard Burton knew exactly how to celebrate in style as he offered the famous gem as a gift to his wife Elizabeth Taylor for Valentine's Day. Its value today: a whopping $11 million.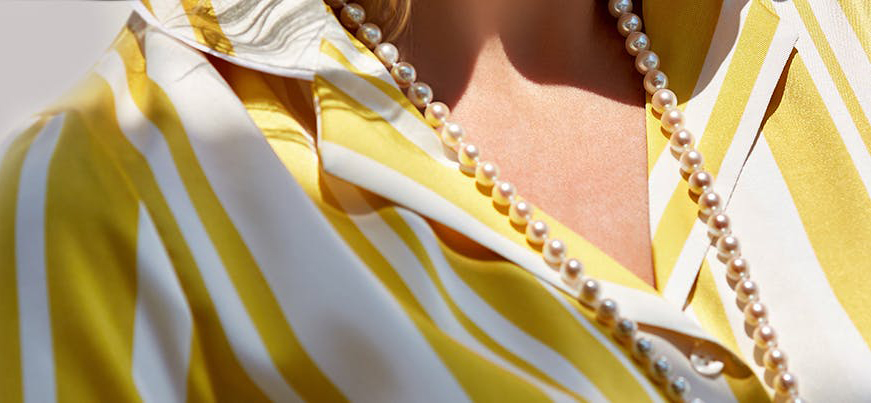 PEARL SPOTLIGHT:
You might not have a Richard Burton in your life to gift you the largest pearl ever used as part of a jewelry piece, but you still have the option to look as alluring as a Hollywood star with the perfect Hanadama Pearls. If anything comes close to the luster and exquisiteness of the Peregrina pearl, it's the Hanadama pearls, namely some of the most valuable gems of the sea in the entire world.
The Most Expensive Gift in History: No other than the Taj Mahal, which was built by the Mughal emperor Shah Jahan for his favorite wife Mumtaz Mahal back in the 17th century. No less than 20,000 artisans were involved in the construction of the mausoleum.
The Most Infamous Gift in History: The Trojan Horse, which was built by the Greeks at the entrance of Troy during the Trojan War. Built by a master carpenter, the gigantic wooden horse was used in order to allow the Greeks to pretend that they deserted the war, only to later emerge in full force.
The Most Expensive Jewelry Gift Ever: The Jewel in The Crown was offered as a gift to Queen Victoria by the last Maharaja of the Sikh Empire, Duleep Singh, back in 1849 – and it's worth no less than $250 million. These days, the piece, now valued at 105.6 carats, can be found as part of the British Crown Jewels.
The Most Impressive Flower Gift Ever: Flowers as a gift might not sound as impressive at first sight, but this story is the epitome of romantic gestures. Baseball star Joe DiMaggio sent flowers to Marilyn Monroe for no less than 20 years after her death. His order at a local Parisian florist: "six fresh, long-stemmed red roses, three times a week…forever," to be delivered to his love's crypt.
Bridal Shower Gifts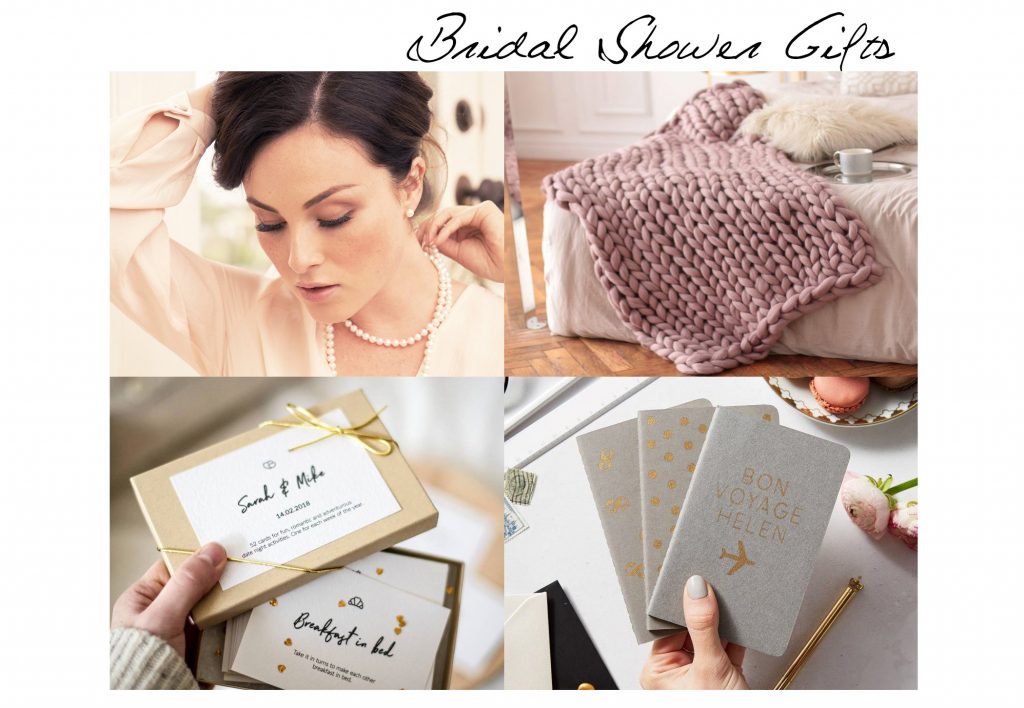 One of your closest friends is getting married and the hunt for the perfect bridal shower gifts is approaching. But if your shopping list features rather cliché choices, it's time for a change – namely, a departure from the anticipated hand towels and fragranced candles. Unique, creative, as well as timeless (yes, timeless and budget-friendly) bridal shower gifts are harder to find perhaps, but they are sure to go directly to her heart. Here are a few great tips to follow when shopping for the best bridal shower gifts around, complete with product recommendations that simply tick all the right boxes, similar to her Mr. Right.
1. Look for Bridal Shower Gifts That Speak of Love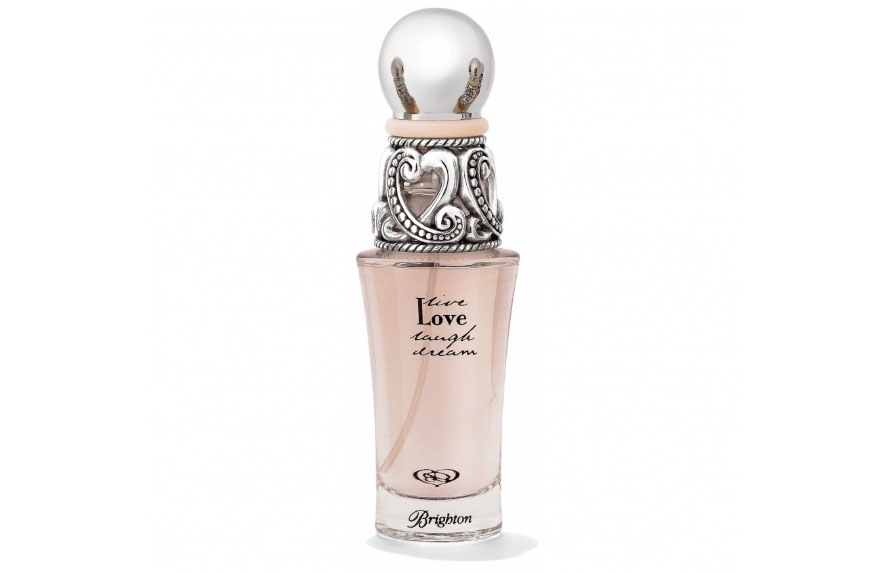 Some of the best bridal shower gifts out there are the ones that remind your friend of the love bond she's lucky to have found. Tip: center your gift around the idea of love, or, alternatively, around the concept of endless friendship. Whether you're into the idea of gifting your friend a delightful perfume that claims to have mastered the fragrance of love or a love bracelet in sleek gold, the options here are endless.
2. Opt for Couple Bridal Shower Gifts She Can Enjoy with Her Love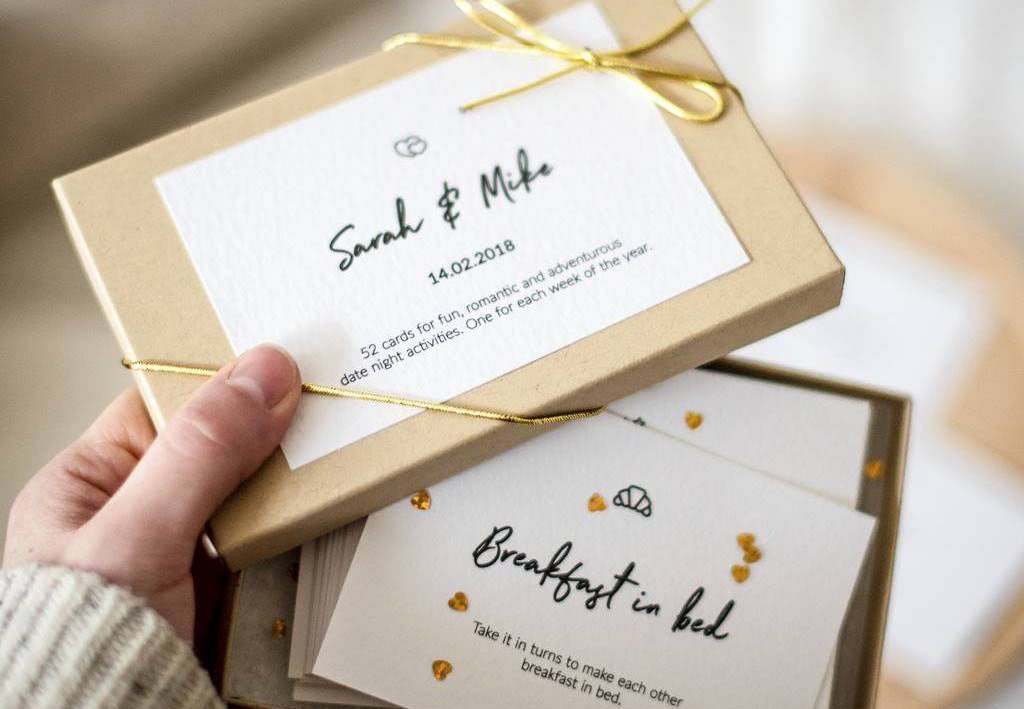 Solidify their bond with a gift that doesn't just think of her, but him as well. Our pick: these lovely date night cards that feature both fun and romantic ideas for exciting quality times ahead. Optionally, a game made specifically for couples is a great alternative, and so is a couple's class or a spa day for two.
3. Cater to Her Hobbies and Help Her Get Inspired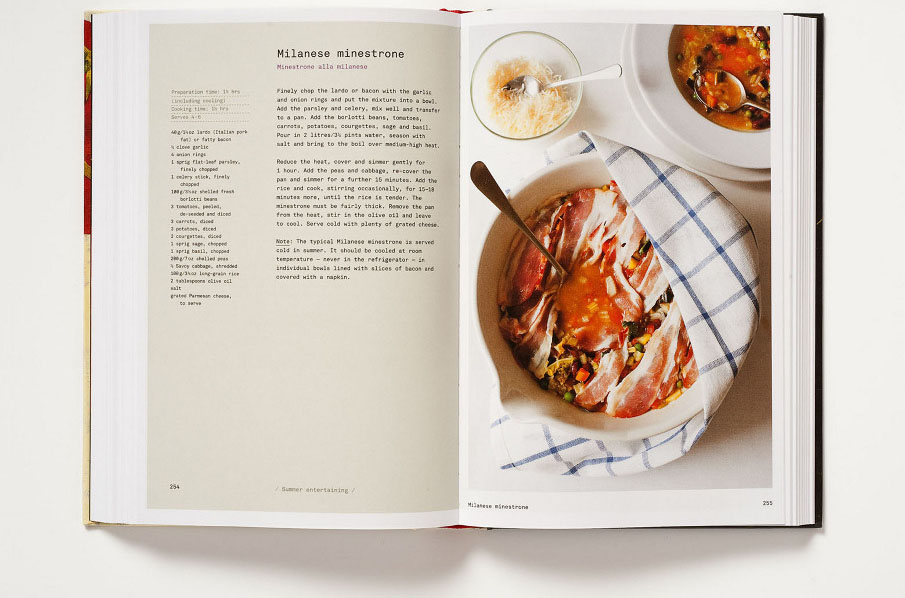 Your gal pal always wanted to seriously get into cooking, gardening or traveling, but she never got the chance. Give her an inspirational boost and help her get started by simply opting for a bridal shower gifts designed to stimulate her to experience cooking, gardening and visiting the places of her dreams. Whether that is a chic cheese board, a trending cooking book (we're in love with The Silver Spoon New Edition) or a bonsai starter kit, you can count on gifting her a gift after her own heart when using this tip.
4. Offer Her Something She Can Wear on Her Wedding Day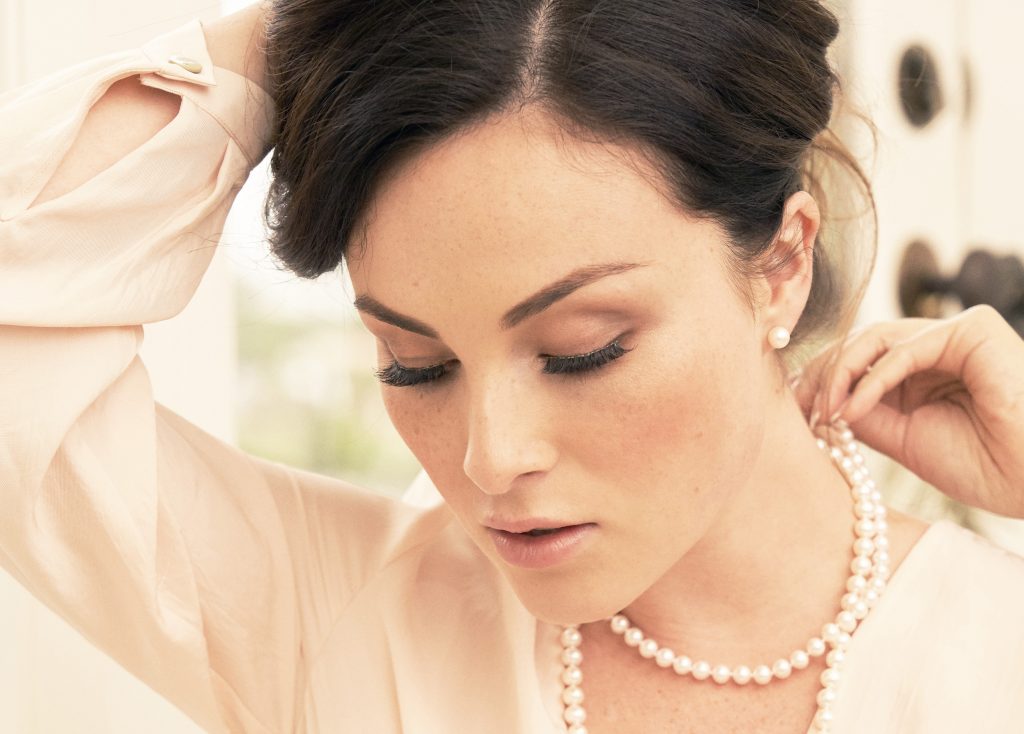 Planning a wedding is no easy task, but the right gift simply elevates the experience. There's nothing quite as special as the kind of bridal shower gifts the bride can use on her Big Day or at her rehearsal dinner. Our pick: a pair of timeless pearl stud earrings that can be paired with any type of wedding gown, from formal and princess-like to bohemian and modern. The most luminous highlighter for striking photos or the silkiest bridal robe also make great bridal shower gifts.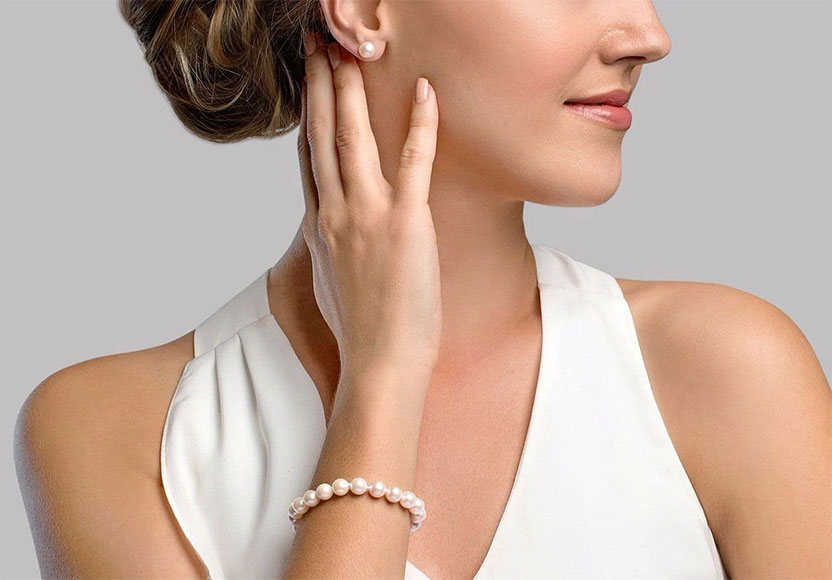 PEARL SPOTLIGHT:
Freshwater Pearls merge that timeless appeal and refined elegance with versatility, as well as affordability. Ideal both for beginner and versed pearl lovers, our collection of Freshwater Pearl necklaces, bracelets, earrings and rings comes in an alluring range of shades and sizes at different price points.
5. Opt for a Bridal Shower Gift She Can Use on Her Honeymoon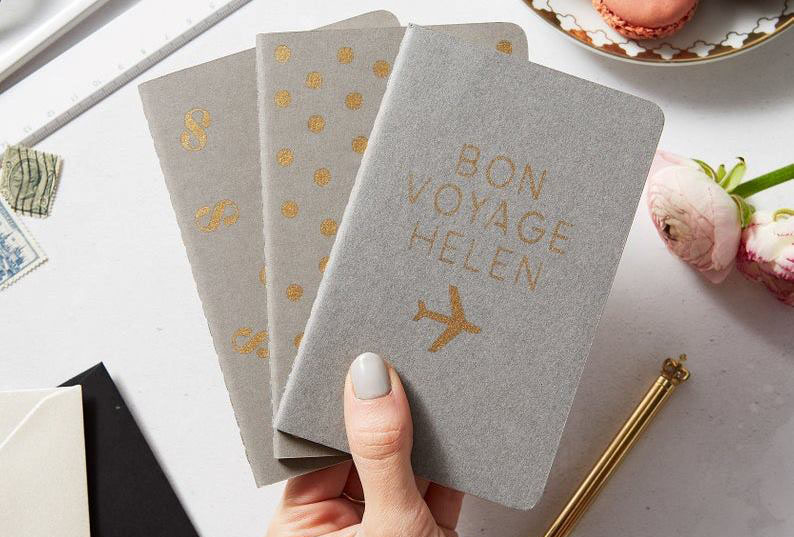 Nothing like a gift that builds up (positive) anticipation and gives her all the happy feels. There are many things to look forward to ahead of a wedding – and the Big Day is not the only one. Gift her the gift of excitement as you present her with a little special something designed to remind her of the fun and romantic vacation ahead. Personalized honeymoon journals make excellent bridal shower gifts for the traveling couple, as well as the popular passport covers, complete with the couple's initials.
6. Get Your DIY Game Going for an Unforgettable Bridal Shower Gift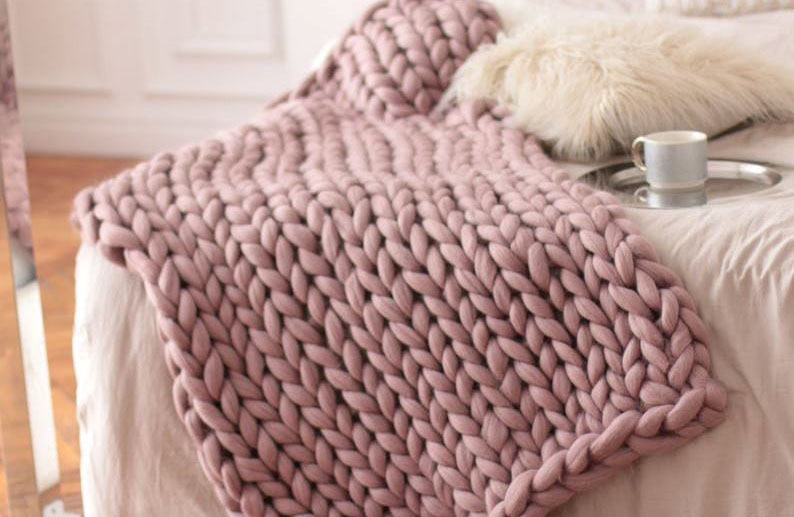 One-of-a-kind gifts are extra special, and even more so when they are made by one of your best friends. If you're skilled with knits, wood or ceramics, and also on a tight budget, there's nothing that should stop you from DIY-ing those perfect bridal shower gifts. Whether you're thinking of knitting a cozy throw for casual evenings spent at home with her love, crafting up his & hers mugs for morning coffees or gifting the bride a new wooden memory box built with your own hands, your handmade gift is sure to impress.
7. Gift Her an Indulgent Treat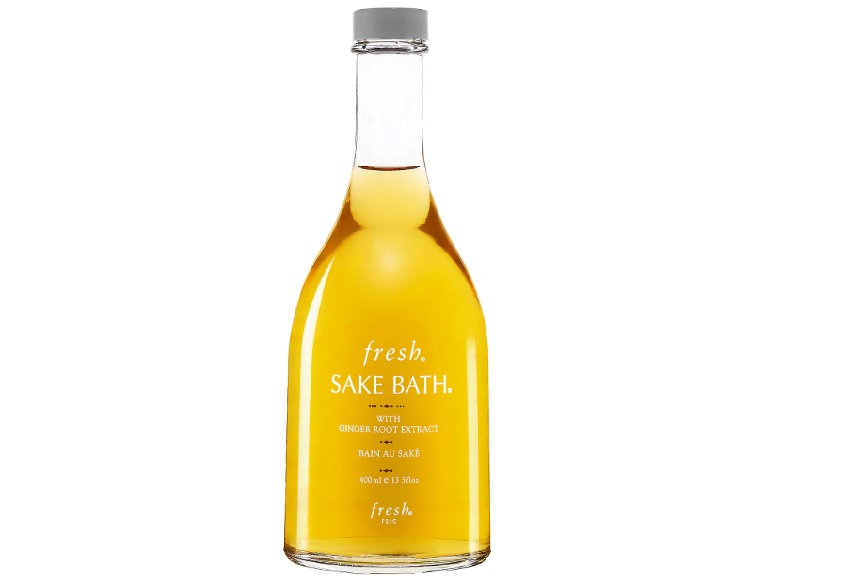 The stress of planning a wedding is surely a lot to take on – and if you're willing to do anything to prevent your bestie from transforming into a bridezilla, stress-relieving aids make the best bridal shower gifts. Fragranced candles are part of this category for sure, but if you're on the lookout for bridal shower gifts that are a tad less common, then bath soaks are one of your best options – and our pick is this luxuriant Fresh Rice Sake Bath. Other great alternatives that take pampering to a whole new level: Himalayan salt lamps, everything and anything that includes essential oils or the perfect de-stressing little book.
Wedding Gifts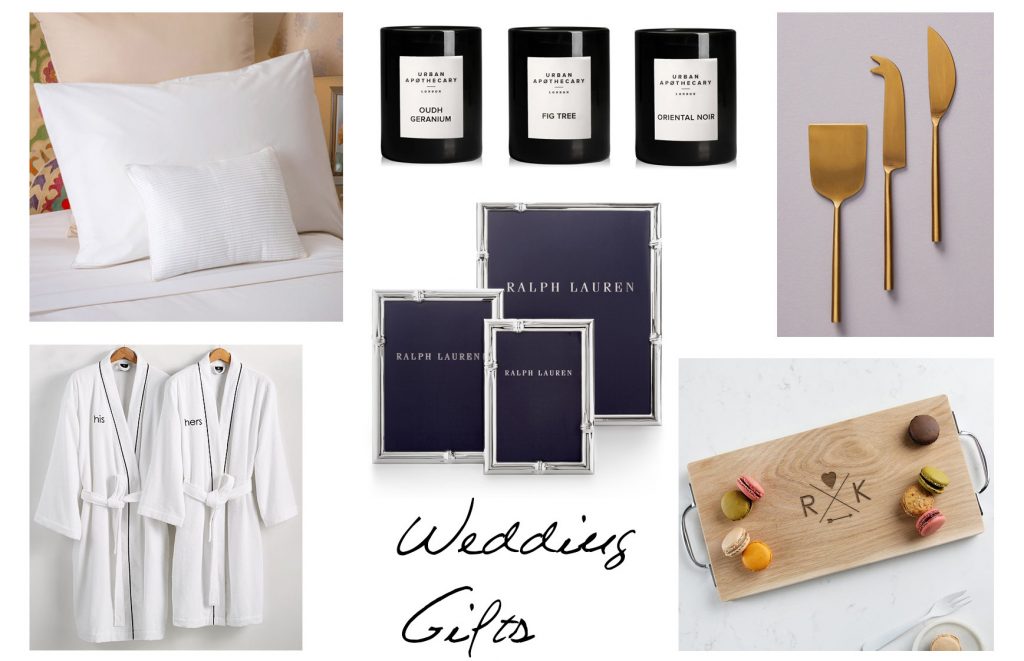 Attending a wedding brings with a set of little tasks: the hunt for the right dress or suit, and the slightly more daunting challenge of finding the perfect wedding gift for the happy couple. Your job is a tad easier if the couple opted to register, but what if they didn't – what to pick, where to pick it from and how to make sure they will adore your gift – we're tackling all below.
When it comes to wedding gifts, the last thing you want is to offer the newlywed couple a present that will be tossed at the back of a drawer. In fact, the number one rule to keep in mind when on the lookout for wedding gifts is to offer something that is practical, that you know the couple needs and will use in the future. The exception to this rule is to offer the newlyweds something that they probably already own, but better (think replacing mom's hand-me-down pots with a new high performance set or switching their affordable bed linens into an Egyptian cotton set).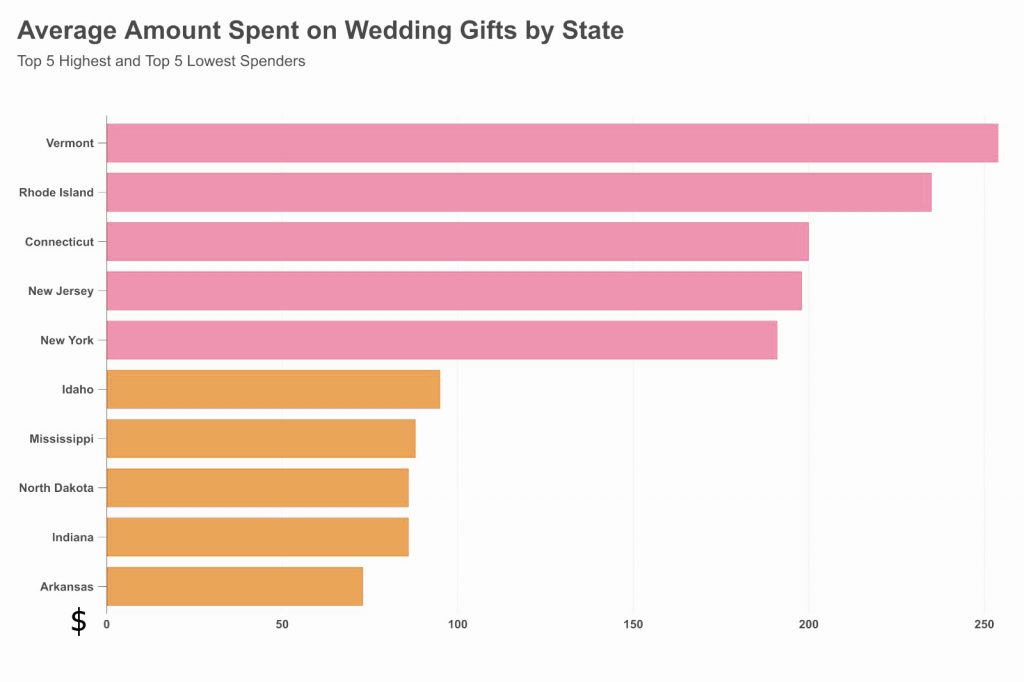 1. Upgraded Cooking Game with Pots & Chef Knives
When it comes to practical, functional wedding gifts the couple will use time and time again, the first place to start your search is… in the kitchen. There are lots of items a newlywed couple needs (and yes, that includes the couples who lived together before marriage), because whether they own any kitchenware or not, an upgrade is always beneficial. What to look for: start with a great new set of cookware – but make sure you don't compromise on quality – and give the couple the chance to take their cooking game to the next level. If you're not as close to the couple and don't plan on spending that much money yet you are sold on the idea of an upgraded cooking game, gift the couple a streamlined cheese knives set or a trending precision cooker.
2. Smoother Sleep with High Quality Linens
Most new couples already have the basics, but few have their dream items. If you're not sure on what would qualify as standout wedding gifts, here's a quick reminder: shop for their dream items. There's something to be said about the importance of sleep when aiming for a happy marriage and fact is, good linens definitely play a big role in that. If you love the idea of revamping the couple's bedding game, opt for classic, high-quality linens. Extra tip: avoid loud patterns and bold colors when gifting linens (unless you know for a fact that the two are lovers of such) and opt for neutral solids instead.
3. Cherished Memories with Deluxe Picture Frames
So many great moments together during their reception and their honeymoon need to find their perfect home – and that's where your wedding gifts come in. Gift the newlywed couple carefully-selected picture frames to hold their special memories. Quality means much more than quantity when it comes to picture frames, so choose the number of frames that agrees with your budget, without compromising on style or quality. And speaking of style, classic merged with modern is always the safest pick.
4. An Easier Life with High-Tech Appliances
There are certain things in a home that make life a tad easier – and who wouldn't want less time spent on chores or simply higher quality results, whether in the kitchen or elsewhere? Whether that is a new smart vacuum cleaner or a new fancy blender, there is a wide range of kitchen appliances we all want, yet don't get to buy. There's valid reasons to believe that the new couple has a few of these trending appliances on their own bucket list – but you simply can't go wrong if you're opting for the latest model, regardless if you're eyeing ice-cream makers or bread ovens.
5. Extra Storage – Furniture Store Gift Cards
There's something you can never have too much of – and that is storage. Yes, the gift of storage makes perfectly enviable wedding gifts. If you're close with the couple and you know both their tastes as well as home in an out, gifting them a piece of furniture as a wedding gift is a great solution – both for you and for their piles and piles of wedding gifts from friends and family. But if you aren't as familiar with the style of furniture they prefer, then a simple gift card to a good home décor store that carries a variety of styles is more than welcomed.
6. The Gift of Enticing Scents and Aromatherapy
If you've got a smaller budget yet won't compromise on quality, this category of wedding gifts was meant for you. Enter the enticing world of aromatherapy, aka one of the best ways to help the newlyweds make home feel like a delightful oasis. Gift suggestions: fragrance diffusers, essential oil diffusers, high-end candles and room perfumes all make great wedding gifts, especially for wedding guests who are not as close to the happy couple.
7. Elevated Bath Routines with Cozy Robes & Towels
There's something special about gifts that offer the newlyweds extra comfort and coziness – and this next category of items does just that. Textures, linens and indulgent fabrics are where you should be looking if you're all for upgrading the new married couple's bath routine (and bathroom's look to higher aesthetics). We're talking bath robes (that should score high on coziness) and high quality towels. While towels might be considered a little predictable, your gift is destined to impress if you're opting for the finest, softest of the kind.
8. Personalized Wedding Gifts
It's never a bad idea to take your wedding gifts game to the next level – and the easiest way to do so is not necessarily by adding cash to your budget. Instead of spending more on a more impactful gift, simply upgrade your wedding present by opting to personalize it. One good example for that is that you can add the couple's last name wedding hashtags to make it more personalized. The budget-friendly alternative to do just that: personalized cheeseboards with the couple's names or initials are definitely trending these days, so hop on the craze and gift the happy couple a new way to display their appetizers like a pro. The pricier alternative: set your eyes on his & hers luggage, complete with personalized luggage tags, and, optionally, passport covers.
9. The Gift of Experiences
This couple seems to have everything – from their kitchen to their living-room, their interior looks like the cover of a home décor magazine. Yes, your challenge of coming up with the best wedding gifts around might get a little tricky. But here's a quick tip: for the couple who has every (material) thing, simply gift them the gift of new experiences. Preferably, you would already know (or be able to inquire) what the newlyweds like, dislike and love to do in their free time. Step two: opt for concert tickets to their favorite band or subscriptions to classes designed to perfect their skills and hobbies.
Alternatively, take the safest route and book spa experiences and massages for two – aka the type of romantic wedding gifts that are sure to be enjoyed to the max. Or, if you're close to the couple and your budget allows it, gift them a romantic weekend trip for two, all expenses paid. And, if you're still not happy with the idea of not offering them something palpable, yet enamored with the thought of gifting new experiences, help them escape reality for a while with this new virtual reality gadget.
Extra Tips for the Best Wedding Gifts Around:
Whether you're short on time or simply want to make sure that your gift will be productively used, know that money is a perfectly acceptable wedding gift.
Pay extra attention to the packaging – a faultless wedding gift is not just a highly-anticipated item, but also the extra care and thoughtfulness your attention to detail conveys.
Adding a personalized touch to your wedding gift always makes it more memorable. Whether that means opting for engraved picture frames instead of the standard option or a simple personalized, handwritten note on the card, personalized wedding gifts are simply a more elevated option.
The amount you spend on a wedding gift depends on your relationship with the happy couple, but avoid spending under $50, regardless if you are just a casual acquaintance or a coworker.
Anniversary Gifts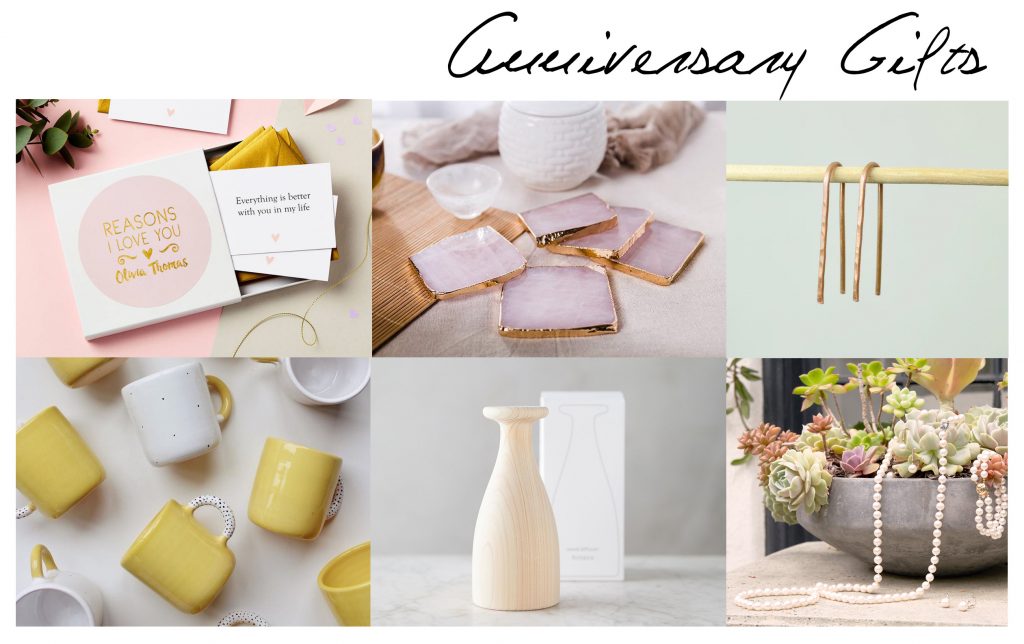 Your wedding anniversary is approaching and you're on the hunt for the perfect gift. Say no more – we're hitting all major milestones, complete with the best gift recommendations in our anniversary gifts by year compilation. If you're all about sticking with the tradition (and we're all for it), check out our guide of anniversary gifts, gift ideas, modern alternatives and more below.
Year 1: Paper & Clocks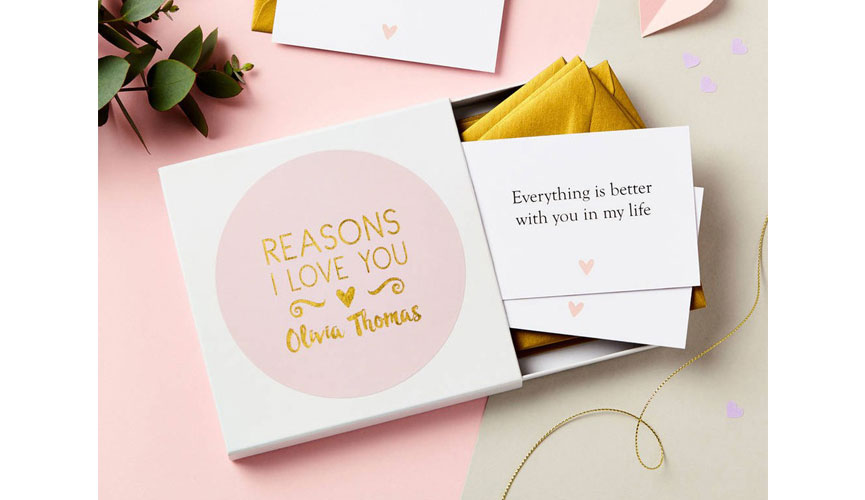 The Traditional Anniversary Gifts: Hitting that first year mark? Well, you're about to get frugal. If you haven't anticipated yet, the first wedding anniversary does not come with plethora of sparkles, bling and crystal. In fact, paper is the one that represents the first anniversary – and it does so in all its forms.
Gift Ideas He / She Will Love: Your marriage vows, framed to be later displayed as wall art, romantic love cards, or the gift of new experiences, such as tickets for a second romantic honeymoon.
The Modern Alternative: Anniversary gifts gone modern? Sure! Switch the paper for something a little more practical: clocks. Clocks are offered as gifts in order to symbolize the concept of eternal love – and so, they make a great romantic-meets-practical type of anniversary presents.
The Sparkly Version: If you're willing to ditch the tradition and take a shinier route, then celebrate your first wedding anniversary in style with gold jewelry, peridots and pearls.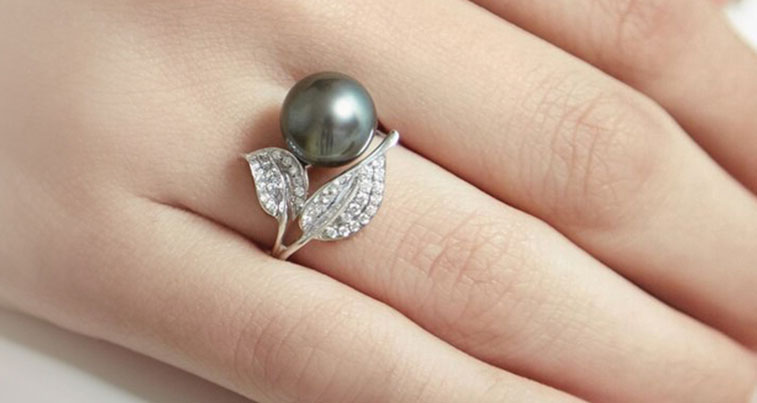 JEWELRY SPOTLIGHT:
If you're all for gifting your love something extra special on your first wedding anniversary, then pearls make the most memorable gifts. If you're not yet ready to take the classic route, opt for an exciting alternative with Tahitian Black Pearls. Featuring a striking range of necklaces, rings, bracelets, earrings and more, our Tahitian Black Pearl Jewelry Collection is the ideal shopping destination for a lover of unique, yet timeless fine jewelry.
Year 2: Cotton & China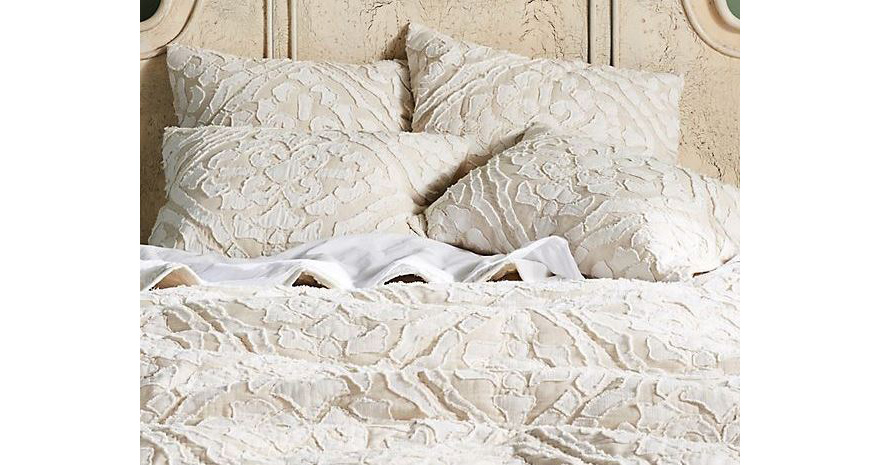 The Traditional Anniversary Gifts: The first year is celebrated with paper and the second one calls for cotton. Fluffy, soft or lightweight – it does not matter and the gift options out there are endless.
Gift Ideas He / She Will Love: Whether you're planning on purchasing a cozy cotton quilt or bed linens, a comfy tee or the comfiest pillow on the market, cotton is the most popular gift choice for the second marriage anniversary.
The Modern Alternative: Lots of couples forgo the traditional cotton and choose to celebrate their second with the modern alternative, namely china. A pretty little dip bowl for the cooking aficionado or new vase for the living room make excellent alternatives.
The Sparkly Version: There's a bling, a stone or a gem for every occasion and when it comes to the second wedding anniversary, that bling is garnet. Alternatively, you can celebrate your love by gifting a rose quartz jewelry piece.
Year 3: Leather & Glass

The Traditional Anniversary Gifts: The third year anniversary is symbolized by leather – and that gives you lots of options when hunting for the perfect anniversary gifts by year, be it for him or for her. In its genuine form, faux and vegan or suede, leather comes in different shapes, all perfect as a memorable celebratory gift.
Gift Ideas He / She Will Love: From biker jackets for him to handbags and wallets for her, your options are endless. And if you're all for sticking to the traditional, but on the hunt for creative ideas, go for surfer's leather pearl necklaces for him or engraved leather photo albums which can be designed in a photo album design platform.
The Modern Alternative: Crystal and glass make the perfect alternatives in case you want to ditch the traditional approach and opt for a more practical present. Think a new glassware set or a new crystal key bowl for the entrance side table.
The Floral Version: If your love is a flower fanatic, hold on to the basics and offer her a bouquet featuring Sunflowers or Lily of the Valley – the blooms that best represent the third wedding anniversary.
Year 4: Fruit, Flowers & Appliances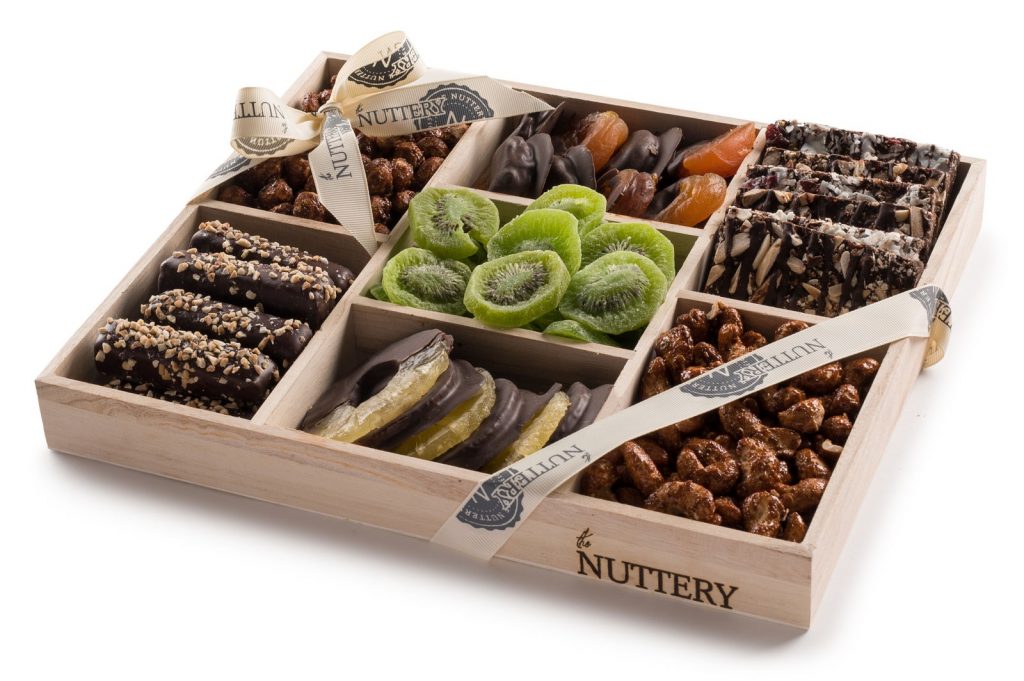 The Traditional Anniversary Gifts: Flowers are never cliché when it comes to the fourth wedding anniversary, since they are here to represent the milestone – and so are fruit. Fragrances and flavors galore!
Gift Ideas He / She Will Love: Just because this celebration calls for fruit, it doesn't mean that two pounds of bananas will do. In fact, a quick search will reveal the widest range of gourmet fruit gift baskets and other similar delicacies, like this chocolate, nuts and dried fruit extravaganza.
The Modern Alternative: If your love isn't big on sweets or flowers for that matter, no worries. Delight them with something useful and practical – like a fancy new kitchen appliance, symbolizing the settled nature of the relationship.
The Sparkly Version: Blue Topaz is the honorary representative for the fourth wedding anniversary – and if you're shopping for a jewelry lover, there's no finer anniversary gift than a bling featuring this mesmerizingly pretty precious stone.
Year 5: Wood & Silverware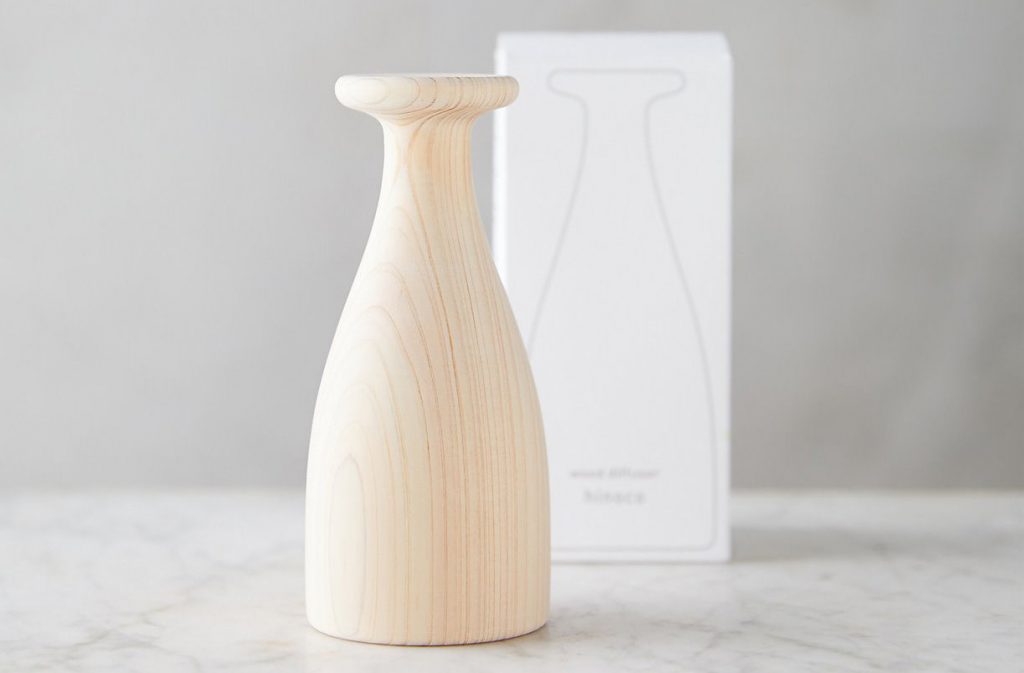 The Traditional Anniversary Gifts: Wood is the go-to pick when it comes to the fifth wedding anniversary, since trees represent strength, combined with wisdom – a testament to the solidification of the marriage.
Gift Ideas He / She Will Love: Shopping for the perfect wood anniversary gift is both a joy and a daunting task, given the immense range of possibilities. From a new set of trendy bamboo cutting boards to a sleek essential oil diffuser that serves both an aesthetic and a functional purpose, wood is everywhere.
The Modern Alternative: Silverware is the number one pick when it comes to modern anniversary gifts for the fifth wedding celebration, so if you're tablescape game could benefit from a revamp, you know what you're shopping for this year.
The Floral Version: Dainty and delicate daisies are the symbols of the fifth wedding anniversary, which means that you're about to score big points if you're offering your engraved wood cutting board with a rustic bouquet of pretty daisies.
Year 6: Candy, Iron & Wood
The Traditional Anniversary Gifts: It's about to get sweet on your sixth wedding anniversary, since sugar is the main star. But if you're on the lookout for something more substantial than lollipops, then the runner-up in terms of traditional anniversary gifts is iron.
Gift Ideas He / She Will Love: Iron might be an unconventional material for jewelry, accessories and décor pieces, but you're sure to find unique, memorable pieces. Case in point: these striking wrought iron cufflinks for the husband who's fashion-savvy.
The Modern Alternative: Wood is back in the spotlight as the modern alternative for anniversary gifts by year when celebrating your sixth. From wood bangles to decorative wicker baskets, your options are all looking fabulous.
The Sparkly Version: If you're set on offering jewelry on your sixth anniversary, make sure to look for bling that features the enigmatic and serene Amethyst.
Year 7: Copper, Wool & Brass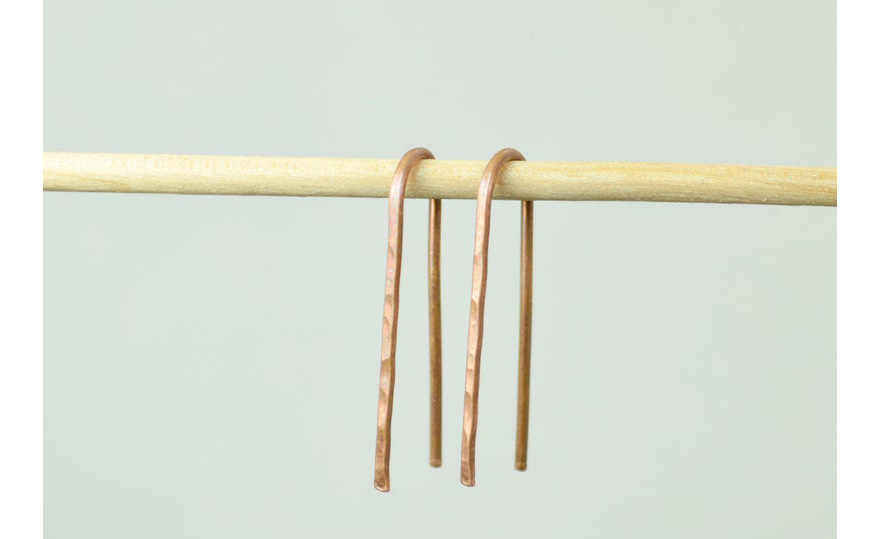 The Traditional Anniversary Gifts: Your bond is growing stronger each year – which is why your seventh introduces materials such as copper and brass. As the traditional anniversary gift for the seventh milestone, copper comes in the widest range of designs, including kitchenware, jewelry and décor items.
Gift Ideas He / She Will Love: Score big points in the gift giving department with a present like these minimalist copper earrings, handmade from pure copper. Alternatively, gift your tea-loving spouse a chic copper tea kettle in bright and shiny rosy hues.
The Modern Alternative: Closely related to copper, brass is here to represent the modern alternative for the seventh wedding anniversary.
The Floral Version: Delight your love with a striking bouquet of Freesia blooms, either on their own or accompanying your metallic gift of choice.
Year 8: Bronze & Linens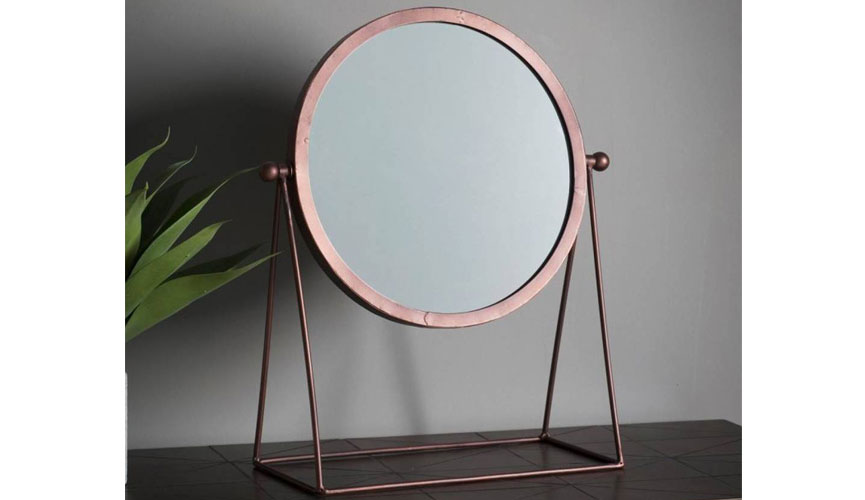 The Traditional Anniversary Gifts: Strong and sturdy, bronze makes a perfect go-to present on your eighth wedding anniversary. Symbolizing a deeper bond and a strong marriage, bronze makes stunning décor pieces, as well as jewelry and accessories.
Gift Ideas He / She Will Love: Grab a minimalist bronze round mirror to upgrade her beauty table décor or surprise him with an elegant bronze watch, ideal for his arsenal of smart-casual outfits.
The Modern Alternative: Alternatively, opt for the gift of linens (aka new ultra-smooth bed sheets) and lace if you are in favor of the modern approach to wedding anniversary gifts.
The Sparkly Version: The go-to gems for the eighth wedding anniversary are Aventurine and Tanzanite – so make sure to add them on your shopping list if bling is what you're after.
Year 9: Pottery & Leather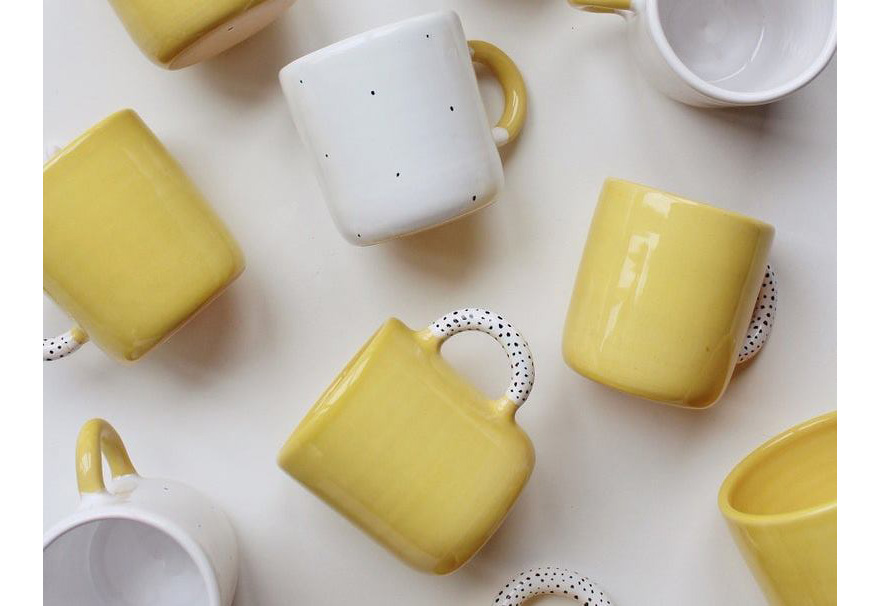 The Traditional Anniversary Gifts: Representing the evolving nature of a marriage and its continuous self-perfecting journey, pottery is the best pick for the ninth wedding anniversary.
Gift Ideas He / She Will Love: Make her morning coffee ritual ten times better with a gorgeous handmade cup or opt for a more unconventional gift, such as a romantic pottery class for two. Bonus points: pottery makes a great choice if you're shopping as a couple for anniversary gifts for him & her.
The Modern Alternative: With its strong, flexible and durable nature, leather perfectly symbolizes this stage of a marriage. Opt for a classic belt, a pair of leather gloves (especially if you're celebrating the anniversary of your winter wedding) or delight your loved one with artisanal leather jewelry pieces.
The Sparkly Version: Start your search for a jewelry piece that features the dark and mysterious Lapis Lazuli, perfectly depicting the secure bond of a solid marriage that approaches a decade.
Year 10: Aluminum & Diamonds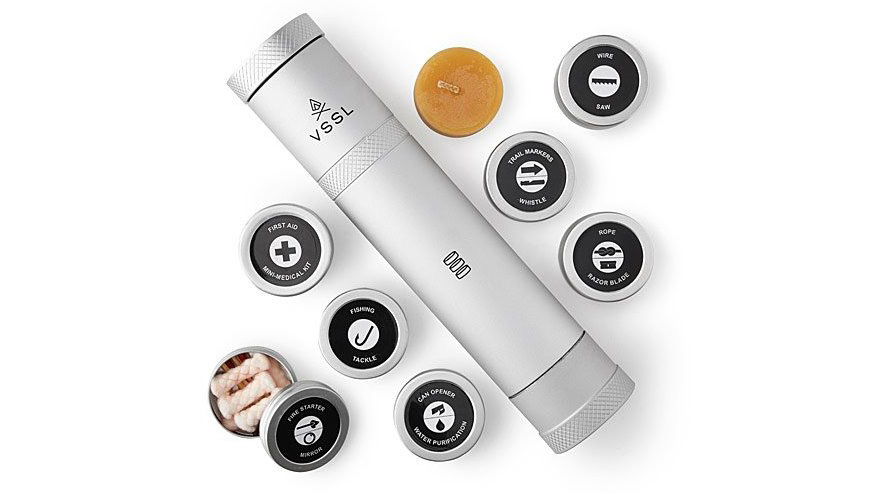 The Traditional Anniversary Gifts: Congrats, you've made it! Your tenth wedding anniversary certainly needs to be celebrated in style – and the star of it all is, traditionally speaking, aluminum. Representing durability, aluminum symbolizes a loving union, ready to stand the test of time.
Gift Ideas He / She Will Love: From a fancy new Dutch oven for the cooking aficionado spouse to a sleek aluminum survival kit with the main essentials for the adventure-loving husband, this material might just surprise you with what it has to offer. Plus, aluminum makes shopping for your man easier, as the range of anniversary gifts for him in this metal is definitely varied.
The Modern Alternative: A big milestone like your tenth deserves a big, sparkly gem – and what twinkles brighter than striking diamonds? Diamonds are the stone of choice when hunting for anniversary gifts for your tenth, representing nothing less than endless love.
The Floral Version: Bright, sunny yellow Daffodils make the most joyful of bouquets, especially when accompanying a pair of diamond stud earrings – or, why not, a sleek aluminum watch.
Year 11: Steel & Jewelry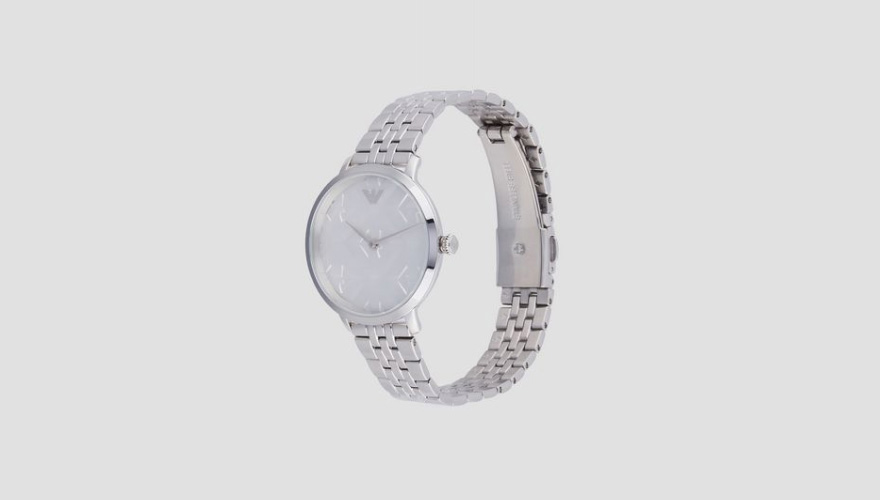 The Traditional Anniversary Gifts: Everything and anything stainless steel! As one of the most durable metals out there, steel is here to represent the strong bond of a marriage that passed its first decade mark.
Gift Ideas He / She Will Love: Stainless steel can be found everywhere, from jewelry to watches and from silverware to trays, frames and more. Our pick: this smart and modern stainless steel watch with a white patterned dial.
The Modern Alternative: Jewelry is the go-to in terms of modern anniversary gifts – and if you're opting for stainless steel bling, you're basically ticking two boxes at the same time. If you're willing to go a step further, the traditional gemstone for your 11th wedding anniversary is no other than turquoise, so make sure to aim for a bohemian jewelry piece featuring this brightly hued stone.
The Floral Version: A perfectly packaged gift goes well with a picture-perfect bouquet of elegant tulips, aka the flower choice for the 11th year of marriage.
Year 12: Silk & Pearls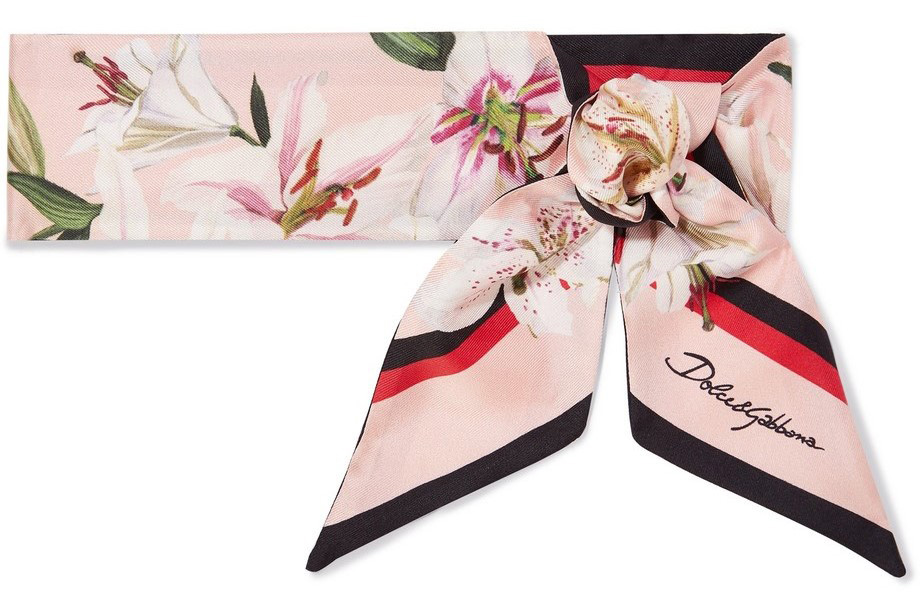 The Traditional Anniversary Gifts: For a marriage that is hopefully 'as smooth as silk', gift the gift of… silk. Fine linens in general and especially silk represent a different stage in the relationship, one where the couple has matured and is, therefore, ready to explore the finer things in life.
Gift Ideas He / She Will Love: Silky blouses, silk ties, silk scarves and even silky sheets all make excellent options, ready for your shopping list – or cart.
The Modern Alternative: Pearls, through their radiant and elegant beauty, symbolize spiritual transformation, integrity and wisdom – all quintessential parts of a long marriage. Convey this very message with a pair of pearl earrings featuring striking Akoya gems of the sea.
The Floral Version: Lush and sumptuous, peonies are the bloom of choice for the 12th wedding anniversary.
Year 15: Crystals & Watches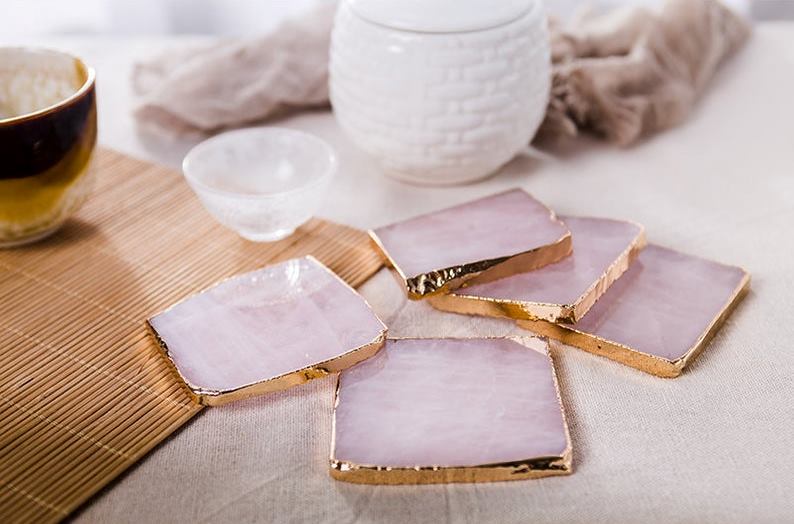 The Traditional Anniversary Gifts: If you're celebrating your 15th anniversary, there's no better gift option out there than the gift of lustrous crystals.
Gift Ideas He / She Will Love: Twinkling in any light, crystals come in a variety of shapes, sizes and hues – and the best suggestions hint of crystal bowls, crystal photo frames or candlesticks. Our pick: these stunning handmade blush pink crystal coasters with golden accents for an extra note of glam.
The Modern Alternative: If desired, forgo the traditional and delight your significant other with a practical gift that scores big points in terms of usability – watches. If you're short on ideas for anniversary gifts for him, watches in sleek metals are sure to impress.
The Floral Version: Your fifteenth is a big milestone and big milestones call for classic blooms – such as, you guessed, roses. And if you're devoted to the idea of going by the book, make sure to opt for dark crimson roses, as ruby is the go-to color for this specific anniversary.
Year 20: China & Platinum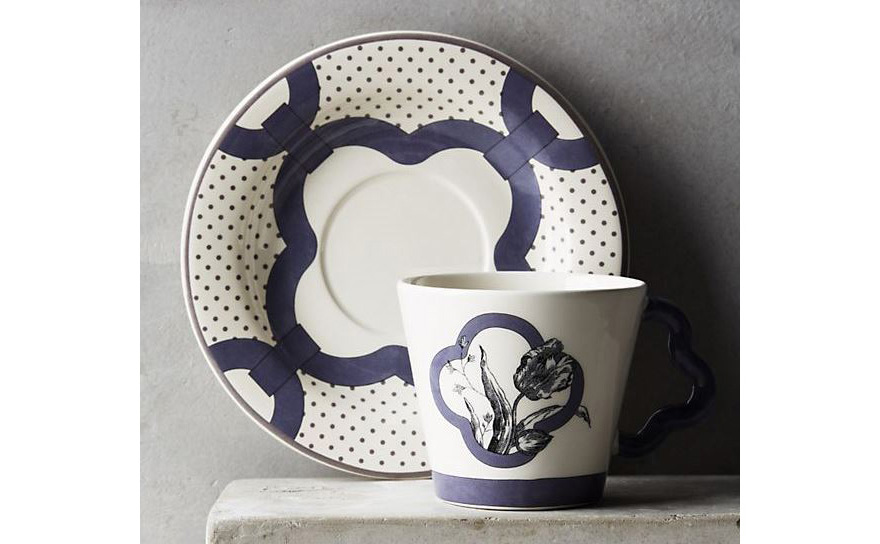 The Traditional Anniversary Gifts: Two decades as a married couple needs a proper celebration – and said celebration starts with the right gift. If you're taking the traditional route, opt for china, aka the symbol of committed love that requires proper care.
Gift Ideas He / She Will Love: From new cereal bowls for Sunday breakfasts in bed to artsy saucers, the options out there are endless. Alternatively, commemorate the occasion in style by revamping your kitchen cupboards with functional anniversary gifts: a new set of gorgeous dinner plates.
The Modern Alternative: A big number like the one you've just achieved calls for the best – and when it comes to jewelry, that best is nothing but platinum. Switch the china for that new pair of platinum stud earrings if you're fonder of the modern approach to anniversary gifts.
The Sparkly Version: On your 20th, go green! Emerald is the color of choice for this big milestone and, you guessed, the traditional gemstone is the number one pick if you're hunting for bling.
Year 25: Silver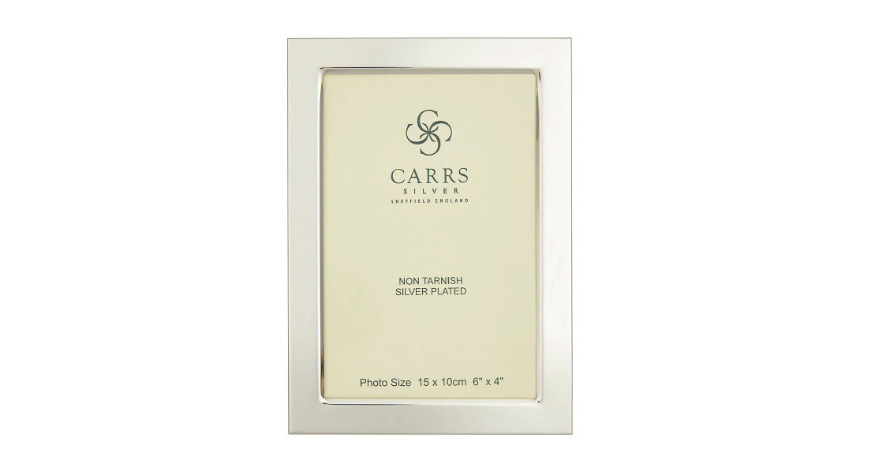 Traditional & Modern Anniversary Gifts: It's a major milestone, which is why there's no disagreement in sight – silver is both the traditional and the modern anniversary gift for your 25th. Sturdy and strong, durable and elegant, silver offers you the widest range of gift options at diverse price points.
Gift Ideas He / She Will Love: A lustrous silver frame, an engraved silver plate or a silver pair of cufflinks make great choices when on the lookout for timeless sterling silver anniversary gifts.
The Floral Version: Celebrate the day to its fullest with the right lustrous gift in silver hues and an equally elegant blossom choice: the sophisticated and graceful Iris.
Year 30: Pearls & Diamonds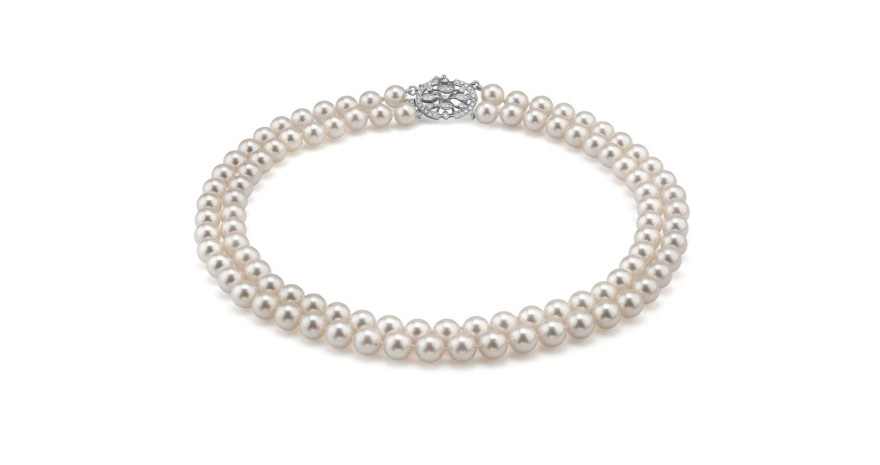 The Traditional Anniversary Gifts: It doesn't get any classier than this – because your 30th comes with the gift of the seas, namely radiant, lustrous pearls. As a symbol of purity and longevity, pearls convey the idea of permanent growth.
Gift Ideas He / She Will Love: Whether you stick with the classics and opt for a white Akoya pearl necklace or go dark and mysterious with a pair of dangly black pearl earrings, the options are all equally tempting. And if jewelry is not what you're after, you can always opt for a pearl-adorned décor piece, such as a set of napkin rings, ideal for a beach-inspired table setting.
The Modern Alternative: Diamonds make a great alternative for your 30th wedding anniversary – but if you're all about merging the traditional with the contemporary, a jewelry piece featuring both pearls and diamonds is definitely welcomed.
The Floral Version: Lilies and Sweat Peas make the best matches for the gift of radiance and sparkle, so make sure to opt for a flower arrangement featuring these lush yet delicate blooms.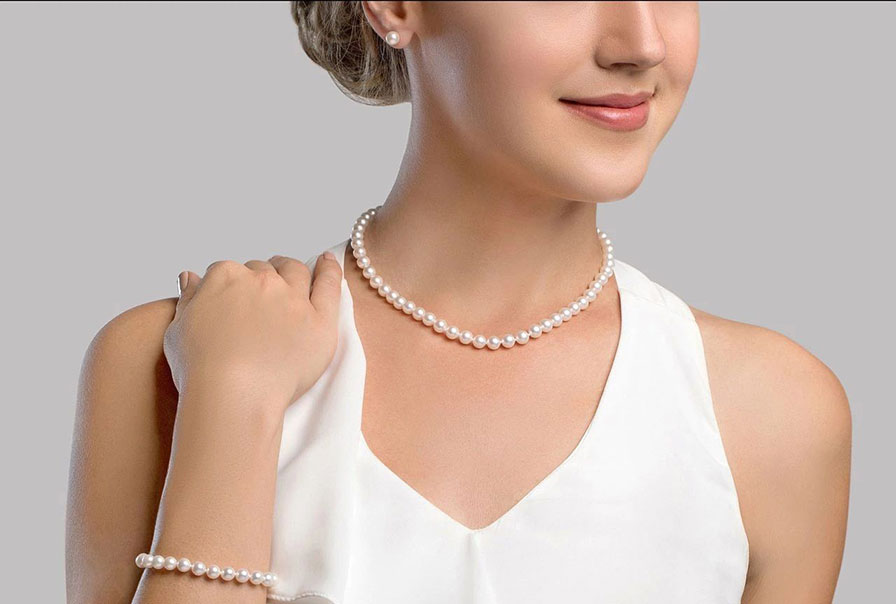 JEWELRY SPOTLIGHT:
It doesn't get more timelessly elegant than a set of Akoya Pearl Jewelry. As some of the most lustrous pearls in the world, Akoya gems of the sea bring their irresistible classic charm to any type of ensemble, adding a dose of refinement regardless if you're pairing them with business suits of evening gowns.
Year 35: Coral & Jade
The Traditional Anniversary Gifts: There's one particular reason why coral is the emblem of the 35th wedding anniversary – and that's the fact that it takes a long while to form into something exceptionally stunning. Just like your impressively long marriage, coral symbolizes longevity and commitment, in addition to being a notable symbol of protection.
Gift Ideas He / She Will Love: Whether you choose to simply embrace the color or opt for genuine ocean-formed coral, the possibilities are endless. Delight your spouse of 35 years with this pair of simple, yet striking coral earrings or give your living room side table a mini makeover with a coral décor piece. And if you're on the lookout for anniversary gifts for him, simply opt for a coral-hued theme.
The Modern Alternative: Mesmerizing jade is the modern alternative to the traditional coral. Symbolizing wisdom and tranquility, you can find jade adorning gorgeous necklaces and other jewelry pieces, as well as décor and beauty items.
The Sparkly Version: Your 35th is all about gems – and you should add emerald on the list as well. If you're planning on a more high-end present to celebrate the major milestone, emerald makes an unforgettable, more brilliant alternative to coral and jade.
Year 40: Ruby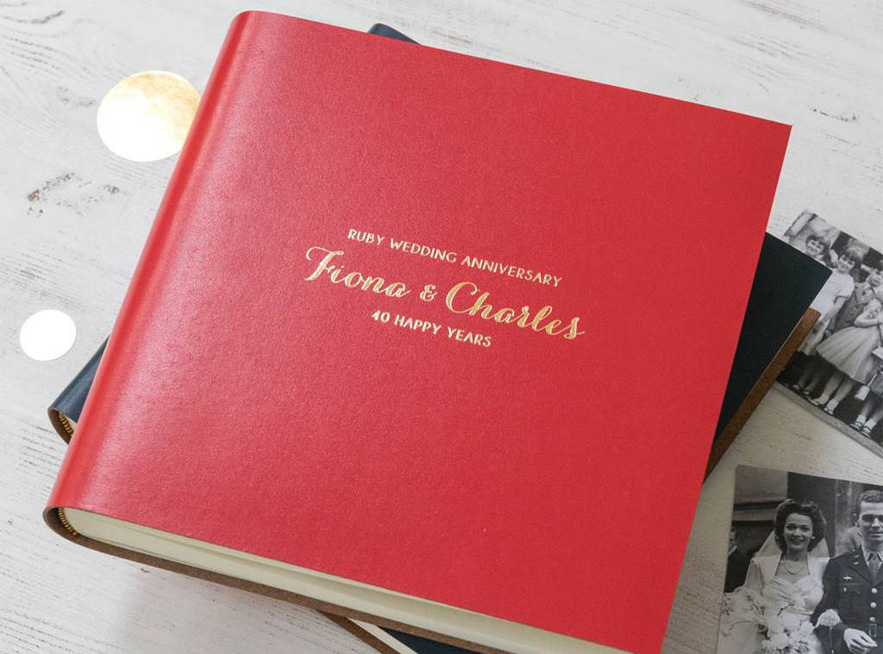 Traditional & Modern Anniversary Gifts: There's no compromise when it comes to your 40th, as both traditional and modern interpretations of the event suggest the very same: ruby (both the jewel and the color) is the top choice for a memorable celebration.
Gift Ideas He / She Will Love: You can definitely opt for a stunning jewelry anniversary gift if you choose so, but if you're inclined to purchase something more practical, a simple color commitment to the first shade of the rainbow will do. Go for ruby tones of red and gift your significant other an elegant evening tie, a personalized leather photo album or a vibrantly hued red clutch.
The Floral Version: If your idea of a perfect gift simply can't forgo the flowers, then make sure to opt for a saturated flower bouquet featuring bright red Nasturtium and graceful Gladiolas.
Year 50: Gold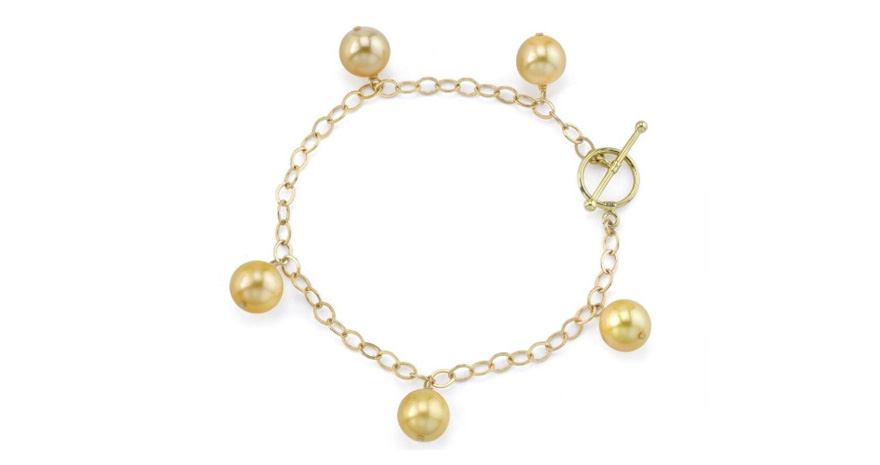 Traditional & Modern Anniversary Gifts: There's no match for gold when it comes to anniversary gifts that convey the outstanding achievement of a 50 year-long marriage. Honor the major milestone with lustrous white or yellow gold pieces, destined to be cherished forever.
Gift Ideas He / She Will Love: A gold watch, a gold pair of evening earrings or a new wedding band make excellent options – and if you want to double up on the traditional gold appeal, embrace gold hued gems like Golden South Sea pearls.
The Floral Version: Stay committed to the golden theme of your golden wedding anniversary by pairing up your gift with an arrangement of bright yellow roses.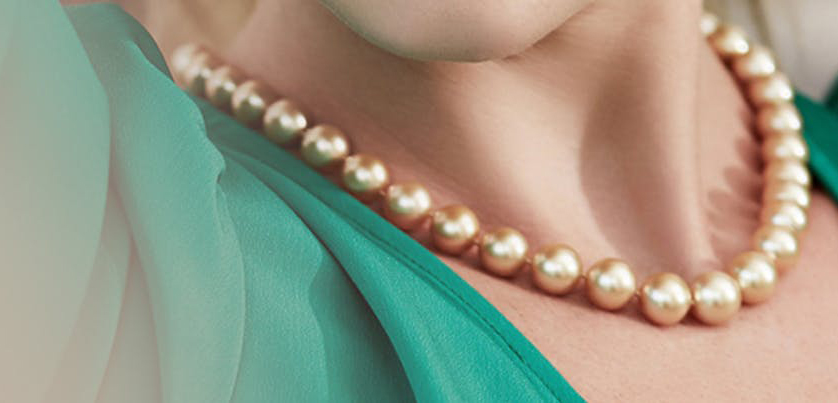 PEARL SPOTLIGHT:
Whenever in need of a little glam, Golden South Sea Pearls are an excellent choice, suitable both for daytime and nighttime attire. Paired with little black dresses, they have the power to elevate your look to timelessly sophisticated levels, regardless if you're about to attend a cocktail party or a boardroom meeting.
Year 60: Diamonds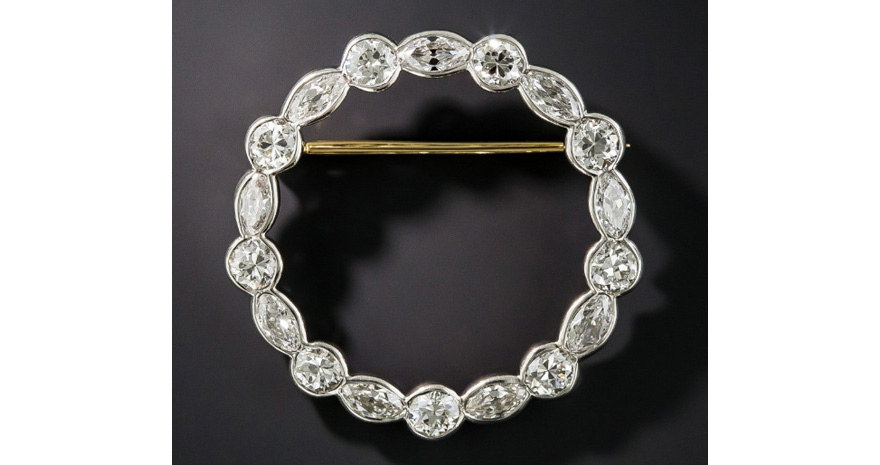 Traditional & Modern Anniversary Gifts: Sparkles galore ahead if you're on the verge of celebrating your 60th wedding anniversary. Representing undefeated durability and elegance, diamonds are both the traditional and modern anniversary gifts when commemorating six decades together.
Gift Ideas He / She Will Love: You simply can't miss the mark when your gift includes lustrous diamonds – and for a lady with a flair for sophisticated style, there's no better choice than an antique diamond brooch, adorned with the most brilliant of gems.
The Floral Version: There are no specific flowers associated with your 60th, but there is a creative way to celebrate your milestone with luscious blooms. Simply create a bouquet of six different flowers, each representing a decade together, including Daffodils to represent your 10th, Asters to symbolize your 20th and so on.
Year 70: Platinum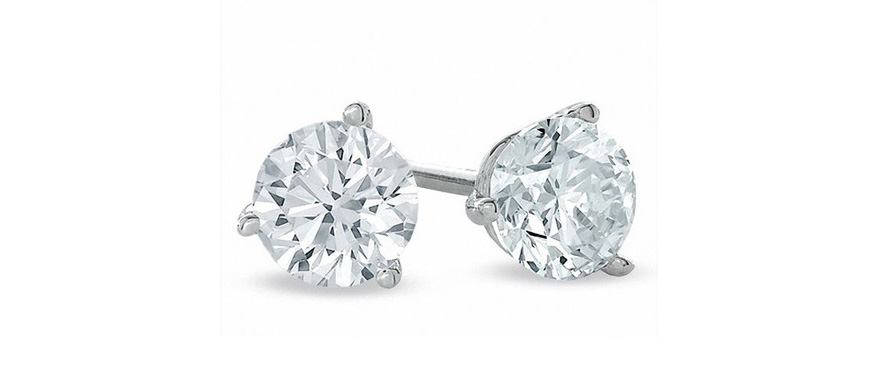 Traditional & Modern Anniversary Gifts: After a lifetime together, the only appropriate way to celebrate your outstanding relationship is with a gift that excels in terms of luster – platinum.
Gift Ideas He / She Will Love: There are many obvious and universally loved options when it comes to platinum, from earrings to necklaces and from antique brooches to tie pins and platinum watches for the gentlemen.
The Sparkly Version: Smokey Quartz is the first choice in terms of gemstones for the 70th anniversary – and it's even more appealing as a gift when you take its stress and anxiety relieving properties into account.
Year 80: Oak & Diamonds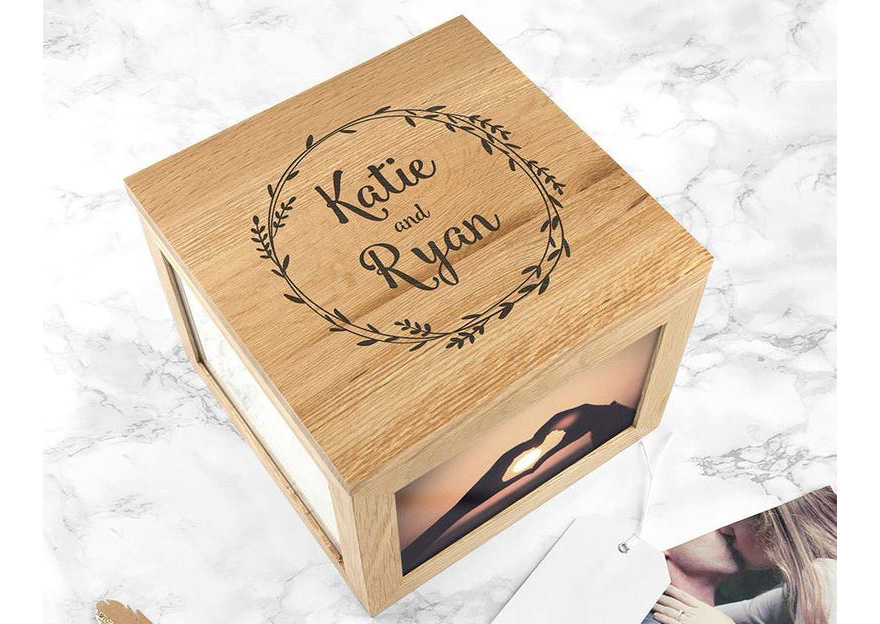 Traditional & Modern Anniversary Gifts: If you're one of the lucky ones to celebrate your 80th wedding anniversary, then commemorate the wonderful occasion with this traditional pick: oak wood.
Gift Ideas He / She Will Love: Oak stands for longevity, eternal care and love, which is why a memory box in engraved oak including photos of your moments spent together makes an excellent wedding anniversary gift.
The Floral Version: You simply can't go wrong with classic roses – and that stands true for this impressive milestone. As for color choices, opt for classic reds, soft pinks and ivory hues to symbolize love, purity and longevity.
Make sure to check back for Part 2 of our Guide on Gifts for Ever Occasion in a few weeks!

Latest posts by Carla Jonas
(see all)