Wearing pearl jewelry appropriately will help you to look sophisticated and fashionable at work. Don't think that pearls are old-fashioned and conservative. Wearing pearls can add joy to your day and make you look forward to dressing up for work. A woman of any age can create a contemporary look for her work attire with real pearl jewelry. If you follow our guidelines for a simple yet elegant look at work, you and your pearls will be the envy of your colleagues.
The amount of pearl jewelry you can wear to work depends on your work circumstances. What kind of image do you want to project, what is your job type, and does your company prescribe a dress code that includes jewelry? Whatever your working environment, there are surely pearls suitable to brighten up your outfit.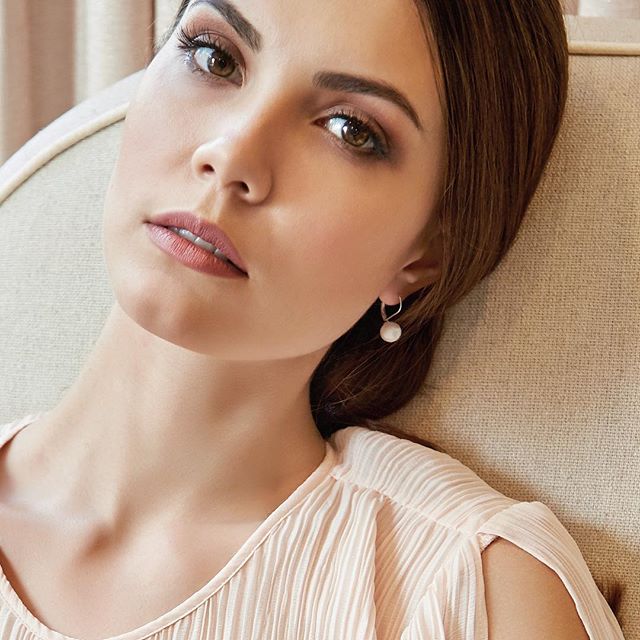 PEARL JEWELRY SPOTLIGHT:
FRESHWATER PEARLS
If you're looking for a way to add a new pearl jewelry piece that you can incorporate into different work wear outfits, freshwater pearl jewelry is always a phenomenal choice. With a variety of different colors (check out pink and peach freshwater pearls), as well as many different styles and extremely affordable prices, freshwater pearl jewelry can add elegance to any ensemble. Whether it's a chic pair of freshwater earrings or a classic necklace, find the piece that will complement your wardrobe best!
The Four Basic Rules for Wearing Pearls at Work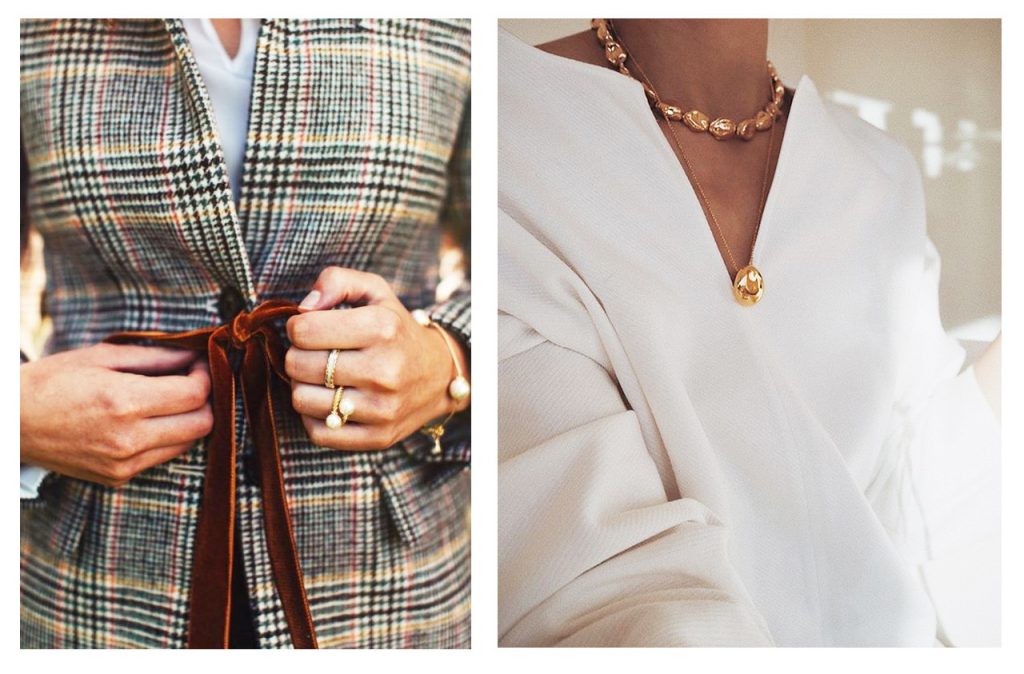 While choosing jewelry from Laguna Pearl's exquisite pearl ranges might be easy, it's not always clear which pieces are suitable to wear to work. Here are some simple guidelines and etiquette to help you decide:
Keep it classic. One item of pearl jewelry to wear to work is usually enough. While putting on a pearl jewelry set consisting of a necklace, bracelet, and earrings are great for evening wear, it might be over the top for a day at the office.
Simple is best. An opera length pearl necklace, chunky bracelet, or ostentatious earrings might get in your way or distract your colleagues and customers while you do your work. Choose simple, classic pearl jewelry to accessorize your outfit.
Safety first. In certain professions such as a medical practice, a school, or if you work with dangerous equipment, wearing pearl jewelry on your arms or around your neck might be against the company policy or inappropriate because of hygiene requisites and the type of duties you carry out. If you're unsure, first check with your colleagues to find out how best to wear your pearls.
Keep it comfortable. Like shoes that are too tight, earrings that hurt your ears or too much pearl jewelry that get in the way can become uncomfortable during a long day at work. Always keep your day's activities in mind when you dress in the morning.
Earrings are Your Go-to Source of Sophistication
If you wear only one piece of pearl jewelry to work, it should be earrings. Pearl stud earrings are an indispensable part of every woman's wardrobe. Stud earrings aren't heavy and won't snag so that they won't hurt your ears. Not only are freshwater pearl earrings classic, but they are also sophisticated and will add a noticeable touch of class to your work outfit to round it off. If you prefer a more modern and youthful style, pearl drop earrings worn with a simple updo are also suitable for work. At Laguna Pearl, many of our elegant designs combine the timeless beauty of pearls with gold, accented with cubic zirconia for sparkle.
A Pearl Necklace is a Classic Choice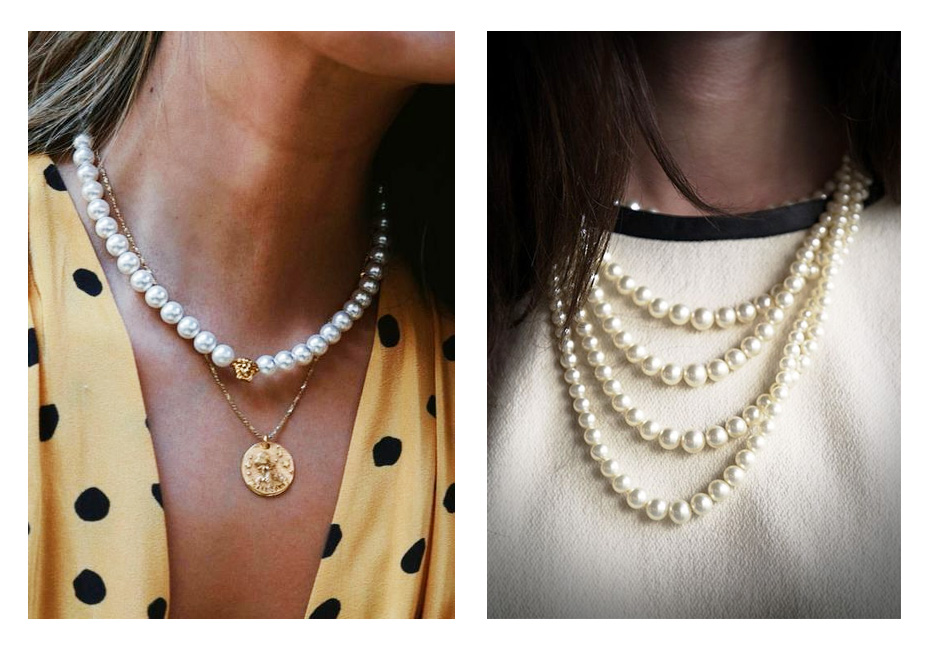 One of the easiest ways to dress up your wardrobe is with a white pearl necklace. A rule of thumb with pearl necklaces at work is that they should not fall below your bust line, so it is best to opt for a choker, princess, or matinee-length pearl necklace. White Akoya pearls go with any outfit, and there isn't an occasion when a strand of white pearls won't fit in, but colored pearls are an exciting modern alternative. If you opt for Tahitian or Golden South Sea Pearls, it is best to choose smaller pearl sizes to wear to work and avoid looking showy. If you prefer an understated but feminine and professional look, consider a pearl pendant necklace instead of a full strand, or combine your pearls with a silver chain in creations such as a Tin Cup necklace.
A Ring Gives You Authority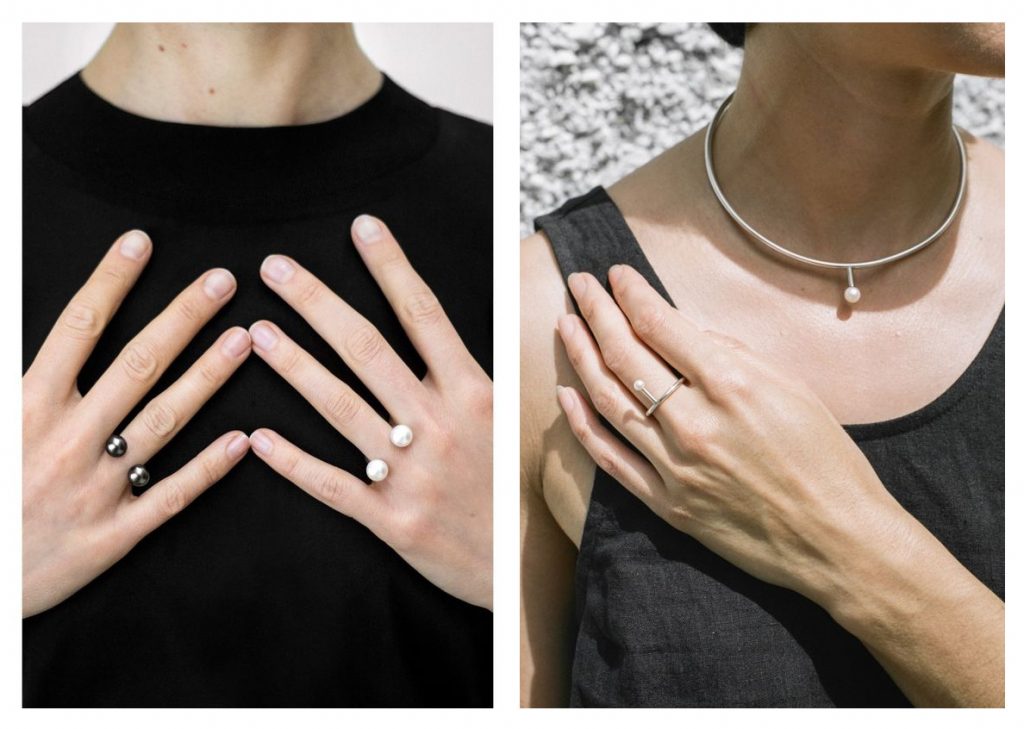 While pearl bracelets in the workplace are impractical and sometimes frowned upon, you can wear a ring without concern that it will interfere with your duties. Pearl rings are easy to wear, and while they won't detract from the lines of a sharp outfit, a pearl ring will draw attention to well-groomed hands and give you confidence while adding a more authoritative, polished look to your outfit. Beware of cluster rings and designs with a flashy look, but a single classic pearl and zirconia or diamond gold ring will always be appropriate.
Add a Splash of Color
It's impossible not to feel happy when you surround yourself with color and beauty. A pink pearl necklace or bracelet might be just what you need to brighten up your day at the office. There are many colors from creamy white to inky black pearls with surprising shades of rose, peach, gold, and silver in between. There is no better way than colored pearls to liven up a crisp white shirt and show your individuality while keeping a neat and formal appearance.
Baroque Pearls Add Interest to Formal Workwear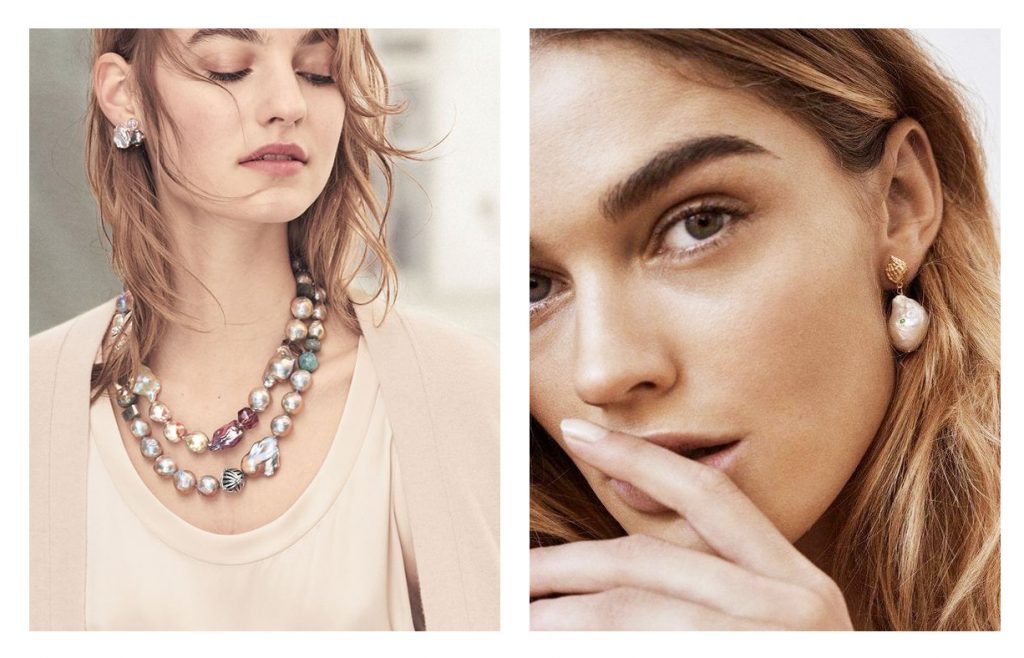 The beauty and fascination of baroque pearls come from their irregular shape. Many angles on the surface of the pearls help to reflect the light in a way that shows off their natural iridescence. When you combine a baroque shape with the stunning colors of Tahitian Pearls, the result is a piece of statement jewelry uncomplicated enough to wear with any work outfit, but with a radiance that will liven up and add interest to your ensemble.
Can You Get Away with Layers?
While a straightforward and conventional look is the norm for a day at the office, many employers these days realize that an informal environment is conducive to happy, productive workers. If you work in a modern or creative industry, layered necklaces and stacked pearl bracelets go with the territory. Create a flamboyant look by combining several pearl necklaces or bracelets to add fun to your outfit, or layer silver and gold jewelry with your pearls to add texture and interest.
Keeping up a professional appearance and creating a good impression with your boss, colleagues, and customers are at the front of everyone's mind. If you are shopping for pearl jewelry, look for simple, understated pieces and never compromise on the quality. Using real pearl jewelry to accessorize your outfit is the ideal way to make sure you look and feel your best at work. At Laguna Pearl, our pearl jewelry's quality speaks for itself, and we offer a range of styles to compliment your work outfit.
Latest posts by Sos Nazaryan
(see all)